Read Time:
5 Minute, 57 Second
What's going on Cheef? How are things in heaven? I know you're enjoying everlasting life with the almighty right now, bringing people together with your trademark smile and infectious energy. Your kids are beautiful and getting bigger and smarter by the day. Sometimes, it's like you're smiling at us through them.
This past year without you has been a difficult one for the DFW chapter. Some members are no longer around, relationships have been fractured, and combined with the absence of your presence, it's been hard for us. We weren't prepared for your death, I mean no one ever is with something like that.
For me, it's hard for a few seasons. One is the effect losing you has had on KC. She's having a tough time, to say the least. Whenever you're mentioned she breaks down, and as her best friend, of course, I'm there to comfort her as much as I can, but it's not easy. You were probably the only person she talked to more than me, and that says a lot because as you very well know we're two peas from the same pod. Her cries for you are heartbreaking and reminds me and others of the tremendous hole in our hearts without you here.
The main reason you being gone hurts so bad is the relationship I was fortunate to have with you for almost four years. I remember it like it was yesterday when I asked you about joining the Hard Hittahz when I attended the season-opening tailgate in 2016. The excitement in your eyes was noticeable, I knew right then what the movement meant to you. Only a few days later you contacted me to get all of my information and I was brought on, and the rest is history.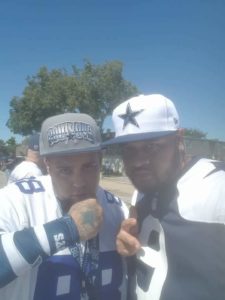 We first bonded through the Dallas Cowboys, that was a given. However, our relationship reached a new level outside of our favorite team in 2017. That day when you brought Deztinee over to my house with you was a day I'll never forget. She was probably around one at the time and you had to run out to the car to get something. So I picked her up once I saw she was upset that you left. When you returned, I said that you must really trust me to leave me with your daughter alone, and your answer blew me away.
"I wouldn't have left her with you if I didn't trust you."
Anyone that knew you knew how much your kids meant to you. They were your world, and the fact that you had that level of trust in me with baby Dez, your firstborn, your baby girl, was an unbelievable honor. I knew from that day forward our bond had reached a new level.
I remember when your dad was in the hospital later that year and he commented on my Facebook page saying he wanted me to call him after I got off. When we talked, he told me things that blew me away and almost brought me to tears. He said that you loved me and had a lot of respect for me, while also revealing that he loved me as well. Unfortunately pops died a week later, but his words meant so much considering he only knew me for a year.
Our bond continued to grow over the years. Whenever anything Cowboys related happened you would call me and you always started with "So, Cowboys guru" and then asked me what I thought about it. I cherished those moments, even now more than ever.
Unfortunately, two days after my birthday last year, KC called me while I was about to fly back to Texas from California and told me that you had passed away. I asked her several times if she was sure, and every time I was hoping for a different answer. I just saw you breathing the night before on a video call, and to hear that you were dead 24 hours later crushed me to the core. The entire plane ride I just sat there in a daze, hoping it was all a dream, but when I landed, all the calls and texts that came in let me know it was reality.
The week we buried you was so mind-blowingly sad. At your wake, I walked up to your casket and just looked at you, realizing the finality of what was in front of me. When I was walking outside, Paul met me at the door, wrapped his arms around me and I broke down. The sight of your lifeless body was just too much man. All I kept thinking about was a conversation we had not too long before your passing. You told me that you had a new job lined up and were in the process of getting your kids full-time, which I know meant the world to you.
I was asked to speak that day about you and it wasn't easy. Seeing your mom, family, and the Hittahz with tears in their eyes while I spoke was gut-wrenching. We all gathered at Star Boy's house to celebrate you after your burial, and the stories that everyone shared as I recorded a nearly five-minute-long video were amazing, especially KC when she told the infamous "I'm a ninja" story.
During the Cowboys 2020 season, it was so odd and strange not to hear your voice and see you at our tailgates. I swear I can hear the echoes of you repping the Cowboys and the Hittahz, and giving fans of the team we were playing that day hell. It's just not the same brother, the void you left can't ever be filled. We see your flag flowing in the wind but we don't see you and it kills us every home game.
A few months ago we were at Breed's house for a watch party. I saw a picture of you with Dez and Tre and it hit differently. I called KC to come inside, and when she came up to me I burst into tears. I've never been one to show my emotions publicly, but that moment was just too much. It had me thinking why you? Why now? It just doesn't make sense, but then again, it's not supposed to.
The good lord determined that you had fulfilled your destiny on this earth and it was time for you to be with him, and as difficult as it is, I have to accept it, but it's hard Cheef. When your mom posts on Facebook about missing you it breaks my heart, especially when she mentions that the time is 8:27 which is the month and day that you were born.
I don't know what else to say but thank you. You've brought hundreds of people together through the Hittahz and we wouldn't have these life-long bonds without you. You are our guardian angel. Keep watching over us and protecting us as we keep your legacy and spirit alive. CJ McGee aka Cheef, I love you and miss you brother. Continue living in the sky.
#7Forever