Read Time:
3 Minute, 6 Second
As we all know, public schools, as well as private schools across the nation tend to feud on certain elements of their leagues; one of those conflicts lies within the territory of Western New York. The Monsignor Martin High School Athletic Association and Section VI of the New York State Public High School Athletic Association have not seen eye to eye for many years. With that being said, Dick Gallagher, a pioneer for WNY high school sports journalism passed away; to go along with this tough passing, a worldwide pandemic has struck. Saint Francis High School football boss, Jerry Smith, offered a proposal to the area high school coaches to use these things to their advantage and rectify the issues.
The proposal read "To all Section 6 Football Coaches and Athletic Directors, With this being an unprecedented year in which no Regional or State Championships are being held, the MMHSAA football teams are in need of games. Traditionally we have played mostly out of section teams. With the uncertainty of if and when football will begin, a unique opportunity is to be had. A series of games between the section and MM called the Gallagher Series, with proceeds to benefit Kids Escaping Drugs." When I initially read this proposal a few very important issues pooped into my head immediately, one of those issues was social distancing, if it was needed. However, Smith addressed this debacle right at the table saying," this could put all obstacles aside for this year and have several games that many Western New Yorkers have wanted to see. Games could be live-streamed for a modest price that also goes to KED. I am sure that between Ken Stoldt, Pete Schneider, Len Jankiewicz, and Frank Wolf something could be worked out. What better way to honor Dick Gallagher, support his life's work, and provide top-level competition for all WNY student-athletes. Just a thought!"
The sentiment of fans, coaches, and media seems to be a strong one, and this idea has been well received. However, it will amaze me if both sides are willing to push the water under the bridge. Although this is separate from the feud between section VI and the Buffalo Public Schools, there is a lot of water spewing from this issue that this would become over-politicized. However, there is a solution that I believe can be offered and will still accomplish the goal of carrying on the legacy of Dick Gallagher and raising the funds in dedication to this great man. The committee that would be involved in formatting this series could create two brackets, one for the public schools of section VI, and one for the MMHSAA which would be conducted consecutively with one taking place on Friday, and the other on Saturday in the same location. Each bracket would be determined by a blind draw. The winner of each bracket would then square off at a separate neutral location to determine the champion of the series. Although I understand the initial proposal, I would want to see a little bit of familiar competition with some suspense and not have to worry about extra unneeded drama. Finally, Dick Gallagher would not want the schedule to change in his honor, or cause uncertainty. Let's be smart and bring everyone together to honor this great journalist.
The initial proposal by Smith is still in the conversation stages. Attempts to reach out to numerous individuals from across the region were unsuccessful. The second proposal is an opinion that I believe would better suit the issue and is not on the table in the original discussion. This issue will continue to be followed closely and we will bring you the latest developments.
Author Profile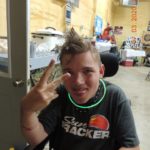 Latest entries