Read Time:
5 Minute, 43 Second
Diversity equity and inclusion have become buzzwords over the last year, especially since tensions surrounding racial justice have risen over the last year. Although our country is at a major turning point with racial justice, many organizations are making strides in gender equality, but the progress surrounding equality for women is being overlooked. One of the organizations that have chosen to be a pioneer is Major League Baseball. On Tuesday, July 21, 2021, baseball fans across America witnessed history, the first-ever all-female call of an MLB game. Melanie Newman and Sarah Langs were responsible for duties in the booth. Alanna Rizzo could be found in her natural environment reporting from the field, and Heidi Watney and Lauren Gardner conducted pregame and postgame coverage. Actually, most will agree, these women were all in their natural environment, but it took way too long.
Ahead of the game, CNN's Kate Bolduan interviewed Langs, and at the open of the interview Bolduan said, "This is so cool, but I wish this wasn't such a big deal in 2021, but it is." It was clear– both Bolduan and Langs were fired up for the broadcast. In the same interview Langs said, "once we get past (the broadcast) it will not be a first anymore, and this will be something that happens." The trailblazing effort prompted NGSC Sports to explore the evolution of women's involvement in MLB.
The train of woman involvement began on the field, in 1867, an all African-American team called the Philadelphia Dolly Vardens was formed. Also, in the mid-nineteenth century, several colleges formed baseball teams strictly for women. These teams arguably led the way to the tunnel for a strong history of women within the professional ranks. Women's roots within the baseball world began with "barnstorming." According to the National Baseball Hall of Fame, "Over the years, various barnstorming teams have included all-women (Bloomer Girls), bearded men (House of David), multi-ethnic (All Nations) and African-American (Indianapolis Clowns), but the inclusion of big leaguers into this mix has been not without some hardship the other groups didn't have to endure."
These efforts paved the way for women to play in the big leagues. Most notably, on April 2, 1931, 17-year-old Jackie Mitchell, who was originally known as "Virne Beatrice Mitchell Gilbert," struck out both Babe Ruth and Lou Gehrig when she was playing for the Chattanooga Lookouts. After the exhibition, Commissioner Kenesaw Mountain Landis voided Mitchell's contract. According to the National Baseball Hall of Fame, an editorial in the Chicago Tribune read, "President (Barney) Dreyfuss of the world champions asked his men to give up the 'barnstorming' trip which a squad of them was planning after the (World Series). He was liable to wake up some morning and read about $70,000 worth of players being beaten by some $7 team. Of course, it would be the "Pittsburg world's champions" who were trimmed, even if (Honus) Wagner, (George) Gibson, (Fred) Clarke, (Tommy) Leach, and a few other real world's champions were absent. If some of Dreyfuss' players had planned to barnstorm under the name of "Invincibles" of "Carnegies," Barney probably would have had no objection.
But that would not have been worthwhile. Only by jeopardizing the baseball reputation, which Dreyfuss had spent many thousands of dollars to build up, could his players fool the public into attending their mediocre exhibition game. Therein lies the objection. Barnstorming was not only done by women, other minorities also utilized the technique. According to the Baseball Hall of Fame, Babe Ruth said, "I am not in any fight to see who is the greatest man in baseball. Meusel, Piercy and I think we are doing something in the interest of baseball. I do not see why we are singled out when other big players, members of second and third place clubs in the world's series money, are permitted to play post-season games. I am out to earn an honest dollar, and at the same time give baseball fans an opportunity to see the big players in action." Despite the immense pushback, many groups, but especially women have continued to push forward.
Most notably in the 1920's Lizzie Murphy, a first baseman playing for the Providence Independents in Providence, RI played with the men and garnered praise for her fielding; Murphy was paid 300 dollars weekly during her stint but was unable to reach the professional level. However, she was able to continue playing at the semi-professional level. Murphy's unsuccessful run for the big leagues paved another block for women to gain momentum in baseball, especially during World War II.
Did you know, the movie "A League of Their Own" was based on a real professional baseball league during World War II? Over 500 Major League Baseball players were drafted into the war, and Phillip K. Wrigley, the owner of the Chicago Cubs formed a committee to try and keep baseball alive. The committee formed the All-American Girls Professional Baseball league. The league played from 1943-1954, and at the height of its existence consisted of teams in 12 cities. The movie concentrates on one of the league's most successful teams, the Rockford Peaches. The Peaches were crowned league champions four times. After the league folded, baseball would eventually become more diverse than ever before.
The first sight of women truly being welcome in baseball during recent times was seen in 1997. Ila Borders would pitch in professional men's leagues from 1997-200. Over those four years, Borders pitched in 52 games, and she struck out 36 at the plate. Borders had a career ERA of 6.75. In her career, she posted a record of 2-4. Although this was a major milestone, baseball's biggest stride would not come until the 2008 season. During that year, 16-year-old Eri Yoshida would be the first female baseball player to sign a contract with a men's independent league in Japan, and Marnie "Peanut" Johnson, a 72-year-old female, was an honorary draftee before that year's MLB entry draft. in 2010, Yoshida signed with the Chico Outlaws; she became the first woman to play professionally in two countries. Beyond players, women have broken other barriers in baseball.
Women have made strides in all facets of baseball, but what is even more impressive is the strides that have been made by women in the baseball business. In 1946, Edith Houghton, who was a former professional player, became an independent scout for the Philadelphia Phillies. Forty-three years in 1989, Gayle Gardner became the first woman to host games on television, at least for a major network. Jessica Mendoza and others have cracked through the barriers in the last seven years as well. Baseball has made waves since its insurrection, and MLB will continue to be a sports pioneer.
Author Profile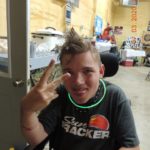 Latest entries