Read Time:
5 Minute, 17 Second
Ernesto Lacayo: The Traveling Kicker
From Living Out of His Car to Kicking in the XFL
WASHINGTON – With rain droplets drizzling down on Dragon's practice Tuesday, Seattle kicker Ernesto Lacayo reminisced of his time in sunny San Diego living out of his VW bus while training for this very opportunity. The scenery has changed, but his dreams have not. Life has been somewhat of a puzzle for Lacayo, including finding the right shoe combination.
Lacayo can be seen wearing two very different shoes: A white Nike football cleat on his left, and an orange and blue Umbro soccer cleat on his right. However, a lot more goes into the pair of shoes than you think, Ernesto explains. They play around with brands and even sizing. He says that he never spends more than $40 for a pair of shoes, but the price of greatness comes with a toll of pain.
I had to ask Lacayo to put his shoes back on for this interview.
"I'm a 9.5 every day, but this is an 8," said Lacayo motioning to his shoes. "I go a size and a half down but you take out the insole to make sure you fit into them. Now your foot is suffering in there, but you make good contact. I can only wear them for so long. During defensive periods, I take them off."
Lacayo started doing this three years ago when he started training with kicking legend John Carney. He says about 90% of specialists at the professional level do this, and they are trying to educate younger players.
"When you're in college and high school, you don't know the difference," recalls Lacayo, "but when you get into the pros, you have difference surfaces: You have turf, some turf is brand new. You have grass. You start to play around with them and can see the better grip you have."
In a game of accuracy, grip is important. Lacayo has learned this through his time in the Arena Football League. The target is less than half the size of the traditional 18.5′ wide field goal and the field length is 50′, so you're always in range. He says you're going to attempt up to 50 field goals in a season and the average life span of a kicker is three games. Aim small. Miss small.
"That's our goal post right there," as he pointed to closely positioned together flag posts in comparison. "A lot of guys have a hard time transitioning from the outdoor game to the indoor game… Like I tell a lot of guys, if you go to arena and you haven't lost your mind at some point, you're not doing your job."
Besides accuracy, Ernesto learned resiliency through the realization that his path is part of his history and legacy. Before going undrafted in 2011, Lacayo earned his History degree at Hastings College. His name sits in the history books of the NAIA school as well as in high school.
"Being a history major, I love the history of my high school and college," said Lacayo. "I always wanted to look and see what guy has gotten to that level and surpass that. Breaking the records at both of my alma maters, I should not stop here. I wanted to do something the kids at those institutions right now can look up to."
After his time at Hastings, Lacayo bounced from team to team in the AFL for nine years. Teams folded. Lacayo and his VW bus moved on to the next venture. He's had the vehicle since he was 10, about the time he discovered his lifelong passion. There's another piece of Ernesto's history that's responsible for his resiliency: his family.
"It all comes from my childhood. My biggest influence was my grandmother," said Lacayo. "She told me in this life you have to have dreams and you can never stop dreaming. When she passed away four years ago, it stayed with me. Every time I hit some sort of obstacle, I told myself it can't end here."
His grandmother's passion combined with his father's military background in the form of discipline and competitive nature was the winning combination. He almost hung up his cleats after his first season in the AFL, but it was his dad that re-lit the fire.
"He's one of my best friends and my hero," said Lacayo about his dad.
His commitment to his craft runs deep. In 2016, Lacayo found himself in San Diego living out of his VW bus all for the sake of keeping the dream alive.
"Living out of my van was the greatest thing in the world because I don't really need much to survive," said Lacayo. "It kept me really humble and really focused."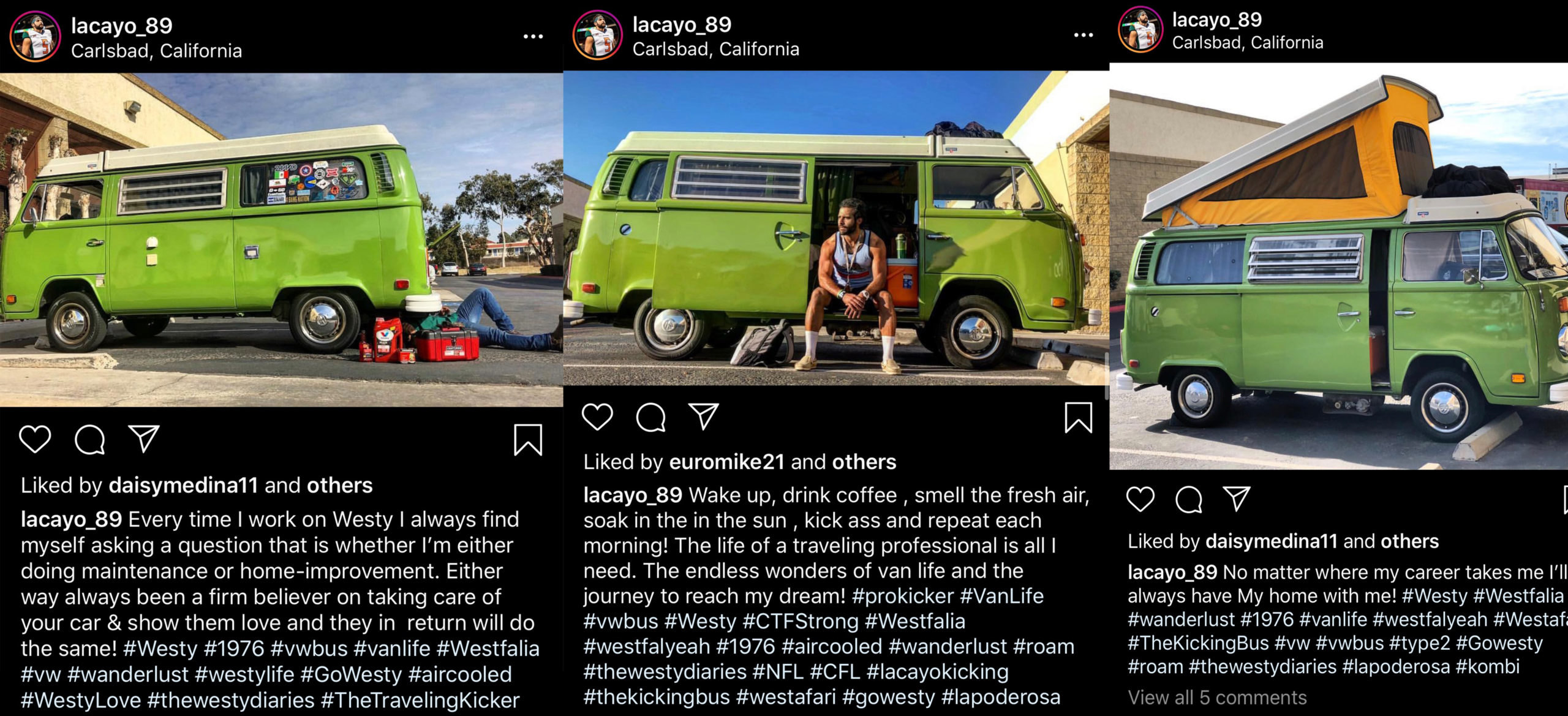 The minimalist started a new chapter of his history book when he was signed to the Seattle Dragons for their inaugural XFL season. Through five games, Lacayo was 3/4 on field goals. His only miss was in Week 2 on a 48-yard field goal, but he came back in Week 5 and nailed a 47 yarder.
Ernesto Lacayo was 💵 from 47 yards last week.#ForTheLoveOfFootball | #BreathingFire 🔥🐲 pic.twitter.com/REUgrvmWJr

— Seattle Sea Dragons (@XFLSeaDragons) March 12, 2020
Due to the ongoing COVID-19 health concerns, the remainder of the 2020 XFL season is canceled. Thursday's announcement came as a shock to players, coaches, and fans alike. Everyone was preparing for Week 6 and the second half of the season.
The league stated that all players would be paid for the season and that the XFL will be back next season. While many things are up in the air, Lacayo stays grounded with his mismatching shoes knowing this is just another plot twist to his kicking history.
"Not giving up because everywhere from my high school to my college to even arena, I've been told This is as far as you go," said Lacayo. "And I didn't want to accept that."
Ernesto has his van and his dream and waits for his next opportunity.
On wearing two different cleats:
Author Profile
Reporter -- Emphasis on Seattle Dragons XFL coverage