Read Time:
2 Minute, 41 Second
The 2019 NYCBL season kicks off this week for the summer. The Olean Oilers are looking forward to what the season will bring. Earlier this week the NYCBL released their power rankings for the first time in league history. Sitting at the top of those rankings are Brian O'Connell Jr and the Olean Oilers. O'Connell serves as manager for the Oilers as well as the owner of the team. He also serves as vice president of the NYCBL. The league is an alliance league of Major League Baseball. This means the league is recognized and even partially funded by MLB.
He offers on the rankings "actually I think it adds no additional pressure, I think over the years we have put the pressure on ourselves." He further continues " we have made the playoffs every year (this is the team's eighth year) and we have won two overall titles".
Last year the team won the Western Conference and lost in the championship series. The man in charge alludes to the fact that they have one single goal.
"We put pressure on ourselves because we like to give a good product back to the community".
The rankings are so unimportant that O'Connell did not know anything about them until operations director Mathew Fidurko informed him about them. O'Connell has a very good mindset that is responsible for their success.
"We have been so successful in this league either as overall champion or western conference champion. We strive and stress every year to compete."
The Oilers had discussed moving into a different league at one point but elected not to. The main reason they decided this is because the NYCBL is "forward thinking" through the lens of the organization. They are playing a forty-two game schedule. This is significantly different than the sixty-plus game schedule that most other summer leagues play. O'Connell believes MLB is looking up to the league because they chose Commissioner Joe Brown to coach one of four teams in their new high school prospects showcase. This league will be a few weeks long and teams are named after famous ball players.
Baseball is a game where you may have a solid team and still not win games. There are just so many variables to the competition. However, the team feels optimistic. One player said, "we are going to be a powerhouse this year." During practices and other team festivities, the brotherhood and camaraderie with this group of ballplayers can really be seen.
The coach says he is hoping to be able to lean on "veteran" players this year. One of those players is third-year infielder from Mercyhurst College Dominic Cecere. Fidurko thinks that the versatile players that the team have are really going to carry them. Amongst one of those players is Olean native Dylan Vincent. Vincent made SC top ten after he made an impressive diving catch for Canisius College.
The Oilers will open up at the Niagara Power on Thursday and they will have their annual kids day at Bradner Stadium in front of over 1500 kids from local schools Friday morning. The first primetime game will be Saturday at 6 PM at Bradner Stadium on a date with the Genesee Rapids
Author Profile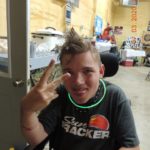 Latest entries