Read Time:
1 Minute, 54 Second
Most times, being at the top means you either have power or, are famous. However, that is not the case for Saint Joseph's Hawks Redshirt Sophmore Charlie Brown. Brown measures in at 6-7 and 190 pounds. He is the son of Charles Brown Sr. and was on a high school team that went 34-0. He also played at North Carolina A&T.
Brown played for St. Thomas More and they went for a record of 31-6 and a berth in the national prep school title bout. Before the journey in prep school, Brown played for George Washington High School where he clinched the MVP honors of the "B" division in the league. The buzz started when he started in 30 games for the Hawks. He led the team with 38.4 three-point completions and an impressive 81.9% from the charity stripe. He averaged an impressive 12.8 PPG as a rookie. That average increased to 13.6 PPG during conference bouts. That same year he was hitting double digits like crazy and he hit an impressive 22 points against Fordham. Furthermore, he just missed a double-double with 15 rebounds and eight points against UMass.
The buzz once again began circulating about how good Brown would be in his sophomore year. Boy, that ended fast. Brown fractured his wrist and had to have surgery to repair it. The NCAA allowed him to redshirt. My goodness, he is stronger than ever now.
Remember the statement I made about being at the top? Brown is at the top and is not famous or powerful. He checks in at 20.1 PPG for the squad. That is enough to sit him at the top of the conference scoring list. Yes, that is impressive, but he has scored double figures each and every time he has hit the floor. The youngster was responsible for 37 points against William and Mary. He received double honors the week of November 10th when he was named both the conference player of the week and the same for the big five.
Brown still has two more seasons and teams are already struggling. Keep your eyes open but certainly, keep your ears active because experts are already speaking highly of him.
Author Profile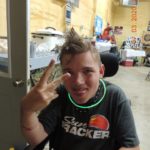 Latest entries