Read Time:
2 Minute, 57 Second
Over the last six weeks, states across the nation and countries around the globe have begun to ease restrictions caused by the COVID-19 pandemic. With these restrictions being lifted, many Division 1 programs and conferences have rolled out startup plans for the fall season. However, the Ivy League has said they will not have a fall sports program in 2020. Stanford University had to eliminate 11 programs, as well as 20 support staff positions to make up for the loss of revenue since March.
In the beginning stages of the pandemic, the Ivy League was the first conference to call it quits on the spring sports programs. That trend continued on Wednesday when John Rothstein took to Twitter and broke the news that the conference has canceled the 2020 fall campaign. In that tweet, the well-known insider said "sources: Ivy League programs have been informed that fall sports have been canceled. The conference will not entertain any sports being played until after January 1st. Winter sports will have an update in mid-July on their respective practice schedules."
This has come as no surprise to many as this league has a strong financial cushion. With that being said, I would not expect this to become precedent as many of the other conferences and programs have rolled out plans for the fall. However, Stanford was in an unfortunate spot and their budget cuts included men's and women's fencing, field hockey, lightweight rowing, men's rowing, both co-ed and women's sailing, squash, synchronized swimming, men's volleyball, and topped it off with wrestling.
Stanford wrote a letter to members of the community to make this heart-wrenching announcement. In that announcement, the university allowed "In that context, we are writing today with some extremely difficult news. In consultation with the Board of Trustees, we have made the decision to reduce the breadth of our athletics programs and staffing. Stanford will discontinue 11 of our varsity sports programs at the conclusion of the 2020-21 academic year: men's and women's fencing, field hockey, lightweight rowing, men's rowing, co-ed and women's sailing, squash, synchronized swimming, men's volleyball, and wrestling. All of these teams will have the opportunity to compete in their upcoming 2020-21 seasons, should the circumstances surrounding COVID-19 allow it, before they are discontinued at the varsity level. Regretfully, 20 of our support staff positions are being eliminated as part of this realignment."
This statement also made it known that the higher education institute cares about their athletes; they also announced that these sports would be able to be funded as clubs after the 2020-2021 season. The statement continued "We will do everything we can to support the student-athletes, coaches, and support staff members affected by this decision. We will honor all existing athletics scholarship commitments to the student-athletes throughout their undergraduate experiences at Stanford, and we hope they choose to remain on The Farm and earn their Stanford degrees. Should any student choose to continue their collegiate athletics career elsewhere, however, we will support them in every way possible. The contracts of affected coaches will be honored, and any support staff whose employment is ending will be provided with severance pay. All of the affected sports will have the opportunity to transition to club status after they conclude their 2020-21 varsity season."
Stay tuned to NGSC Sports as we keep you up to date as the effects of the virus continue to mount.
Author Profile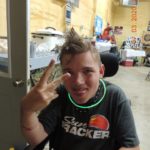 Latest entries