Read Time:
2 Minute, 39 Second
Brotherhood can mean so many different things. To Nate and Michael Beimel it means love. To be specific, the duo shares the love of being brothers more than that they share the love of one game, baseball. They may be two of the most notable players from district nine in Pennsylvania. They played together for two seasons, then Michael headed to NCAA division three powerhouse Saint John Fisher. The younger Beimel Nate impressed for two more campaigns at Saint Mary's (PA). Now fast forward to 2019, at last, the brothers are on the field together again. For the first time ever, the Olean Oilers will have a pair of brothers on the same team and, Nate is headed to Ivy League ball and Columbia University.
Despite occasional sibling rivalry, the brothers are smiling ear to ear the elder says "No, it's good," I promise there is more to be said, Mike continued "He hasn't gone to school yet, so (I'll be) kind of teaching him the ropes. It's good to have him." Now, you may expect a different response from the younger however, he just adds more.
"It's just nice to be back with him for another year. It could be our last year (together); if we happen to have another, who knows? It's just nice to have him behind the dish because there's nobody more reliable behind there than him adds Nate.
On the field, they work super close together. Michael belongs on the dish and Nate calls the mound his home. There is one key piece to this. "We're best friends. We've played together since we could walk basically. I'll know what's on for him because I've been catching him his whole life" says Mike. From the perspective of the pitcher coms: I know what he's thinking and he knows what I'm thinking at all times." Location is key in the game of baseball. Michael points out that being brothers really allows for location to be spot on"
When asked about this special occurrence director of operations Mathew Fidurko says "I just think it's really cool" He thinks it is going to be really special each and every time the duo is playing catch.
Nate is surely going to be a starter on the squad and he remarked on his role "I just think I can do what I can to help the team win and the rest will take care of itself." Michael went through the heartbreak of losing in the final series in 2018. He made sure to teach his brother a valuable lesson by saying, "We like to have fun, but when we get to the field, we want to play, we want to win. We all want to be here, we all love the game, and it's good for him to see that … a winning team before he goes to school."
Be sure to follow the journey of the brothers and the rest of the Olean Oilers throughout the summer. Stay tuned to NGSC Sports for your latest news and updates until the final pitch of the summer.
Author Profile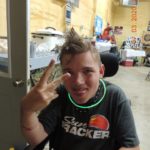 Latest entries