Read Time:
2 Minute, 24 Second
It was an historic night at Staples Center on Wednesday. LeBron "King" James and the Los Angeles Lakers (30-35) hosted the Denver Nuggets (43-21). The Nuggets were in desperate need of a win in order to keep pace at the top of the Orange Roundball League's Western Conference.
As for the Lakers, they were in desperate need of a win, period. To say the least, it has been a tumultuous first year for LeBron & Co. Completely out of the playoff picture and trailing the Los Angeles Clippers for the eighth and final spot out West by 6 1/2 games, the Lakers are dreaming for season's end. Then, they'll try to get their finger prints on Anthony "The Brow" Davis via trade.
In the first half on a drive to the tin, James made history by passing Michael "His Airness" Jordan on the all-time NBA scoring list. An incredible accomplishment by the King. Congrats, LeBron. With 5:38 remaining in the second quarter, King James eclipsed Air Jordan with an and-1 layup. A pretty smooch softly off the glass with his left hand, LeBron now had sole possession of fourth place ahead of Michael with 32,294 career points. Unreal.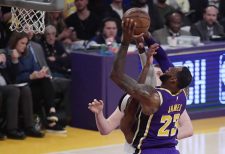 Looking up, James has Kobe Bryant, Karl Malone, and Kareem Abdul-Jabbar in his sights. Passing these all-time greats will crown LeBron the leading scorer in NBA history. With Kobe and Kareem being two of the best to don the Purple and Gold, it'll certainly be a very intriguing climb for the King.
At the end of the evening on Wednesday, the horn sounded in favor of a victorious Nuggets' squad. Getting taken down 115-99 doesn't look good in La-La Land. In fact, the current president of basketball operations for the Lakers, Magic Johnson, is simply fuming.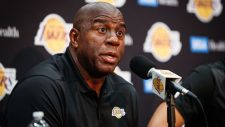 Head Coach Luke Walton is taking the brunt of the blame in Los Angeles. Unfairly in my eyes, Coach Walton maintains the head job with an extremely short leash. I'd be surprised to see him on the Lakers' bench next season.
To make matters worse, point guard Rajon Rondo was seen sitting in a courtside seat during the fourth quarter of Wednesday's affair. Rondo decided to take in the loss to Denver completely away from his teammates. Rajon didn't think it was a big deal, but I most definitely do. C'mon, Rondo. The very least you can do is be there for your mates. Yikes.
https://youtu.be/THgaoXZVZSk
Although King James has surpassed MJ on the all-time scoring list, things are beginning to boil over in La-La Land. It's safe to say that Laker Nation isn't happy. I don't blame them.