Read Time:
3 Minute, 17 Second
Many athletes play sports to make outrageous money or become famous for their efforts on the field, court, track, or, ice. However, many people do not think of American Ninja Warrior, NBC's obstacle course hit show in the same way as 23-year-old Port Crane, New York native Joshua Weintraub does. Right now though, that is irrelevant, we will get into that later. On an early Saturday afternoon, Weintraub, An American Ninja Warrior trainee and hopeful walks in wearing a "Ninja Warrior in training hoodie. He comes in, shakes my hand in an informal way, as we have just arrived at a local Starbucks on a rather chilly day in Western New York.
"You gotta admire this sweatshirt first, then I have a secret," Weintraub said. He sits down as I flip my small tape recorder on.
Weintraub is a jacked 150 pounds, pure muscle no fat to his body whatsoever, I repeat he is JACKED. He is not a small man anymore, he is a purely muscular 23-year-old like no other
" I started in 2014 getting big, I was 105 pounds coming into college. now I am 150 pounds of pure muscle"
I have never seen someone brag so much about being strong. The 23-year-old truly devoted himself to getting bigger once he entered college, he even turned down playing soccer for the University of Pittsburg at Bradford (PA). He was inclined to get bigger just by access to the gym. What makes him different than some of the great athletes in the sport?
"I'm going to be the kid who doesn't need a salmon ladder in my back yard to be able to figure it out, I do muscle-ups and stuff to get motion I just don't practice with it."
He is a graduate of UPB with a degree in Physical Education. He says that also plays a role in his decision. There is a reason he is not teaching yet though. He doesn't want to be the talk of Port Crane New York, but, he wants the job to fit, and, he wants the kids to have a ninja warrior as a teacher.
Now, remember when I said he looks at things differently? He is doing this to train for a purpose and, prove himself. He might not train in the same way as the greats but, he thinks he can be just as good. He wants viewers to know you don't need to be a rock climber to complete the course. When he was asked about the thoughts of his training being better than those like Isaac Calidero what did he say?
"Do you think Isaac Calidero can bench press as much as me no, do you think I can hang from a rock like Isaac can oh, Hell no."
He kept alluding to the fact that strategy is the key to the show. He just hopes he is not the first one on a new obstacle. He wants to watch someone be able to master the course before he has to go on. He is big on the belief that the difference maker is having a strategy he is a believer that strategy is a virtue.
He said he tried out once before and, that was last season, unfortunately, he was unsuccessful. There is a difference between the two tryouts though, and the way he is going to attack if he doesn't get "the call" for the show. He plans to stand in the walk-on line in Philadelphia, unlike last year where he just gave up.
The ANW hopeful has set a prime example of determination and, willingness. Will his thought process pay off, that is yet to be seen. Now just think "you don't have to be great to achieve greatness." You can apply next season by filling out the application and submitting a video of your training.
Author Profile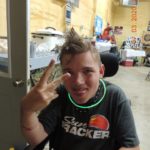 Latest entries