Read Time:
14 Minute, 42 Second
The University of Pittsburgh has a rich tradition in football that dates back to 1890. The Pitt Panthers are 9-Time National Champions and have had many of the greatest players in the history of football call Pitt their alma mater. Pitt has had 94 First Team All-Americans, 25 members in the College Football Hall of Fame and nine Panthers have been enshrined in the Pro Football Hall of Fame.
NGSC Sports brings you the best Pitt Game Day Preview you will find anywhere! This is where true Panther fans come to find out about Pitt and their upcoming opponent! Mike Drakulich (@PghSportsNation) brings you inside the huddle for both teams, providing all fans with a weekly game story, Pitt's game plan for success, score prediction, crucial game day information, and a detailed breakdown of each team.
Heck, you'll even know the weather at kickoff! The only thing you're missing is a game uniform!
Panthers prepare for battle against UNC
As the hours grow late on Wednesday, the scoreboard operator at Heinz Field has better get a good rest before he sets foot at work Thursday night, when the Pitt Panthers (7-2) meet up with the North Carolina Tar Heels (5-4) at 7:30 pm.
The Panthers offense, behind Heisman hopeful Kenny Pickett, are averaging 45 points per game, tops in the NCAA, and will face a UNC team allowing over 33 points per game. To boot, the Pitt defense will have to contain a trio of Tar Heel weapons in QB Sam Howell, RB Ty Chandler, and WR Josh Downs, and the UNC offense that just outscored Wake Forest 58-55 last week.
Howell, who was an early Heisman favorite, hasn't quite lived up to the hype given to him, but is having a very good season nonetheless. The biggest change in Howell's season hasn't been his throwing ability, but his legs, which have piled up 699 yards and eight touchdowns on the ground. Howell has 37 rushes of ten yards or better, which is 2nd only to Liberty quarterback Malik Willis who has 39.
For the year, Howell has thrown for 2,408 yards, with 20 touchdowns and seven interceptions.
He's been great for two years," Pitt head coach Pat Narduzzi said of Howell. "The thing you notice out of him, he looks like he's 235 pounds. He runs like a tailback. I mean, he is scrambling. What you didn't see the last two years is his ability not only to scramble, but now they've got designated quarterback runs, OK?"
Pitt's defense, which has had tackling issues vs run-pass option teams, had better be up to the task of wrapping up ball carriers in this game, whether it be Howell, or their running back in Chandler, UNC's lead back who has 884 yards rushing and 13 touchdowns. Stopping the Tar Heels run game will be a huge priority this week.
"We prepared real hard for all their draws," Narduzzi said. "They're going to run a lot of quarterback draws against us. Not as much counter and power with him. But who knows? … I notice about him the way he's dropping back, then running quarterback draws, scrambling, making plays with his feet. That's something I did not see in the past that he has added to his game."
Howell has been sacked 33 times, which may explain why he has taken off so many times this year.
When Howell isn't being sacked, his favorite target in the passing game is the aforementioned Downs, who has collected 75 receptions for 1,023 yards and eight touchdowns.
That makes three weapons Narduzzi and his defense will have to keep from putting up game changing plays.
"You try to cover Downs. But you put too many guys in coverage, you've got a problem," Narduzzi said. "It's hard to rush three against this guy because he'll (Howell) take off, like Kenny (Pickett) did last weekend. It can be deadly."
With so little time in between games, game planning will be difficult– for both coaching staffs.
"We got a better plan than we had in 2015," Narduzzi said, referring to the last time his team had just five days between games. "You're trying to close the chapter on Duke and at the same time, you have to be game-planned and ready (for North Carolina)," he said. "Usually, for a Tuesday practice, we have half the day on Sunday and all day Monday to prepare. Sunday, we had to close the book on Duke, make the corrections and then we had to flip it around. You weren't spending time on North Carolina. You had to focus on Duke."
Basically, it will come down to the better team, and who wants it more.
"We don't have the time to add a ton of offense, a ton of defense. We're going to do what we do and try to do it better than they do."
Pitt's Game Plan for Success
Offense
Score: Pitt is leading the nation in scoring, and this week Kenny Pickett and his weapons may to be counted on to find the endzone about 6 or more times.
Keep scoring: Wake Forest was up big last week but blew their lead. No letting up in this one till the clock strikes 0:00 in the 4th quarter.
Lucas Krull: Needs to get out of his funk. The top tight end has been dropping too many passes of late.
Defense
Gang tackle: This is not the game for arm tackles and weak defensive play. It's all hands on deck here. From corralling QB Sam Howell to RB Ty Chandler, the Pitt defense better be ready to play.
Punish: UNC is going to bring everything they have, and handing out punishing hits is one way to curb their enthusiasm.
Prediction
It's all hands on deck offensively for the Pitt Panthers. The top offense in NCAA football (45 points per game) may have to be ready to pile up points against a UNC squad that put up 58 points last week vs Wake Forest. Kenny Pickett has one of the best in the game to throw to in WR Jordan Addison, but others such as Jared Wayne, Shocky Jacques-Louis and freshman Jaden Bradley may be counted upon to elevate their play as well, depending on the health of Taysir Mack and Jaylon Barden. Tight end Lucas Krull, who has had a case of the drops lately, needs to get back to his early season level, too.
It would behoove the Panthers to utilize the tandem of Israel Abanikanda and Rodney Hammond to provide some balance and ball control in the game plan. The more you keep UNC's offense off the field, the better.
On defense, it's as simple as it gets… make plays and tackle. This is not the week to arm tackle and be out of position. QB Sam Howell can kill you with his arm and legs. Ty Chandler is a beast at running back, and WR Josh Downs, who is just as dangerous as Addison, are going to be the toughest challenge Pitt has faced all season.
All in all, this game will come down to has more talent, and on this night, Pitt will prove they are indeed the team to beat, and will draw a little closer to that ACC Coastal Division title… Pitt 52 North Carolina 38
Game Day Information
#21 Pitt Panthers vs North Carolina Tar Heels
Venue: Heinz Field, Pittsburgh, PA.
Tickets: Pitt Ticket Office
Game-time: Thursday, November 11th at 7:30 pm
TV: ESPN
Announcers: Matt Barrie (play-by-play) Roddy Jones (analyst) | Katie George (reporter)
Local Radio: Pittsburgh- 93.7 The Fan
Announcers: Bill Hillgrove (play-by-play) Pat Bostick (analyst) | Larry Richert (reporter)
Alternative Broadcasts
Online Radio: 937thefan.radio.com
Satellite Radio: Sirius Channel 84, XM Channel 84, SXM App Channel 84
Weather at Kickoff: 59 with a 30% chance of rain. Winds out of the Southeast at 14 MPH.
ACC Links

Scouting the Pitt Panthers
Overall Record: 7-2 | ACC Record: 4-1 | Rank: #21
Previous Game: Pitt 54 Duke 29
Head Coach: Pat Narduzzi (7th Season with Pitt)
Pitt Links
Pitt Offense (Pro Style)
Offensive Stats
Points per game: 45
Total offense yards per game: 541.1
Passing yards per game: 376.1
Rushing yards per game: 165
Offensive Scouting Report
Strengths: The passing game on the arm of Kenny Pickett, with weapons like WR Jordan Addison and TE Lucas Krull at his disposal. Running game with Israel Abanikanda has come on strong mid-season.
Weaknesses: Few if any at this juncture.
Starting Quarterback: Kenny Pickett | Back-ups: Nick Patti and Davis Beville.
Kenny Pickett returns for his 4th season as QB for Pitt. The super senior has a strong, accurate arm and can burn defenses with his running ability out of the pocket. Pickett, who has entered the Heisman talk, has thrown for 3,171 yards, 29 touchdowns, with just three interception, and has rushed for 242 yards and another four touchdowns. Defenses have gotten to Pickett just 18 times for sacks.
Starting Running Back: Israel Abanikanda | Back-ups: Vincent Davis, Rodney Hammond, Todd Sibley, and Daniel Carter.
Israel Abanikanda has been elevated to starter, and has rushed for 498 yards and five touchdowns. Abanikanda also has 19 receptions for 157 yards. Vincent Davis is 3rd on the team with 314 yards rushing, with three touchdowns, and has 17 catches for 96 yards. Todd Sibley and Daniel Carter have been rarely used, but Rodney Hammond has shot up the depth chart and made the most of his work, and is now 2nd in rushing with 338 yards and four touchdowns.
Wide Receivers: (Outside) Taysir Mack, Jared Wayne, Shocky Jacques-Louis, Melquise Stovall and Jaden Bradley.
(Slot) Jordan Addison and Jaylon Barden.
Taysir Mack gives Pitt a steady and reliable senior presence at wide receiver and has 461 yards receiving off of 27 catches, three that have found the endzone. Jordan Addison, a Biletnikoff candidate, leads the team with 54 receptions for 986 yards and 11 touchdowns. Jared Wayne is 3rd on the team with 34 catches for 496 yards and three TD's. Shocky Jacques-Louis has 20 receptions for 209 yards so far, and a score. Jaylon Barden has nine catches for 174 yards and two TD's, while Hawaii transfer Marquise Stovall has contributed 13 catches for 145 yards and a TD. Jaden Bradley, a promising freshman, has caught six passes for 87 yards.
Tight Ends: Lucas Krull and Gavin Bartholomew.
Lucas Krull has rejuvenated the tight end position for Pitt, ranking 4th on the team with 23 catches for 288 yards and five touchdowns. Gavin Bartholomew has also caught 16 passes for 205 yards and a two touchdowns.
Placekicker: Sam Scarton
Extra Points: 47-49
Field Goals: 12-13
1-19 yards: 0-0
20-29 yards: 3-3
30-39 yards: 5-5
40-49 yards: 4-5
50+ yards: 0-0
Pitt Defense (Base 4-3)
Defensive Stats
Points per game allowed: 22.7
Total offense yards per game allowed: 345
Passing yards allowed: 237
Rushing yards allowed: 108
Sacks: 31
Interceptions: 9
Defensive Scouting Report
Strengths: Strong pass rush and tough against the run.
Weaknesses: Secondary can be vulnerable if quarterback is given time to throw deep. Sloppy tackling vs run-pass option teams.
Defensive Line: Habakuk Baladonaldo, Calijah Kancey, Keyshon Camp, and Deslin Alexandre.
Habakuk Baladonaldo and Deslin Alexandre are impressive bookends of the defensive line with Calijah Kancey and Keyshon Camp on the inside. Kancey has four sacks. Baladonaldo has six and a half sacks, while Camp has one sack.
Linebackers: Phil Campbell III, SirVocea Dennis, and Cam Bright/John Petrishen.
Phil Campbell III (Money) and Cam Bright (Star) surround SirVocea Dennis (Mike) at the linebacker position that has good speed and instincts when it comes at stopping the opposing run game. John Petrishen has been a big part of the linebacker rotation and has 51 tackles, three sacks, and three interceptions–one a pick six. Campbell has three sacks. Dennis leads the front seven with 69 tackles, has one sack, and one INT that he took to the house vs Clemson.
Secondary: Marquis Williams, Brandon Hill, Erick Hallett II, and Damarri Mathis.
Marquis Williams and Damarri Mathis man the corners with Brandon Hill at strong safety and Erick Hallett II at free safety. Hill has one INT on the year, while Mathis has two.
Pitt Special Teams
Punter: Kirk Christodoulou
Kickoff Returners: Jaylon Barden and Israel Abanikanda
Punt Returner: Jaylon Barden
Scouting report: Jaylon Barden is the primary kick returner and is averaging 19.5 yards per return, and 10.0 on punts. Israel Abanikanda has averaged 21.3 yards per return.
Scouting the North Carolina Tar Heels
Overall Record: 5-4 | ACC Record: 3-3 | Rank: n/a
Previous Game: North Carolina 58 Wake Forest 55
Head Coach: Mack Brown (13th Season with North Carolina)
Lifetime Record: 264-136-1 | 89-60-1 with North Carolina
Links
UNC Offense (Air Raid)
Offensive Stats
Points per game: 38.9
Total Offense per game: 489.9
Passing yards per game: 273.6
Rushing yards per game: 216.3
Offensive Scouting Report
Strengths: The trio of Sam Howell, Ty Chandler, and Josh Downs. Offense can beat you via the air and ground.
Weaknesses: Offensive line has given up 33 sacks.
Starting Quarterback: Sam Howell | Back-up: Jacolby Criswell
Sam Howell is a next-level talent that isn't having quite the year he expected. despite that, Howell has thrown for 2,408 yards, with 20 touchdowns and seven interceptions. Howell is a dual threat and has rushed for 699 yards and eight touchdowns, but has also been sacked 33 times.
Running Backs: Ty Chandler and D.J. Jones
Ty Chandler is the lead back with 884 yards on the ground and 13 touchdowns. Chandler also has eight catches for 179 yards and a score. D.J. Jones has 225 yards rushing.
Wide Receivers: Josh Downs, Antoine Green, Emery Simmons, and Justin Olson
Josh Downs is Howell's favorite target with 75 receptions for 1,023 yards and eight touchdowns. Antoine Green has caught 22 passes for 419 yards and three scores. Emery Simmons has contributed 11 catches for 243 yards and a TD. Justin Olson has just three catches for 70 yards.
Tight Ends: Kamari Morales, Bryson Nesbit, and Garrett Walston
Kamari Morales is 3rd on the team with 20 receptions for 179 yards and four touchdowns. Bryson Nesbit has five receptions for 125 yards and a score, while Garrett Walston has 12 catches for 87 yards and a TD.
Kicker: Grayson Atkins
Extra Points: 42-42
Field Goals: 11-15
1-19 yards: 0-0
20-29 yards: 5-5
30-39 yards: 4-5
40-49 yards: 1-1
50+ yards: 1-4
*Injured/Out
UNC Defense (3-3-5)
Defensive Stats
Points per game allowed: 33.4
Total offense yards per game allowed: 421.2
Passing yards allowed: 240.7
Rushing yards allowed: 180.6
Sacks: 17
Interceptions: 9
Defensive Scouting Report
Strengths: None.
Weaknesses: Weak front seven. Defense gives up too many yards and allows over 33 points per game. Secondary has more leaks than Congress.
Defensive Line: Myles Murphy has 30 tackles and four sacks.
Linebackers: Cedric Gray has 60 tackles and two interceptions. Jeremiah Gemmel has 60 tackles. Kaimon Rucker has 30 tackles and 3.5 sacks. Tomon Fox has 4.5 sacks and 22 tackles.
Secondary: Corner Cam'Ron Kelly has four interceptions to go with 53 tackles. Ja'Qurious Conley has 47 tackles and two interceptions.
UNC Special Teams
Kickoff Returners: Ja'Qurious Conley
Punt Returner: Josh Downs
Scouting report: Ja'Qurious Conley is averaging 22.6 yards per kickoff return. Josh Downs has averaged 11.3 yards per punt return.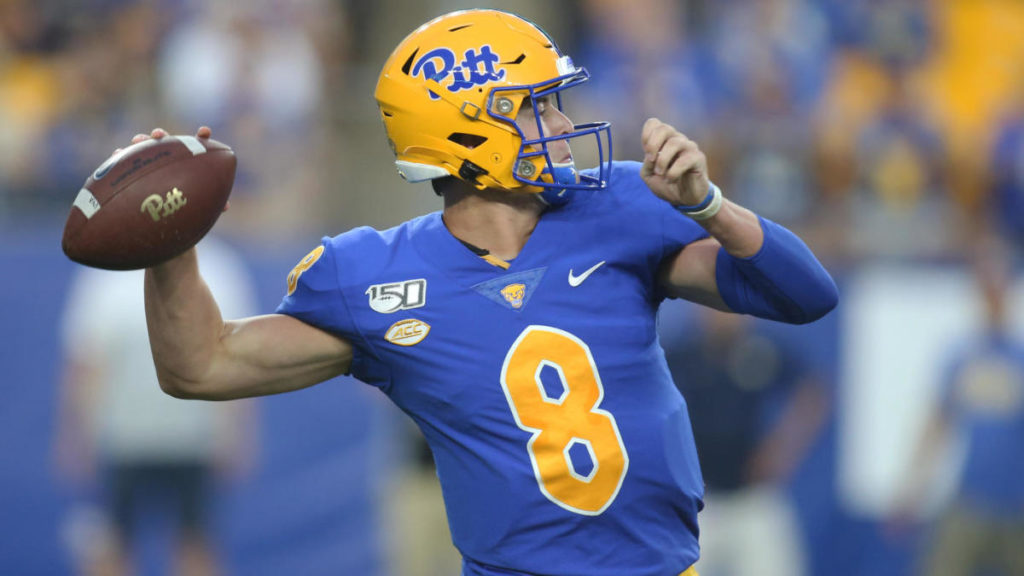 Pitt vs North Carolina History
Series Began: 1974
Overall Record: 4-10
At Home: 3-4
On Road: 0-6
Neutral Site: 1-0
ACC Series: 1-6
Streak: Pitt won the last game.
Last Game: Nov. 14, 2019 (Pitt 34, UNC 27 in OT)
Game Notes*
Kenny Pickett is having an All-America caliber season. Pickett ranks third nationally—first among Power 5 quarterbacks—with 29 touchdown passes. He has thrown only three interceptions this year.
Pickett needs only 113 yards to become the Panthers' all-time career passing yards leader. He has thrown for 11,155 yards, second only to Alex Van Pelt, who threw for 11,267 during his Pitt career from 1989-92.
Pickett is piloting the nation's top scoring offense at 45.0 points per contest. The Panthers have four 50-point games this season, their most since 1905.

Wide receiver Jordan Addison is meriting strong Biletnikoff Award consideration with his production. Addison leads the country with 11 touchdown catches, the most by a Pitt player since Larry Fitzgerald had a school-record 22 in 2003.

*Courtesy of pittsburghpanthers.com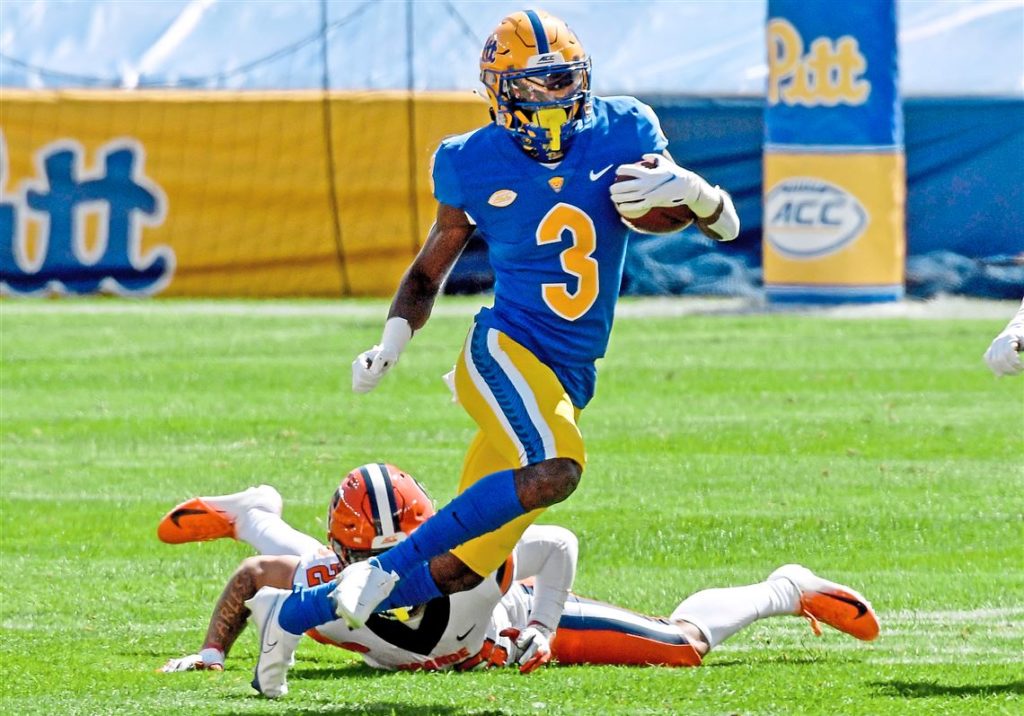 Injury Report (11/11/21)
Pitt Panthers
Out: LB Wendall Davis (left team), DL Keyshon Camp, WR Jaylon Barden
Doubtful: None reported
Questionable: WR Taysir Mack
North Carolina Tar Heels
Out: None reported
Doubtful: None reported
Questionable: WR J.J. Jones, WR Tylee Craft, DB John Chapman
Author Profile
From Midland, "The Basketball Capital of Pennsylvania", located 35 miles NW of Pittsburgh along the Ohio River. This former steel town was home to storied athletes such as Dave Alston, Norm Van Lier, Simmie Hill, and the legendary 1965 Midland High School Basketball Team.

There's nowhere on earth that is more dedicated to its sports teams like Western Pennsylvania and the city of Pittsburgh. The passion and pride of Pittsburgh's fan base is second to no one. From the NFL, NHL, MLB, NCAA football and basketball, to W.P.I.A.L. high school sports, "The City of Champions" has it all!

As Editor of Pittsburgh SportsNation, Mike Drakulich provides top notch opinions and coverage of the Pittsburgh Steelers, Pittsburgh Penguins, Pittsburgh Pirates, Pitt Panthers football & basketball, Robert Morris Colonials basketball, and Duquesne Dukes basketball, as well as all sports teams that represent Western Pennsylvania, including WPIAL High School Football.

For a refreshing view of sports, mixed with humor and uncensored opinions, check out Pittsburgh SportsNation today on Facebook, Twitter @PghSportsNation and videos with over 1,000,000 views on YouTube!