Read Time:
12 Minute, 23 Second
The University of Pittsburgh has a rich tradition of football that dates back to the early 1900's. The Panthers are nine-time National Champions and some of the greatest players in the history of football have called Pitt their alma mater. Pitt has 25 members in the College Football Hall of Fame and nine have been enshrined in the Pro Football Hall of Fame.
NGSC Sports brings you the best Pitt Game Day Preview you will find anywhere! This is where true Panther fans come to find out about Pitt and their upcoming opponent! Mike Drakulich (@PghSportsNation) brings you inside the huddle for both teams, providing all fans with a weekly game story, Pitt's game plan for success, score prediction, crucial game day information, and a detailed breakdown of each team.
Heck, you'll even know the weather at kickoff! The only thing you're missing is a game uniform!
Panthers look for defensive consistency vs Broncos
Over the past few seasons, the Pitt Panthers (2-0) have been known for playing good defense with a ferocious pass rush. The Pitt defense had 97 sacks the past two years and already have racked up ten through two games this season.
That puts them on pace for 60 sacks in twelve games.
One area of improvement Pitt head coach Pat Narduzzi would like to see is his team's tackling.
"I thought it was average at times (vs Tennessee), " Natduzzi said. "I think our linebackers had quite a few missed tackles but again give them credit. It's not like you're playing against the children of the poor. It's a good football team. They have got skill, and they are going to make you miss.
"But our guys, you know, kind of broke down too much more than what we want. They need to go take shots and that was one of our keys to victories is go take shots at these guys. Don't give them time to make you miss, and we didn't do a good job there. We have to practice better at that this week."
One area that could help aid the Pitt defense would be Heinz Field filled with Pitt fans cheering their team on to victory.
As usual, this week's game will not be broadcast on any of the big networks, only being available via internet through ESPN3.
Although Narduzzi would prefer his team be on television for their fans in the Pittsburgh area, he had a suggestion that would aid in the short-term.
"Get to the stadium and help us out," Narduzzi said. "Can't do anything about it, but I think it's good. So I'm letting people know early, 'Hey, get there. We need you.' "
Narduzzi expects his team to be focused and not caught up in any letdowns after a big road win last week at Tennessee 41-34.
"We'll have a better week (of practice) this week than we had last week," the Pitt head coach said. "I have to make sure they're locked in. It will be hard week's practice, that's for sure.
"The leadership will help. Kenny Pickett's captain #1. It will start with him and how he practices, and guys will follow those seniors. The way they flow, the way they go and the way they approach this game.
"Are they watching more tape than they watched last week? We have a mature football team. We will not overlook anybody."
Western Michigan (1-1) comes into this game after rebounding to pound Illinois State 28-0 last week after being clubbed by Michigan in the season opener 47-14.
Narduzzi would no doubt like to see his rushing game get going vs the Broncos who give up 181.5 yards a game on the ground.
"Right now, we have some balance to our offense, but you've also got a quarterback that can throw it," Narduzzi said. "You've got some talented receivers, and we've got to spread the ball around.
"So I feel like we can run the ball when we need to, and we have to do a better job executing some of the things up front. I know (offensive coordinator Mark) Whipple felt like, as many points as we scored against an SEC team, he felt like, man, it was just one play off."
Pitt's Game Plan for Success
Offense
Finish Drives: Against lesser opponents into enemy territory, drives need to end in touchdowns, not field goals. Dominate the line of scrimmage.
Rushing attack: Pitt needs Izzy Abanikanda to step up and take over this game. Michigan was able to pile up over 300 yards on the ground vs this team, so asking for 150-200 isn't asking much.
Defense
Pressure Kaleb Eleby: Like any QB worth his weight, if you give him time in at this level, he will eventually make you pay. The Panther front seven needs to wreak havoc and put Eleby on the run.
Get off the field: Too many defensive lapses after an offensive touchdown scored. Feed off the moment.
Prediction
It's quite simple for the Panthers this week.
Step up and take what is yours.
Coming of a great road win in SEC territory over Tennessee is just the start of a successful path Pitt could be journeying on. Right now it's one game at a time time, and using each week to get better and atone for the mistakes that occurred in previous weeks.
Look for Kenny Pickett to establish the passing attack quickly, with Izzy Abanikanda and the ground game taking it the rest of the way. The Panther defense should be able to make life miserable for Broncos QB Kalen Eleby and shut down any type of run game put out by Western Michigan. The biggest key is the defense coming up big after their counterparts on offense get a big score.
Pitt 45 Western Michigan 17

Scouting at the Pitt Panthers
Overall Record: 2-0 | ACC Record: 0-0 | Rank: n/a
Previous Game: Pitt 41 Tennessee 34
Head Coach: Pat Narduzzi (7th Season with Pitt)
Pitt Links
Pitt Offense (Pro Style)
Strengths: Strong passing game under the leadership of Kenny Pickett who has a bevy of weapons at his disposal.
Weaknesses: Not truly a weakness, but the rushing attack needs to produce better numbers in these next two games, taking a little pressure of the shoulders of Pickett and the air attack.
Offensive Stats
Points per game: 46
Total offense yards per game: 497
Passing yards per game: 338
Rushing yards per game: 159
Starting Quarterback: Kenny Pickett | Back-ups: Nick Patti and Davis Beville.
Kenny Pickett returns for his 4th season as QB for Pitt. Pickett has a strong, accurate arm and can burn defenses with his running ability out of the pocket. Pickett has thrown  for 557 yards and four touchdown passes. Pickett also has 58 yards rushing and a touchdown.
Starting Running Back: Israel Abanikanda | Back-ups: Vincent Davis, A.J. Davis, Todd Sibley, Rodney Hammond, and Daniel Carter.
Israel Abanikanda has been elevated to starter and has rushed for 73 yards and a score. Vincent Davis actually has more carries, but less yards with 65, but does have two touchdowns. A.J. Davis was the opening day starter but has carried the ball only twice. Todd Sibley, Rodney Hammond, and Daniel Carter may see carries from time to time.
Wide Receivers: (Outside) Taysir Mack, Shocky Jacques-Louis , Jared Wayne, Melquise Stovall and Tre Tipton.
(Slot) Jordan Addison and Jaylon Barden.
Taysir Mack gives Pitt a steady and reliable senior presence at wide receiver and leads the Panthers with 134 yards receiving off of seven catches. Jordan Addison leads the team with 11 receptions for 104 yards and two touchdowns. Jared Wayne is 2nd on the team with nine catches for 11 yards. Shocky Jacques-Louis has four receptions for 39 yards so far. Jaylon Barden has one catch for 47 yards, while Hawaii transfer Marquise Stovall has contributed two catches for 21 yards and a TD.
Tight Ends: Lucas Krull and Gavin Bartholomew.
Lucas Krull has rejuvenated the tight end position for Pitt, ranking 3rd on the team with eight catches for 92 yards and two touchdowns. Gavin Bartholomew has also caught three passes for 21 yards.
Placekicker: Sam Scarton
Extra Points: 9-10
1-19 yards: 0-0
20-29 yards: 1-1
30-39 yards: 2-2
40-49 yards: 0-0
50+ yards: 0-0
Offensive Line
Left Tackle: Carter Warren
Left Guard: Marcus Minor
Center: Owen Drexel
Right Guard: Jake Kradel
Right Tackle: Gabe Houy
Pitt Defense (Base 4-3)
Strengths: Superb pass rush.
Weaknesses: Aggressive defense sometimes get caught in the attack, giving up long plays in the air as corners are usually in one on one coverage. Sloppy tackling at times. Need to clamp down on ensuing drives after an offensive touchdown is scored.
Defensive Stats
Points per game allowed: 20.5
Total offense yards per game allowed: 291.5
Passing yards allowed: 203
Rushing yards allowed: 88.5
Sacks: 10
Interceptions: 1
Defensive Line: Habakuk Baladonaldo, Calijah Kancey, Keyshon Camp, and Deslin Alexandre.
Habakuk Baladonaldo and Deslin Alexandre are impressive bookends of the defensive line with Calijah Kancey and Keyshon Camp on the inside. Kancey is on the verge on stardom with his skill set, which seems to get better each week. Kancey and Baladonaldo each have two sacks apiece, while Camp has one sack.
Linebackers: Phil Campbell III, Wendall Davis/SirVocea Dennis, and Cam Bright.
Phil Campbell III (Money) and Cam Bright (Star) surround Wendall Davis (Mike) at the linebacker position that has good speed and instincts when it comes at stopping the opposing run game. John Petrishen has been a big part of the linebacker rotation and has two sacks to his credit. Campbell has one sack. SirVocea Dennis leads the team with 17 tackles.
Secondary: Marquis Williams, Brandon Hill, Erick Hallett II/Rashad Battle, and Damarri Mathis.
Marquis Williams and Damarri Mathis man the corners with Brandon Hill at strong safety and Erick Hallett II at free safety. Hills has one INT on the year.
Pitt Special Teams
Punter: Kirk Christodoulou
Kickoff Returners: Jaylon Barden and Isreal Abanikanda
Punt Returner: Jaylon Barden and Melquise Stovall
Scouting report: Jaylon Barden is the primary kick returner and is averaging 20.8 yards per return. Melquise Stoval has averaged -0.8 yards per punt return, so some improvement is drastically needed in that area.
Scouting the Western Michigan Broncos
Overall Record: 1-1 | Rank: n/a
Previous Game: Western Michigan 28 Illinois State 0
Head Coach: Tim Lester (5th Season with Western Michigan)
Lifetime Record: 55-44 | 25-21 with Western Michigan
Links
Western Michigan Offense (Multiple)
Strengths: Kaleb Eleby has some nice weapons IF given time in the pocket.
Weaknesses: Run game vs good defenses.
Offensive Stats
Points per game: 21
Total Offense per game: 358.5
Passing yards per game: 182.5
Rushing yards per game: 176 
Starting Quarterback: Kaleb Eleby | Back-up: Jack Salopek
Kaleb Eleby has thrown for 365 yards and two touchdowns. He has been sacked twice. Eleby has only 18 yards rushing off of 12 attempts. Eleby was only 20-37 vs Michigan for 191 yards, but completed 71,4% of his passes last week vs Illinois State.
Running Backs: Sean Tyler and La'Darius Jefferson
La'Darius Jefferson leads the team with 144 yards rushing with three touchdowns. Sean Tyler is right behind him with 133 yards on the ground and one TD. Jefferson had just 38 yards vs the Wolverines.
Wide Receivers: Bryce Nunnelly, Skyy Moore, Corey Crooms, Jaylen Hall, Anthony Sambucci, and Henry Wilson.
Jaylen Hall leads the team with 10 receptions for 121 yards and a score. Corey Crooms is 2nd with nine catches for 114 yards and a TD. Bryce Nunnelly has contributed seven catches for 52 yards. Bryce Nunnelly has two catches for 22 yards.
Tight Ends: Anthony Torres and Jack Sherwin.
Anthony Torres has just one catch for eight yards.
Kicker: Parker Sampson
Extra Points: 6-6
1-19 yards: 0-0
20-29 yards: 0-0
30-39 yards: 0-0
40-49 yards: 0-1
50+ yards: 0-0
Western Michigan Defense (4-3)
Strengths: Ok pass rush with five sacks on the season, but just one when they faced Michigan.
Weaknesses: Rush defense is porous allowing 181.5 yard per game.
Defensive Stats
Points per game allowed: 23.5
Total offense yards per game allowed: 304
Passing yards allowed: 122.5
Rushing yards allowed: 181.5
Sacks: 5
Interceptions: 1
Scouting report: Linebacker Corvin Moment co-leads the Broncos with 15 tackles and one sack. A.J. Thomas also has 15 tackles. Safety Bricen Garner has eight tackles and one INT. Garner began his carer with Pitt.
Defensive linemen Ali Fayad and Marshawn Kneelad each have a sack.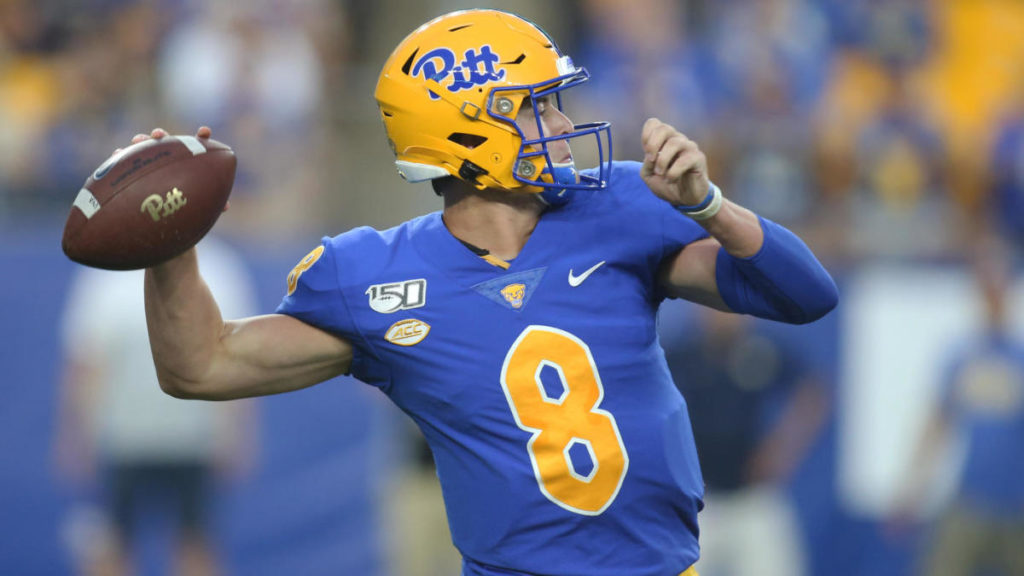 Game Day Information
Pitt Panthers vs Western Michigan
Venue: Heinz Field, Pittsburgh, PA.
Tickets: Pitt Panthers
Game-time: Saturday, September 18th at 12:00 pm
TV: RSN (Bally Sports) and ESPN3
Announcers: Tom Werme (play-by-play) James Bates (analyst) | Lyndsay Rowley (reporter)
Local Radio: Pittsburgh- 93.7 The Fan
Announcers: Bill Hillgrove  (play-by-play) Pat Bostick (analyst) | Larry Richert (reporter)
Alternate Broadcasts:
Online Radio: 937thefan.radio.com
Satellite Radio: Sirius Channel 111, XM Channel 193, SXM App Channel 955
Weather at Kickoff: 80 and sunny. Winds out of the north at 5 MPH.
ACC Links:

Pitt vs Western Michigan History
Series Began: 2021
Overall Record: 0-0
At Home: 0-0
On Road: 0-0
Neutral Site: 0-0
ACC Series: n/a
Streak: n/a
Last Game: n/a
Did You Know?* 
 Kenny Pickett, Pitt's fourth all-time leading passer with 8,541 yards, needs just 57 to eclipse Dan Marino (8,597 from 1979-82) for second place. Alex Van Pelt (1989-92) is the career leader with 11,267.
Since 2015, Pat Narduzzi has directed Pitt to 29 victories in ACC play, the fourth-highest win total during that span. The Panthers trail only Clemson (46), Miami (32) and Virginia Tech (30).

Pitt strong safety Brandon Hill was named ACC Co-Defensive Back of the Week after leading the team with seven tackles and intercepting Tennessee quarterback Hendon Hooker in the final five minutes

*Courtesy of pittsburghpanthers.com
Injury Report (9/16/21)
Pitt Panthers
Out: None reported
Doubtful: None reported
Questionable: TE Grant Carrigan
Western Michigan Broncos
Out: None reported
Doubtful: None reported
Questionable: TE Brett Borske (knee), WR Skyy Moore (knee)
Author Profile
From Midland, "The Basketball Capital of Pennsylvania", located 35 miles NW of Pittsburgh along the Ohio River. This former steel town was home to storied athletes such as Dave Alston, Norm Van Lier, Simmie Hill, and the legendary 1965 Midland High School Basketball Team.

There's nowhere on earth that is more dedicated to its sports teams like Western Pennsylvania and the city of Pittsburgh. The passion and pride of Pittsburgh's fan base is second to no one. From the NFL, NHL, MLB, NCAA football and basketball, to W.P.I.A.L. high school sports, "The City of Champions" has it all!

As Editor of Pittsburgh SportsNation, Mike Drakulich provides top notch opinions and coverage of the Pittsburgh Steelers, Pittsburgh Penguins, Pittsburgh Pirates, Pitt Panthers football & basketball, Robert Morris Colonials basketball, and Duquesne Dukes basketball, as well as all sports teams that represent Western Pennsylvania, including WPIAL High School Football.

For a refreshing view of sports, mixed with humor and uncensored opinions, check out Pittsburgh SportsNation today on Facebook, Twitter @PghSportsNation and videos with over 1,000,000 views on YouTube!