Read Time:
12 Minute, 16 Second
The University of Pittsburgh has a tradition of excellence in football that dates back to the early 1900's. The Pitt Panthers have won nine National Championships and have had some of the greatest players in the history of football call Pitt their alma mater. Pitt has 25 members in the College Football Hall of Fame and nine have been enshrined in the Pro Football Hall of Fame. NGSC Sports brings you the best Pitt Game Day Guide you will find anywhere! This is where true Panther fans come to find out about Pitt and their upcoming opponent! Mike Drakulich (@PghSportsNation) brings you inside the huddle for both teams, providing all fans with a weekly game story, Pitt's game plan for victory, score prediction, crucial game day information, and a detailed breakdown of each team. Heck, you'll even know the weather at kickoff! The only thing you're missing is a game uniform!
Pitt confident heading down stretch, seek consistency in rushing attack
Some say too much of one thing may be bad overall.
The Pitt Panthers (4-4) have great depth at running back, but out of the five players that have seen the ball in 2020, none have stepped up to be the top guy in the Panther rushing attack.
"The problem you get into is there are only so many snaps," Pitt RB coach Andre Powell said. "We're probably the only team in the ACC that was rotating (four) backs. That's because there's no guy that's just clearly better than the other."
When you have too many horses in the stable, a few of them are going to get upset when their number isn't called as much as they'd like it to.
"No matter how you slice it, at the end of the night, someone's going to get (fewer) reps than someone," he said. "There's a potential for someone to get mad. 'Why didn't I play more?'
"I always respond the same: 'Practice better. Play better. The more plays you make, the more you play.' "
With only three games left in the regular season for Pitt, Powell would like to see someone take the offense by the reigns and awaken his dormant Panther rushing attack.
Right now the opportunity will be given to Vincent Davis and A.J. Davis.
"It looks like Vince probably has the total package a little bit better than the rest," Powell said.
Vincent Davis, a sophomore, is Pitt's leading rusher with just 313 yards in eight games. Senior A.J. Davis is 2nd with 140.
Heading into week 10 of the ACC season, the Panthers are 13th out of15 teams in the ACC with an paltry average of 104.2 rushing yards per game.
Virginia Tech running back Khalil Herbert has 852 yards rushing. That's 188 more than the combined total of Pitt's backs five RB's (664).
"A.J., being the veteran who's seen pressure for four years now, and Vince is pretty heads up, pretty tough and has pretty good fundamentals when it comes to pass protection," Powell said. "Those two guys were the best at understanding all the pressures, how we adjust the protections to pick up certain blitzes."
Powell would love to see more from junior Todd Sibley, redshirt freshman Daniel Carter, and freshman Izzy Abanikanda, but it appears that trio has their work cut out for them, and a lot to learn before they get their shot.
"We all wish they were All-ACC candidates, but they're not," Powell said. "So, we'll just keep coaching and stay the course. This is why you're not playing. This is what you need to do. Pretty simple. Until you do it, status doesn't change as much."
Prediction
Pitt plays much better offensively when Kenny Pickett is under center. After a slow start, the Panthers tore Florida State apart and enjoyed their best game of the season in a 41-17 rout of the Seminoles. Now they face a Virginia Tech team that they historically play well at home against. The Hokies are built to run the ball, just as Florida State was, and the Panther defense is stout against the run giving up just 78.8 yards per game. Additionally, this is not your dad's VaTech defense. The Hokies are adept at pressuring opposing quarterbacks and have 30 sacks on the season, but are allowing an astounding 451.4 yards per game and over 30 points on the scoreboard weekly. If Pitt can protect the ball and contain the Hokies rushing attack they will be the team leaving Heinz Field a game above .500, not a game below it…
Pitt 31 Virginia Tech 27
Pitt's Game Plan for Victory
Offense
Kenny Pickett: Coming off an ankle injury and missing two contests, Pickett came back vs Florida State and played well. Now it's time to up his game, find his playmakers, and avoid a good Hokies pass rush.
Someone step up and take over: This is the 9th game and Pitt still has no running game, and no identity whatsoever. Pitt RB coach Andre Powell says both Vincent and A.J. Davis will be given the chance to take the horse by the reigns in this one. The offensive line needs to step up, get some push, and create some holes for their backs to gain good chunks of yardage vs a vulnerable Hokies defense.
Defense
Contain Hendon Hooker: He is the guy that stirs the drink for the Hokies offense, with both his arm and legs. The Panthers defense will have to keep Hooker under wraps, pressure him on drop backs, and lay the wood to him every time he carries the ball.
Khalil Herbert: Like with Hooker, the Hokie offense is run, run, run. If it isn't Hooker toting the rock for VaTech, you can bet there will be a healthy dose of Herbert all game. Limiting splash plays from this two-headed monster of a rushing attack is priority #1 for the Panther defense, which specializes in stopping the run game of all their foes on the gridiron.

A look at the Pitt Panthers
Overall Record: 4-4 | ACC Record: 3-4 | Rank: n/a
Head Coach: Pat Narduzzi (6th Season with Pitt)
Pitt Team/Individual Statistics
Previous Game: Pitt 41 Florida State 17
Pitt Offense (Pro Style)
Points per game: 27.6
Total offense yards per game: 357.6
Passing yards per game: 253.4
Rushing yards per game: 104.3
Scouting report: Kenny Pickett is the starter for the Panthers. He has been accurate with his passes and can take off with the ball when chased from the pocket. Pickett has 1,599 yards passing and eight touchdown passes. He has rushed for 132 yards.
The Panther rushing attack has depth, but no one has taken total control. Vincent Davis leads the team with 313 yards and four touchdowns. Davis also has 17 receptions for 104 yards. Israel Abanikanda is a special talent as a true freshman, but hasn't gotten much time. He has 95 yards rushing and one touchdown. A.J. Davis is healthy again, but has just 132 yards on the ground. Daniel Carter and Todd Sibley have yet to contribute much this season.
True Freshman Jordan Addison leads the team with 52 receptions for 611 yards and three touchdowns. Transfer D.J. Turner has 336 yards receiving on 21 catches. Expect action from a bevy of players, including Shocky Jacques-Louis (22-273-0), as well as Taysir Mack (17-248-2), who has stepped up his play after missing the first two games. Jared Wayne (11-204-1) and Tre Tipton round out the Panther weapons at WR.
Lucas Krull was hopeful to make a difference at tight end for the Panthers, but that has yet to come to fruition. Daniel Moraga is a the lone theat at tight end, and has caught four passes for 42 yards and a score.
Though the talent is there, this offensive group is prone dropping passes and committing stupid penalties.
Starting Quarterback: Kenny Pickett | Back-ups: Joey Yellen, Davis Beville, and Eli Kosanovich
Running Backs: Vincent Davis, A.J. Davis, Todd Sibley, Daniel Carter, and Israel Abanikanda
Wide Receivers: (Outside) Taysir Mack, Shocky Jacques-Louis, Jared Wayne, Tre Tipton, and D.J. Turner
(Slot) Jordan Addison and John Vardzell
Tight Ends: Daniel Moraga, and Jake Zilinskas
Offensive Line
Left Tackle: Carter Warren
Left Guard: Bryce Hargrove
Center: Jimmy Morrissey
Right Guard: Jake Kradel
Right Tackle: Gabe Houy
Pitt Defense (Base 4-3)
Scouting report: Superb at pressuring the quarterback and even better and stopping the run. Patrick Jones II leads the team with 7.5 sacks and has 47 tackles. he is part of a stout defensive line that includes Tyler Bentley, David Green, Keyshon Camp, Devin Danielson, and Rashad Weaver.
FS Damar Hamlin leads the team with 67 tackles and has two INT's. SS Brandon Hill has stepped into the spot vacated by Paris Ford and the future looks bright.
Pitt is tops in the nation with 38 sacks and they allow a paltry 78.8 yards per game on the ground. The secondary is prone to giving up big plays at times, as the corners are normally one on one vs opposing wide outs. That said, they play takeaway plenty, as evident of their 11 interceptions recorded.
Points per game allowed: 23.0
Total offense yards per game allowed: 296.5
Passing yards allowed: 217.8
Rushing yards allowed: 78.8
Sacks: 38
Interceptions: 11
Defensive End: Patrick Jones II
Defensive Tackle: Tyler Bentley/David Green
Defensive Tackle: Devin Danielson
Defensive End: Rashad Weaver
Money LB: Phil Campbell III
Mike LB: Chase Pine/Wendall Davis
Star LB: Cam Bright
Cornerback: Marquis Williams
Strong Safety: Brandon Hill
Free Safety: Damar Hamlin
Cornerback: Jason Pinnock
Special Teams
Scouting report: Kicker Alex Kessman has been a headcase at times in 2020, going 14 of 20 in field goals, including making a 58 yard FG, but missing an extra point to tie the game vs Boston College. WR Jordan Addison is averaging 19.5 yards a return on kickoffs and 7.5 on punt returns. D.J. Turner is averaging 20.3 yards per return on kickoffs.
Placekicker: Alex Kessman
Punter: Kirk Christodoulou
Kickoff Returners: Jordan Addison and A.J. Woods
Punt Returner: Jordan Addison/D.J. Turner
A look at the Virginia Tech Hokies
Overall Record: 4-4 | ACC Record: 4-3 | Rank: n/a
Head Coach: Justin Fuente (5th Season with Virginia Tech)
Lifetime Record: 63-47 | 37-24 (with Virginia Tech)
2020 Virginia Tech Hokies Roster
Virginia Tech Team/Individual Statistics
Previous Game: Miami 25 Virginia Tech 24
Virginia Tech Offense
Points per game: 35.6
Total Offense per game: 452.1
Passing yards per game: 189.4
Rushing yards per game: 262.8
Scouting report: Hendon Hooker is a dual threat QB. Hooker has passed for 1,072 yards with seven touchdowns and four picks. He has been sacked 14 times. Hooker does the majority of his damage with this legs, gaining 574 yards on the ground and nine touchdowns.
Tre Turner is Hooker's top target at WR with 28 catches for 430 yards and a score. Tayvion Robinson has 26 receptions for 372 yards and a pair of TD's. James Mitchell provides a threat at tight end with 18 catches for 311 yards and four touchdowns.
Khalil Herbert is a beast at running back, chopping up foes for 852 yards rushing and six touchdowns. He also has six receptions for 121 yards and a score. Raheem Blackshear will get touches as well. he has 256 yards on the ground in 2020.
Starting Quarterback: Hendon Hooker | Back-up: Braxton Burmeister
Running Backs: Khalil Herbert, Raheem Blackshear, and Jalen Holsten
Wide Receivers: Tre Turner, Tayvion Robinson, Kaleb Smith,
Tight Ends: James Mitchell and Nick Gallo
Virginia Tech Defense (Base 4-2-5)
Scouting report: Remember those nasty Bud Foster defenses the Hokies had? Not happening this year. VaTech is allowing 451.4 yards a game and 30.4 points per game to opposing offenses. DL Justus Reed leads the Hokies with 5.5 sacks, with the team bringing the quarterback down 30 times this season. LB Alan Tisdale leads the team with 79 tackles. DB Devine Deablo is dangerous with 57 tackles and two INT's this year.
Points per game allowed: 30.8
Total offense yards per game allowed: 451.4
Passing yards allowed: 257.5
Rushing yards allowed: 193.9
Sacks: 30
Interceptions: 8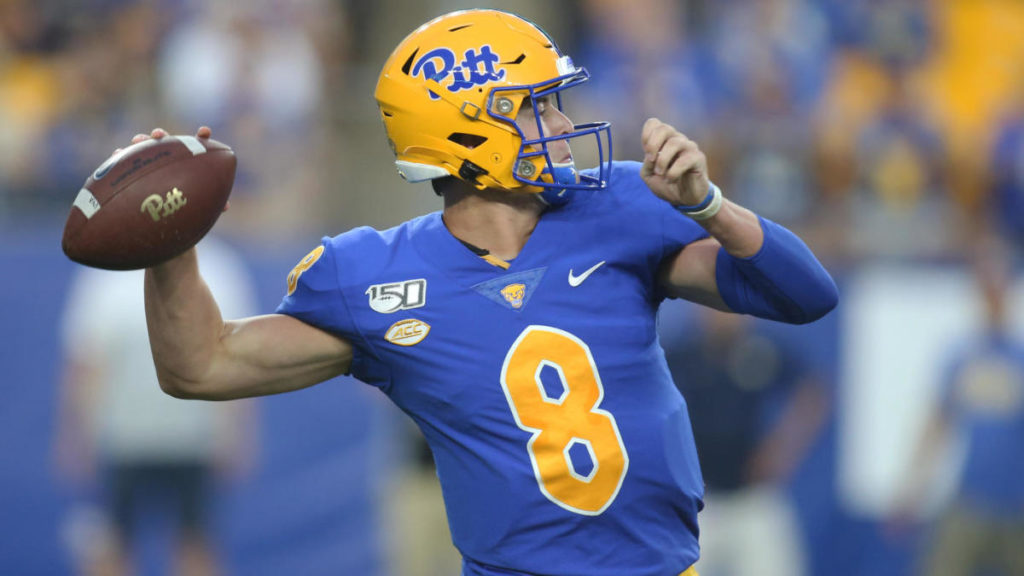 Game Day Information
Pitt Panthers vs Virginia Tech Hokies
Venue: Heinz Field, Pittsburgh, PA. | Field: Kentucky Blue Grass
Game-time: Saturday, November 21st at 4:00 pm.
TV: ACC Network | Announcers: Chris Cotter (play-by-play) Eric Wood (analyst) | Lericia Harris (reporter)
Local Radio: Pittsburgh- 93.7 The Fan | Announcers: Bill Hillgrove (play-by-play) Pat Bostick (analyst) | Larry Richert (reporter)
Online Radio: 937thefan.radio.com
Sirius XM Satellite Radio: Sirius 138, XM 193, Internet 955
Weather at Kickoff: 51 and cloudy. Winds NW 5 mph
Vegas Line: Virginia Tech -3.5

Pitt vs Virginia History
Series History: Began in 1993
Pitt is 8-11 overall vs Virginia Tech
At Home: 6-4
On Road: 2-7
Neutral Site: 0-0
ACC Series: 3-4
Streak: Virginia Tech won the last game.
Last Game: Nov. 23, 2019 (Virginia Tech 28, Pitt 0)
Did You Know?*
Pitt is 5-1 all-time against Virginia Tech at Heinz Field. The teams last met in Pittsburgh in 2018 and the Panthers rolled to a 52-22 victory. The Hokies would avenge that defeat with a 28-0 win in Blacksburg in 2019.
Pitt hosts its final home contest of the 2020 season when it entertains Virginia Tech at Heinz Field. This will be the 20th all-time meeting between the Panthers and Hokies.
The Panthers lead the country with an average of 11.6 tackles for loss per game. Linebacker SirVocea Dennis leads the ACC and ranks second nationally with 13.5 TFLs.
Pitt averages 4.75 sacks per game, tops in the ACC and second nationally. Defensive end Patrick Jones II, a native of Chesapeake, Va., paces the ACC and ranks second in the nation with eight total sacks.
A viable candidate for ACC Offensive Rookie of the Year, Jordan Addison is the nation's top freshman receiver with 52 catches for 611 yards. The last freshman to lead Pitt in receiving was Tyler Boyd in 2013.

*Courtesy of pittsburghpanthers.com
Author Profile
From Midland, "The Basketball Capital of Pennsylvania", located 35 miles NW of Pittsburgh along the Ohio River. This former steel town was home to storied athletes such as Dave Alston, Norm Van Lier, Simmie Hill, and the legendary 1965 Midland High School Basketball Team.

There's nowhere on earth that is more dedicated to its sports teams like Western Pennsylvania and the city of Pittsburgh. The passion and pride of Pittsburgh's fan base is second to no one. From the NFL, NHL, MLB, NCAA football and basketball, to W.P.I.A.L. high school sports, "The City of Champions" has it all!

As Editor of Pittsburgh SportsNation, Mike Drakulich provides top notch opinions and coverage of the Pittsburgh Steelers, Pittsburgh Penguins, Pittsburgh Pirates, Pitt Panthers football & basketball, Robert Morris Colonials basketball, and Duquesne Dukes basketball, as well as all sports teams that represent Western Pennsylvania, including WPIAL High School Football.

For a refreshing view of sports, mixed with humor and uncensored opinions, check out Pittsburgh SportsNation today on Facebook, Twitter @PghSportsNation and videos with over 1,000,000 views on YouTube!