Read Time:
1 Minute, 49 Second
On March 13, 2020, America began a drastic and sudden shutdown to mitigate Covid-19. The virus has taken millions of lives while trying to run the course; the virus has jeopardized millions of other lives around the globe. However, the four commissioners in the United States have begun to execute plans to bring competition back to the fans. In this case, we will talk about MLB.
After a long spat between the owners and the MLBPA they reached a sudden agreement for a 60-game season. A second stint of spring training commences on July 1. However, the Toronto Blue Jays have already paved a complicated path for themselves. The organization has requested to play their games at their home base in Toronto.
There is one big obstacle that appears to be getting in the way of this possibility, the border between the United States and Canada is closed to non-essential travel. It is very difficult for me to see a vision where sports is classified as an essential industry. As I have previously stated, "we can live without sports and Hollywood, but they can't live without us." With that being said, if the Toronto Blue Jays were causing unnecessary travel across the border, the sale of merchandise would likely go down even more.
Another option on the table is Sahlen's Field. This complex is found in Buffalo, New York, and is the home of their AAA affiliate, the Buffalo Bisons. There are two big underlying issues with this possibility. The first one comes on the organizational front; it is unknown what price the team will have to pay to rent the facility. Secondly, Governor Andrew Cuomo has issued a mandatory 14-day quarantine for many of the southern states, including Florida. If they were to play in the Empire State they would have to push the start date back in order to abide by the quarantine, which is not feasible.
Baseball has instituted a new league alignment, and hubs to limit the travel of the teams. Baseball fans, I hate to burst your bubble, but until the dust settles down with the Blue Jays MLB will be put to rest.
Author Profile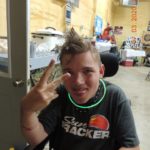 Latest entries