Read Time:
2 Minute, 12 Second
The word legend is thrown around a lot within our society today. According to the Merriam Webster dictionary, a legend is "an extremely famous or notorious person, especially in a particular field." When I think of that word and combine it with high school sports there is only one man that comes to my mind, Dick Gallagher. He made sure to include, at the very least, one kid from each school in his football paper which he started in 1983.
Former Lancaster (NY) High School Athletic Director and Football Coach Len Janciewicz put it best in an interview with WNY Athletics recently. He said "That used to be the go-to paper that everybody wanted to read because they wanted to see somebody's name in the paper that he thought deserves some ink," said close friend and former Lancaster AD Len Jankiewicz, "and boy he really worked at it and lot of times at his own expense. I know this for a fact – he used his own money to pay for the cost of the printing."
A good friend to Gallagher and a well-respected member of the team at WNY Athletics and around the area, Tom Prince put it best when he said "Dick please know that you will always be in my heart. You have done so many amazing things for the WNY community. You have taught me so much along the way. Please know that we will do everything to keep what you have done going for years to come. You will be forever a part of the WNY HS Sports community. Know you have touched so many lives positively along the way that will never be forgotten. You are a true legend. A true icon and will be truly missed. We love you and always will!!"
Gallagher became a mentor to many rising journalists including myself. He lent advice to me in the encounters I had with him. He is the man who enabled me to become the writer I am today. He allowed WNY Athletics to become one of the premier faces of the high school sports landscape, WNY Athletics founder frank wolf told me in an email "I had the great fortune of working with Dick during the football season these last few years and learned a tremendous amount from him. He gave WNY Athletics credibility. In addition to being a tremendous asset for the site, he was also one of our biggest fans. He will be sorely missed by many."
Dick, you may have scored your final touchdown, but the players will keep scoring them for you. This season is for you, RIP sir!
Author Profile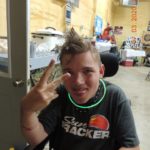 Latest entries