Read Time:
2 Minute, 5 Second
It is getting cooler during the day lately it has been reaching the high 60's to low 70's in Western New York. The Local community college is back to school, Saint Bonaventure is back in session and the sports teams are all back in session. With all of that being said high school kids such as the ones at Allegany-Limestone, have been going to 7v7 practices since mid-June and have been padded up getting ready for football season.
The scene at Allegany-Limestone has been a bit crazy since June. The boss of 12 campaigns, Paul Furlong, resigned from both his coaching and teaching position and picked up duties as a Physical Education teacher and assistant at his alma matter Salamanca. Furlong did have a record of 24-43 however, much of his career was overcome by injuries and young teams.
Tom Callen is going in with everything Furlong dreamed of for over a decade. Mind you, the young man under center at quarterback is his son, senior Thomas Callen. Callen was hurt three plays into the season last year. Had he not gotten hurt, the Gators potentially would have made the playoffs. Injuries have really been rocking the ship lately for the boys who wear black and white.
The coach has high expectations of his players as they have 18 seniors on the team. Therefore, for the first time in a long while, they have a strong base. The players should have a lot of respect for their new coach.
Callen should be trusted by this squad since he was their youth coach. He led them to a Cattaraugus County Midget Football League championship. There are a couple of things that need to happen in order to clinch a playoff berth. Of course, they have to remain healthy. More importantly, the group needs to believe in what they have. The team has had issues believing in the coaching staff in the past. However, I truly think it was because the youngsters were put in tough spots on the fly.
The younger Callen has been developing as have wide receiver Ben Giardini and running back Logan "the L train" Klice. Both of these boys are seniors and I am expecting both to be all over the field. Fans are ready to see the team go far and the puzzle looks complete at this point.
The Allegany-Limestone Gators will kick off against Jason Marsh and the Franklinville-Ellicottville Eagles September 6th in Franklinville.
Author Profile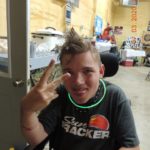 Latest entries