Read Time:
3 Minute, 8 Second
With the restart inside the 'bubble' in Orlando nearing its inception, the Orange Roundball League's Denver Nuggets will tip-off their new beginning on August 1st.
Aforementioned in my article from last week, the glistening duo of Nikola "The Joker" Jokic and Jamal "Blue Arrow" Murray are back together. Jokic was cleared after contracting COVID-19 while at home in Serbia, and he's returned in even better shape than expected.
The Joker lost approximately 20-25 pounds with a tailored exercise and nutrition regimen, and an additional 3-5 bills fighting off the coronavirus. We'll have to see how the muscle gain and weight loss change Nikola's game on the hardwood, but I believe we'll see more of the same brilliant play. However, Mr. Jokic's increased stamina and mobility should most definitely put a little extra fear into his opponents on the defensive end of the floor. Watch out, my friends.
Now that the likes of guards Gary "G-Money" Harris and Torrey "TC3" Craig are back in the fold inside the Walt Disney World Resort, the Nuggets' roster is shaping up to be a force to be reckoned with in Orlando.
I believe that the Los Angeles Lakers, L.A. Clippers, and Milwaukee Bucks should be considered among the favorites to win the 2020 NBA Bubble Championship. What about the Nuggets? The presence of Mr. Harris and Mr. Craig put Denver neck-and-neck with that group of three in my mind.
Gary and Torrey are both viable shooters, they both have the ability to attack the rim in traffic, and both are lock-down defenders on the perimeter. Harris' and Craig's best attributes are represented on the defensive end of the court but don't sleep on their hunger to get to the tin.
These dudes are Nuggets who love to "dip in the sauce like mop and bucket." Look out below for the royal flush, folks. That's right. If you're not careful, you'll get straight-up posterized by one of these young fellas.
Entering the league on two distinctly different paths, Harris and Craig now find themselves reaching for the same goal — to help Mile High Basketball get to the mountaintop — hoisting the Larry O'Brien Trophy as NBA Champions.
Harris, listed at 6-foot-4 and 210 pounds from Fishers, Indiana, was a first-round draft pick out of prestigious Michigan State University when he was selected No. 19-overall in the 2014 NBA Draft. He's been a productive Nugget ever since, and his game just keeps getting better and better.
Craig, standing 6-foot-7 and weighing 221 pounds from Columbia, South Carolina, was left undrafted in 2014 out of USC (University of South Carolina) Upstate. Torrey fought his way up the ranks, starting his climb in the NBL (National Basketball League) in Australia dating back to 2014. After stints with several different NBL teams between Australia and New Zealand, Mr. Craig finally arrived in The Association as a member of the Nuggets in 2017.
As mentioned above, Torrey and Gary are lock-down perimeter defenders. They can stifle and suffocate the very best guards in the NBA with their body positioning and all-out effort. When Nuggets' head coach Mike Malone looks to set an example with his squad defensively, he looks to Craig and Harris to create that tone.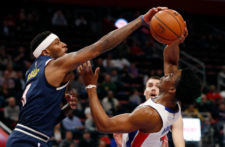 If the Denver Nuggets reach the summit in Orlando, Gary Harris and Torrey Craig will have something to say about it. The hunt for the 2020 NBA Bubble Title will soon be underway. Superior guards, be forewarned when it comes to Mr. Harris and Mr. Craig.
Until next week, be smart, stay safe, and stay healthy.