Read Time:
16 Minute, 39 Second
The University of Pittsburgh has a rich tradition in football that dates back to 1890. The Pitt Panthers are 9-Time National Champions and have had many of the greatest players in the history of football call Pitt their alma mater. Pitt has had 94 First Team All-Americans, 25 members in the College Football Hall of Fame and nine Panthers have been enshrined in the Pro Football Hall of Fame.
NGSC Sports brings you the best Pitt Game Day Preview you will find anywhere! This is where true Panther fans come to find out about Pitt and their upcoming opponent! Mike Drakulich (@PghSportsNation) brings you inside the huddle for both teams, providing all fans with a weekly game story, Pitt's game plan for success, score prediction, crucial game day information, and a detailed breakdown of each team.
Heck, you'll even know the weather at kickoff! The only thing you're missing is a game uniform!
Panthers face Cavaliers for ACC Coastal Title
It's been a long, hard fought road for the Pitt Panthers (8-2) since the Blue-Gold Game in the Spring. All of the early mornings, the weight lifting, the battles in practice, and daily preparation are just 60 minutes of football away from achieving one of the preseason goals for the team… that being winning the ACC Coastal Division title.
A win vs the Virginia Cavaliers (6-4) will crown the Panthers as division champions and vault them into the ACC Championship game a few weeks away on Saturday, December 4th in Charlotte.
First things first, that being taking care of Virginia.
The big question all week has been the health of several Virginia players, most notably QB Brennan Armstrong, who has passed for 3,557 yards passing, 27 touchdowns, and eight interceptions. Armstrong has also rushed for 271 yards and another seven touchdowns to boot.
Unfortunately, Armstrong is still iffy to play thanks to a rib injury suffered vs BYU a few weeks ago. Armstrong did not play last week vs Notre Dame, and back-up, Jay Woolfolk, who made his first ever start, wasn't able to muster much of an offensive attack, as the Cavs were humbled 28-3 to the Irish. Virginia managed just 278 total yards.
To put that into perspective, the Virginia offense is averaging 35.3 points a game, 518 yards of offense, and 380.5 yards passing COUNTING that horrific performance last week.
Suffice to say, Armstrong is the straw that stirs Virginia's drink. Without him, plus the possibility of not having starting RB Wayne Taulapapa and WR Billy Kemp IV, who leads the Cavaliers with 66 receptions, it could be another ugly day on offense for Virginia.
The boys out on Vegas surely don't think Armstrong is playing, as evident by the Panthers being favored by 14.5 points.
Pitt head coach Pat Narduzzi will believe it when he sees it.
"I have no doubts in my mind he's playing in the game," said Narduzzi on 93.7 The Fan's Morning show Thursday. "I think you'd have to rip his rib cage out of his chest cavity for him not to play."
Narduzzi was just echoing his opinion from Tuesday.
"Expect him to play," Narduzzi said. "I think they saved him up. He will be primed and ready for an ACC clash. So we do expect to get their best player, which they didn't have Saturday. Who cares about the Notre Dame game? I think that was kind of the attitude they had going into it.
"We have a great challenge ahead. Big football game. Playing for big stuff in November, and that's why you coach. That's why you play the game."
Whomever does suit up under center for Virginia will have to face a Panther defense that has recorded 36 sacks, which ranks tied for 2nd best in college. The woeful Cavs offensive line has also surrendered 30 sacks on the year.
As for his team having any nerves heading into what would a be a division clinching game with a win?
"Our kids will be prepared," Narduzzi said. "I think they're excited. It's another football game. That's the only way I know how to look at it. I don't think they're stressed out at all. They get to go play football. I think you guys (reporters) get stressed out, sitting with those computers and phones. I think you guys are a little tight right now.
"This is a football game. That's all it is. We get to go out and have fun, get to coach and play the game you love."
Pitt wide receiver Jordan Addison, who was named one of 10 semifinalists for the Biletnikoff Award, awarded to college football's top wide receiver, knows what is at stake Saturday afternoon at Heinz Field.
"As a kid and playing receiver at this level, that's what every kid's dream is," Addison said of being a semifinalist. "For me to be mentioned with the rest of the receivers on that list means a lot. But the job's not finished. I've gotta keep working and, you know, I have to do a lot more to help the team win. Right now, I'm not really focused on the award. I'm just trying to get this win this week coming up."
Pitt quarterback Kenny Pickett, who is also in the running for a certain famous award…the Heisman, is proud of his favorite target in the Panthers passing attack.
"It's very cool any time any of my teammates are able to accomplish the things they've accomplished in the past, and now Jordan's another one," Pickett said. "It's awesome to see the work and the transformation. I was able to be a part of the whole ride. It's been an honor to play next to him, and I hope we can go get that for him."
Both Pickett and Addison have to be salivating looking at tape of the Virginia defense, which gives up 30.5 points per game, and 461.9 yards per game.
Pitt offensive coordinator Mark Whipple, who is also up for an award, the Broyles Award, recognizing the top assistant coach in college football, has turned the Panther offense into a juggernaut.
"You need confidence, and he's big on preaching that to us," Pickett said of Whipple. "It's not about plays. It's about players. It's about the guys who go out and do it. He puts that confidence in us. Everyone feels that."
Pitt's Game Plan for Success
Offense
Find balance: No doubt Kenny Pickett and the passing game will flourish, but let's not forget the rushing attack, as Virginia's run defense is as loose as Sleepy Joe Biden's border enforcement. The trio of Israel Abanikanda, Vincent Davis, and Rodney Hammond should each see the ball 5-10 times.
Run some clock: Especially if the Panthers have a lead late in the 3rd quarter or the 4th quarter. Shorten the game by utilizing the play clock to your advantage. There is zero benefit to running a play with the lead with 25 to 30 seconds left to snap the ball. Keeps the defense fresh, too.
Defense
Bring it: Regardless of if Brennan Armstrong is in or not, the pass rush needs to be relentless and cause chaos all day, and if they do, they'll be beneficiaries of a few well earned turnovers in this one.
Enter Sandman: If the Panthers get a lead as they did vs UNC, BOTH sides of the ball need to have a killer mentality and put the Cavaliers away with extreme prejudice. No more letting teams hang around. That's how champions do it.
Prediction
Will Brennan Armstrong play or not? The feeling is no, but you never know– maybe Mr. Miyagi shows up in the Cavs locker room before the game. Whether it's Armstrong or Jay Woolfolk, the Panther pass rush is going to be a nightmare for the Cavaliers to deal with. With RB Wayne Taulapapa and WR Billy Kemp IV also possibly out, one player that the Pitt defense will have to keep an eye on will be #99 Keytaon Thompson, who does a little bit of everything, rushing for 227 yards with three touchdowns, and catching 59 passes for 756 yards and one touchdown. The Cavs deep threat is WR Dontayvion Wicks, who has 1,004 yards receiving this year, but failed to record a catch last week vs Notre Dame.
This is the game both Pitt and their fans have long waited for. A home game where a win will clinch the ACC Coastal Division and a trip to the ACC Championship.
It's hard to imagine a wounded Virginia team keeping up with this Pitt offense, especially with a nonexistent pass rush.
Where many Pitt teams have failed, this one will rise to the occasion and will send Kenny Pickett, and the rest of the Panther players who will play their final game at Heinz Field, off as champions.
If Armstrong is out… Pitt 41 Virginia 10 / If Armstrong plays… Pitt 38 Virginia 27
Game Day Information
#18 Pitt Panthers vs Virginia Cavaliers
Venue: Heinz Field, Pittsburgh, PA.
Tickets: Pitt Ticket Office
Game-time: Saturday, November 20th at 3:30 pm
TV: ESPN2
Announcers: Beth Mowins (play-by-play) Kirk Morrison (analyst) | Dawn Davenport (reporter)
Local Radio: Pittsburgh- 93.7 The Fan
Announcers: Bill Hillgrove (play-by-play) Pat Bostick (analyst) | Larry Richert (reporter)
Alternative Broadcasts
Online Radio: 937thefan.radio.com
Satellite Radio: Sirius Channel 158, XM Channel 193, SXM App Channel 955
Weather at Kickoff: 49 and cloudy. Winds out of the South at 8 MPH.
ACC Links

Scouting the Pitt Panthers
Overall Record: 8-2 | ACC Record: 5-1 | Rank: #17
Previous Game: Pitt 30 North Carolina 23 OT
Head Coach: Pat Narduzzi (7th Season with Pitt)
Pitt Links
Pitt Offense (Pro Style)
Offensive Stats
Points per game: 43.5
Total offense yards per game: 531.1
Passing yards per game: 373.1
Rushing yards per game: 158
Offensive Scouting Report
Strengths: The passing game on the arm of Kenny Pickett, with weapons like WR Jordan Addison and TE Lucas Krull at his disposal. Running game with Israel Abanikanda has come on strong mid-season.
Weaknesses: Running some clock with a lead in the 4th quarter.
Starting Quarterback: Kenny Pickett | Back-ups: Nick Patti and Davis Beville.
Kenny Pickett returns for his 4th season as QB for Pitt. The super senior has a strong, accurate arm and can burn defenses with his running ability out of the pocket. Pickett, who has entered the Heisman talk, has thrown for 3,517 yards, 32 touchdowns, with just four interceptions, and has rushed for 231 yards and another four touchdowns. Defenses have gotten to Pickett 22 times for sacks.
Starting Running Back: Israel Abanikanda | Back-ups: Vincent Davis, Rodney Hammond, Todd Sibley, and Daniel Carter.
Israel Abanikanda has been elevated to starter, and has rushed for 561 yards and five touchdowns. Abanikanda also has 22 receptions for 185 yards. Vincent Davis is 3rd on the team with 332 yards rushing, with four touchdowns, and has 19 catches for 108 yards. Todd Sibley and Daniel Carter have been rarely used, but Rodney Hammond has shot up the depth chart and made the most of his work, and is now 2nd in rushing with 354 yards and four touchdowns.
Wide Receivers: (Outside) Taysir Mack, Jared Wayne, Shocky Jacques-Louis, Melquise Stovall and Jaden Bradley.
(Slot) Jordan Addison, Jaylon Barden*, and Tre Tipton.
Jordan Addison, a Biletnikoff candidate, leads the team with 60 receptions for 1,070 yards and 11 touchdowns. Taysir Mack gives Pitt a steady and reliable senior presence at wide receiver and has 461 yards receiving off of 27 catches, three that have found the endzone. Jared Wayne is 3rd on the team with 37 catches for 566 yards and four TD's. Shocky Jacques-Louis has 20 receptions for 209 yards so far, and a score. Jaylon Barden has nine catches for 174 yards and two TD's, while Hawaii transfer Marquise Stovall has contributed 14 catches for 189 yards and a TD. Jaden Bradley, a promising freshman, has caught eight passes for 114 yards.
Tight Ends: Lucas Krull and Gavin Bartholomew.
Lucas Krull has rejuvenated the tight end position for Pitt, ranking 4th on the team with 27 catches for 339 yards and six touchdowns. Gavin Bartholomew has also caught 19 passes for 228 yards and a three touchdowns.
Placekicker: Sam Scarton
Extra Points: 50-53
Field Goals: 13-16
1-19 yards: 0-0
20-29 yards: 3-3
30-39 yards: 6-7
40-49 yards: 4-5
50+ yards: 0-1
*Injured/Out
Pitt Defense (Base 4-3)
Defensive Stats
Points per game allowed: 22.7
Total offense yards per game allowed: 348.9
Passing yards allowed: 242.9
Rushing yards allowed: 106
Sacks: 36
Interceptions: 10
Defensive Scouting Report
Strengths: Strong pass rush and tough against the run.
Weaknesses: Secondary can be vulnerable if quarterback is given time to throw deep. Sometimes coaches become stubborn in making needed adjustments to protect the deep pass.
Defensive Line: Habakuk Baladonaldo, Calijah Kancey, Keyshon Camp, and Deslin Alexandre.
Habakuk Baladonaldo and Deslin Alexandre are impressive bookends of the defensive line with Calijah Kancey and Keyshon Camp on the inside. Kancey has five sacks. Baladonaldo has eight sacks, while Camp has one sack.
Linebackers: Phil Campbell III, SirVocea Dennis, and Cam Bright/John Petrishen.
Phil Campbell III (Money) and Cam Bright (Star) surround SirVocea Dennis (Mike) at the linebacker position that has good speed and instincts when it comes at stopping the opposing run game. John Petrishen has been a big part of the linebacker rotation and has 74 tackles, three sacks, and three interceptions–one a pick six. Campbell has four sacks. Dennis leads the front seven with 93 tackles, has two sacks, and one INT that he took to the house vs Clemson.
Secondary: Marquis Williams, Brandon Hill, Erick Hallett II, and Damarri Mathis/M.J. Devonshire.
Marquis Williams and Damarri Mathis man the corners with Brandon Hill at strong safety and Erick Hallett II at free safety. Hill has one INT on the year, while Mathis has two. M.J. Devonshire sees plenty of time on passing downs and has one interception.
Pitt Special Teams
Punter: Kirk Christodoulou
Kickoff Returners: Vincent Davis and Israel Abanikanda
Punt Returner: Jordan Addison
Scouting report: Israel Abanikanda is the primary kick returner with Jaylon Barden injured, and is averaging 21 yards per return. Vincent Davis has averaged 15.0 yards per return. Jordan Addison has averaged 15.4 yards per punt return. M.J. Devonshire may get some punt return looks eventually.
Scouting the Virginia Cavaliers
Overall Record: 6-4 | ACC Record: 4-2 | Rank: n/a
Previous Game: Notre Dame 28 Virginia 3
Head Coach: Bronco Mendenhall (6th Season with Virginia)
Lifetime Record: 135-79 | 36-36 with Virginia
Links
Virginia Offense (Multiple)
Offensive Stats
Points per game: 35.3
Total Offense per game: 518.2
Passing yards per game: 380.5
Rushing yards per game: 137.7
Offensive Scouting Report
Strengths: Brennan Armstrong, but he is likely out. Virginia's passing game is lights out with him in. Keytaon Thompson is a swiss army knife that does everything well.
Weaknesses: Jay Woolfolk at QB instead of Armstrong.
Starting Quarterback: Brennan Armstrong* | Back-up: Jay Woolfolk
Brennan Armstrong is a dual threat with 3,557 yards passing, 27 touchdowns, and eight interceptions. Armstrong has rushed for 271 yards, seven touchdowns, and has been sacked 23 times. He was out last week vs Notre Dame with injured ribs and is questionable to play vs Pitt. Jay Woolfolk made his first start vs the Irish and passed for 231 yards, no touchdowns, and two interceptions. Woolfolk has been sacked seven times, and has collected 59 yards on the ground.
Running Backs: Wayne Taulapapa, Devin Darrington, Mike Hollins, and Ronnie Walker, Jr.
Wayne Taulapapa is the lead back with 290 yards and two scores. Devin Darrington has 225 yards on the ground and two touchdowns. Mike Hollins has rushed for 167 yards and a score.
Wide Receivers: Keytaon Thompson, Dontayvion Wicks, Bill Kemp IV, Ra'Shaun Henry, Malachi Fields, Demick Starling
Keytaon Thompson does a little bit of everything, rushing for 227 yards with three touchdowns, and catching 59 passes for 756 yards and one touchdown. Dontayvion Wicks is a major deep threat and has 44 receptions for a team leading 1,004 yards and nine touchdowns. Bill Kemp IV is the top receiver with 66 catches for 616 yards and six touchdowns. Ra'Shaun Henry has collected 29 catches for 497 yards and two TD's. Malachi Fields has eight receptions for 122 yards.
Tight Ends: Jelani Woods
Jelani Woods has caught 31 passes for 459 yards and six touchdowns.
Kicker: Brendan Farrell
Extra Points: 42-42
Field Goals: 11-15
1-19 yards: 0-0
20-29 yards: 5-5
30-39 yards: 4-5
40-49 yards: 1-1
50+ yards: 1-4
*Injured/Out
Virginia Defense (3-4)
Defensive Stats
Points per game allowed: 30.5
Total offense yards per game allowed: 461.9
Passing yards allowed: 239.8
Rushing yards allowed: 222.1
Sacks: 11
Interceptions: 6
Defensive Scouting Report
Strengths: Giving up a lot of yards and points.
Weaknesses: Pick one. Run defense couldn't stop a high school JV team. Secondary is just as bad. Nearly zero pass rush with just 11 sacks.
Defensive Line: Mandy Alonso has 48 tackles and three sacks.
Linebackers: Nick Jackson has 147 tackles and one sack. Noah Taylor has 97 tackles and three sacks. Hunter Stewart has 53 tackles and two sacks.
Secondary: Safety Joey Blount has two interceptions to go with 100 tackles. Corner Anthony Johnson has 48 tackles and two interceptions.
Virginia Special Teams
Kickoff Returners: Mike Hollins
Punt Returner: Bill Kemp IV
Scouting report: Mike Hollins is averaging 14.2 yards per kickoff return. Bill Kemp IV has averaged 7.9 yards per punt return.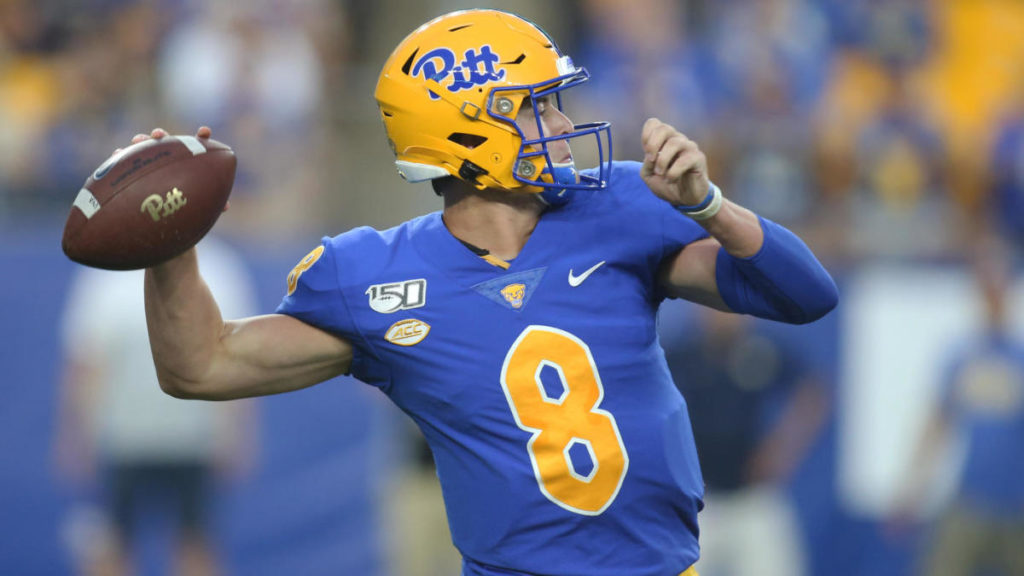 Pitt vs Virginia History
Series Began: 1953
Overall Record: 8-4
At Home: 5-1
On Road: 3-2
Neutral Site: 0-1
ACC Series: 5-2
Streak: Virginia won the last game.
Last Game: Aug. 31, 2019 (Virginia won, 30-14)
Game Notes*
Pitt can claim its second ACC Coastal Division championship in four seasons when the Panthers host Virginia at Heinz Field this Saturday.
Kenny Pickett is having an All- America caliber season. Pickett ranks fourth nationally—and second among Power 5 quarterbacks—with 32 touchdown passes. He has thrown only four interceptions this year.
Pickett needs only 163 yards to set the Pitt single-season passing yardage record. He has thrown for 3,517 yards this season, second only to Rod Rutherford's 3,679 in 2003

Pickett is piloting the nation's No. 2 unit in total offense at 531.1 yards per contest. The Panthers rank fourth nationally in scoring, averaging 43.5 points a game.

Wide receiver Jordan Addison is also producing at an All-America level. Addison is tied for the national lead with 11 touchdown catches, the most by a Pitt player since Larry Fitzgerald had a school-record 22 in 2003.
*Courtesy of pittsburghpanthers.com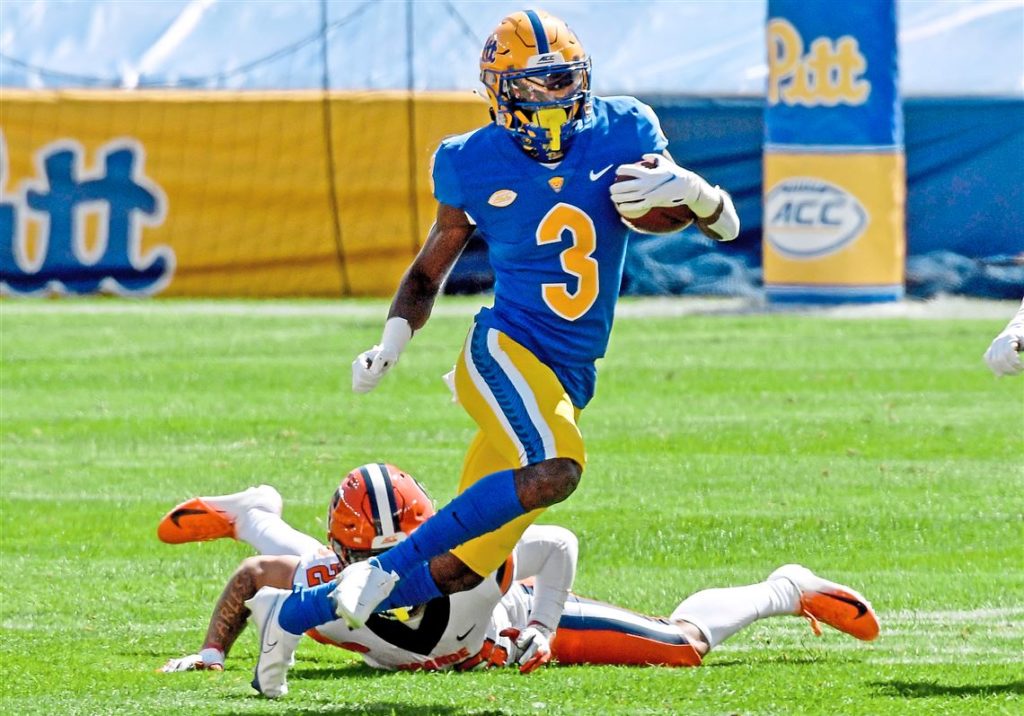 Injury Report (11/18/21)
Pitt Panthers
Out: LB Wendall Davis (left team), DL Keyshon Camp, WR Jaylon Barden
Doubtful: None reported
Questionable: WR Taysir Mack, G Jake Kradel
Virginia Cavaliers
Out: None reported
Doubtful: CB Fentrell Cypress
Questionable: QB Brennan Armstrong (Ribs), WR Billy Kemp IV, RB Wayne Taulapapa, DE Adeeb Atariwa
Author Profile
From Midland, "The Basketball Capital of Pennsylvania", located 35 miles NW of Pittsburgh along the Ohio River. This former steel town was home to storied athletes such as Dave Alston, Norm Van Lier, Simmie Hill, and the legendary 1965 Midland High School Basketball Team.

There's nowhere on earth that is more dedicated to its sports teams like Western Pennsylvania and the city of Pittsburgh. The passion and pride of Pittsburgh's fan base is second to no one. From the NFL, NHL, MLB, NCAA football and basketball, to W.P.I.A.L. high school sports, "The City of Champions" has it all!

As Editor of Pittsburgh SportsNation, Mike Drakulich provides top notch opinions and coverage of the Pittsburgh Steelers, Pittsburgh Penguins, Pittsburgh Pirates, Pitt Panthers football & basketball, Robert Morris Colonials basketball, and Duquesne Dukes basketball, as well as all sports teams that represent Western Pennsylvania, including WPIAL High School Football.

For a refreshing view of sports, mixed with humor and uncensored opinions, check out Pittsburgh SportsNation today on Facebook, Twitter @PghSportsNation and videos with over 1,000,000 views on YouTube!