Read Time:
15 Minute, 29 Second
The University of Pittsburgh has a rich tradition in football that dates back to 1890. The Pitt Panthers have won nine National Championships and have had some of the greatest players in the history of football call Pitt their alma mater. Pitt has 25 members in the College Football Hall of Fame and nine have been enshrined in the Pro Football Hall of Fame.
NGSC Sports brings you the best Pitt Game Day Preview you will find anywhere! This is where true Panther fans come to find out about Pitt and their upcoming opponent! Mike Drakulich (@PghSportsNation) brings you inside the huddle for both teams, providing all fans with a weekly game story, Pitt's game plan for success, score prediction, crucial game day information, and a detailed breakdown of each team.
Heck, you'll even know the weather at kickoff! The only thing you're missing is a game uniform!
A different type of test awaits Pitt vs Miami
Heading into the Virginia Tech game, the Pitt Panthers (6-1) faced a tough road test in a hostile environment, and a few people wondered if Pitt would get caught looking ahead to their match-up vs Clemson a week later.
That didn't happen as the Panthers clapped the Hokies 28-7.
Last week, there were those who believed Pitt would fold under the pressure of being favored against Clemson, in one of the biggest home games in recent history for the Panthers.
Wrong again, as Pitt, by all means, dominated the Tigers, putting up 464 yards on offense en route to a 27-17 victory, against a Clemson defense that was giving up just 316.5 yards and 12.5 points per game.
Up next is the Miami Hurricanes (3-4), a team that has historically been a thorn in the side of Pitt for decades, but come kickoff this Saturday at Noon at Heinz Field, it may be the depth at two skill positions that present the test this time.
Both RB Israel Abanikanda and WR Jordan Addison are game-time decisions to suit up against the Hurricanes, but more than likely, neither will be able to play.
Abanikanda is the Panther's leading rusher with 403 yards and four touchdowns. Addison is one of the top receivers in all of college football, catching 39 passes for 670 yards and 10 touchdowns.
Pitt head coach Pat Narduzzi gave an update on both Thursday afternoon.
"I wish I could tell you more," Narduzzi said when asked about the status of the duo. "We still got 48 hours. That's what we're counting on. We have to get the clearance from the doctor."
With the Panthers in control of their destiny in making the ACC Championship, and an outside chance of even making the College Football Playoffs, now is not the time to fall to a Miami team that they are still 9.5 point favorites over as of Thursday night.
Both Vincent Davis and Rodney Hammond are capable of  taking the helm at running back, especially behind an offensive line that has come into it's own the past month.
If Addison is out, it will be up to players like senior Taysir Mack, or fellow wideouts in Shocky Jacques-Louis, Jared Wayne, and Jaylon Barden to step up and make plays when counted upon.
Tight ends Lucas Krull and Gavin Bartholomew will definitely see an uptick in passes their way as well. Krull has hauled in 19 catches for 240 yards and five touchdowns, while the freshman Bartholomew has caught the attention of the coaches with his body of work.
"He's a heckuva football player," Narduzzi said about Bartholomew, who has caught 13 passes for 129 yards and a score.
Add tight ends coach Tim Salem to Bartholomew's bandwagon.
"He surprised a lot of people because they don't believe he's a freshman," Salem said. "If he walks in the door, he doesn't look like a freshman. He is a strong guy. He's benching well into 400 pounds. He's thick. He strikes you. He hits.
"And he likes to play. He's like Kenny. It doesn't matter if you're playing Michigan or St. Mary's Girls College at 12 midnight, 12 noon. They're coming to play. You like guys like that."
Narduzzi is excited to see what his pass catchers can do this week vs a Miami defense that isn't as stout as they have been in recent years.
"They're just fast, physical and they play hard," Narduzzi said about the Hurricanes secondary. "I expect to see them try to man us up across the board and see if they can wire us up at the line of scrimmage and see if we can make a play.
"If I was a receiver, you like man, right? If you get loose, you have a chance. I'll take that match-up. Bring it on."
For the year, Miami is giving up 390.1 yards to opposing offenses, and 30 points a game.
To boot, the 'Canes best defensive player in Bubba Bolden is out for the year.
"When Bubba's on the field, he's the leader of the group," Miami safety Kam Kinchens said. "He's more experienced than us because he can help us through everything. … We freshmen, we've got to step up and be vocal."
On the flip-side of the ball, the Pitt defense will have to continue down the path of shutting down the opposing offenses with a furious pass rush, physical play, and creating game changing turnovers.
In their last four contests, Pitt is giving up just 13 points per game, and overall, are a top-20 defense, allowing just 318.7 yards per game, good for 20th in the nation, and second in the ACC.
Miami quarterback Tyler Van Dyke has taken over for the injured D'Eriq King and has thrown for 1,062 yards with 9 touchdowns and three interceptions in four starts.
The Hurricanes are scoring 42.5 points per game with Van Dyke under center.
"I think he's a really mature guy," Pitt defensive coordinator Randy Bates said. "Every week, you see him getting better."
Pitt's Game Plan for Success
Offense
Get Lucas Krull involved: If Jordan Addison is out, Krull will be a big key to opening up the outside lanes for Pitt receivers with some big catches across the middle, and in the Red Zone.
Control the ball: The Panther offensive line has really jelled the past month, and when counted upon late in games, they have imposed their will and been the catalyst to the rushing attack now averaging 171 yards a game.
Defense
Pressure Tyler Van Dyke: This is a must for the Pitt defense as Van Dyke, when given time, carved up N.C. State's defense to the tune of 325 yards and four touchdown passes.
Force turnovers: Miami has given up 22 sacks and both QB's have combined for seven interceptions. The Panther defense loves to play takeaway, so here is a prime opportunity to pad their stats.
Beware Jaylon Knighton out of the backfield: The talented ball carrier is very dangerous catching passes out of the backfield.
Prediction
The beat goes on for Kenny Pickett and the Pitt Panthers. It may be a rainy day on Saturday at Noon, and it might not. Regardless of the weather, Pitt's offense will probably be missing RB Israel Abanikanda and WR Jordan Addison, and that means "it's next man up", as Panther's neighbor and Steelers head coach Mike Tomlin would say.
This is not your older brother's Miami defense. The 'Canes are giving up 30 points per game and now will be missing their best player in Bubba Bolden the rest of the year, leaving that Hurricane's secondary as a salivating treat for Pickett.
Expect Pitt to expose Miami's weaknesses and then turn to the offensive line to power the offense the rest of the way. Vincent Davis will more than likely start, but look for Rodney Hammond to take over when counted upon.
Pitt's defense will need to get after Miami QB Tyler Van Dyke, and if they do, they will be able to keep the Hurricanes from keeping up with the explosive Panther offense… Pitt 38 Miami 23
Game Day Information
#17 Pitt Panthers vs Miami Hurricanes
Venue: Heinz Field, Pittsburgh, PA.
Tickets: Pitt Ticket Office
Game-time: Saturday, October 30th at 12:00 pm
TV: ACC Network
Announcers: Chris Cotter (play-by-play) Mark Herzlich (analyst) | Jalyn Johnson (reporter)
Local Radio: Pittsburgh- 93.7 The Fan
Announcers: Bill Hillgrove (play-by-play) Pat Bostick (analyst) | Larry Richert (reporter)
Alternative Broadcasts
Online Radio: 937thefan.radio.com
Satellite Radio: Sirius Channel 133, XM Channel 193, SXM App Channel 955
Weather at Kickoff: 55 with 25% chance of rain. Winds out of the west at 5 MPH.
ACC Links

Scouting the Pitt Panthers
Overall Record: 6-1 | ACC Record: 3-0 | Rank: #17
Previous Game: Pitt 27 Clemson 17
Head Coach: Pat Narduzzi (7th Season with Pitt)
Pitt Links
Pitt Offense (Pro Style)
Offensive Stats
Points per game: 45.3
Total offense yards per game: 521
Passing yards per game: 350
Rushing yards per game: 171
Offensive Scouting Report
Strengths: The passing game on the arm of Kenny Pickett, with weapons like WR Jordan Addison and TE Lucas Krull at his disposal. Running game with Israel Abanikanda has come on strong mid-season.
Weaknesses: Few if any at this juncture.
Starting Quarterback: Kenny Pickett | Back-ups: Nick Patti and Davis Beville.
Kenny Pickett returns for his 4th season as QB for Pitt. The super senior has a strong, accurate arm and can burn defenses with his running ability out of the pocket. Pickett, who has entered the Heisman talk, has thrown for 2,236 yards, 23 touchdowns, with just one interception, and has rushed for 187 yards and another three touchdowns. Defenses have gotten to Pickett just 11 times for sacks.
Starting Running Back: Israel Abanikanda | Back-ups: Vincent Davis, Rodney Hammond, Todd Sibley, and Daniel Carter.
Israel Abanikanda has been elevated to starter, and has rushed for 403 yards and four touchdowns. Abanikanda also has 13 receptions for 108 yards. Vincent Davis is 2nd on the team with 263 yards rushing, with three touchdowns, and has 13 catches for 89 yards. Todd Sibley and Daniel Carter have been rarely used, but Rodney Hammond has shot up the depth chart and made the most of his work, rushing for 259 yards and three touchdowns.
Wide Receivers: (Outside) Taysir Mack, Jared Wayne, Shocky Jacques-Louis, Melquise Stovall and Tre Tipton.
(Slot) Jordan Addison and Jaylon Barden.
Taysir Mack gives Pitt a steady and reliable senior presence at wide receiver and has 369 yards receiving off of 22 catches, three that have found the endzone. Jordan Addison leads the team with 39 receptions for 670 yards and 10 touchdowns. Jared Wayne is 3rd on the team with 23 catches for 337 yards and a TD. Shocky Jacques-Louis has 12 receptions for 128 yards so far. Jaylon Barden has eight catches for 155 yards and a TD, while Hawaii transfer Marquise Stovall has contributed 10 catches for 113 yards and a TD.
Tight Ends: Lucas Krull and Gavin Bartholomew.
Lucas Krull has rejuvenated the tight end position for Pitt, ranking 4th on the team with 19 catches for 240 yards and five touchdowns. Gavin Bartholomew has also caught 13 passes for 129 yards and a score.
Placekicker: Sam Scarton
Extra Points: 37-39
Field Goals: 6-6
1-19 yards: 0-0
20-29 yards: 1-1
30-39 yards: 3-3
40-49 yards: 2-2
50+ yards: 0-0
Pitt Defense (Base 4-3)
Defensive Stats
Points per game allowed: 19.6
Total offense yards per game allowed: 318.7
Passing yards allowed: 209.4
Rushing yards allowed: 109.3
Sacks: 22
Interceptions: 7
Defensive Scouting Report
Strengths: Strong pass rush and tough against the run.
Weaknesses: Secondary can be vulnerable if quarterback is given time to throw deep.
Defensive Line: Habakuk Baladonaldo, Calijah Kancey, Keyshon Camp, and Deslin Alexandre.
Habakuk Baladonaldo and Deslin Alexandre are impressive bookends of the defensive line with Calijah Kancey and Keyshon Camp on the inside. Kancey, with three sacks, is on the verge on stardom with his skill set, which seems to get better each week. Baladonaldo has five and a half sacks, while Camp has one sack.
Linebackers: Phil Campbell III, Wendall Davis/SirVocea Dennis, and Cam Bright.
Phil Campbell III (Money) and Cam Bright (Star) surround Wendall Davis (Mike) at the linebacker position that has good speed and instincts when it comes at stopping the opposing run game. John Petrishen has been a big part of the linebacker rotation and has 46 tackles, two sacks, and a pick six. Campbell has three sacks. SirVocea Dennis leads the front seven with 56 tackles, has one sack, and one INT that he took to the house vs Clemson.
Secondary: Marquis Williams, Brandon Hill, Erick Hallett II/Rashad Battle, and Damarri Mathis.
Marquis Williams and Damarri Mathis man the corners with Brandon Hill at strong safety and Erick Hallett II at free safety. Hill has one INT on the year as does Mathis.
Pitt Special Teams
Punter: Kirk Christodoulou
Kickoff Returners: Jaylon Barden and Isreal Abanikanda
Punt Returner: Jaylon Barden and Melquise Stovall
Scouting report: Jaylon Barden is the primary kick returner and is averaging 19.5 yards per return, and 7.3 on punts. Melquise Stoval has averaged 0.3 yards per punt return, so some improvement is drastically needed in that area.
Scouting the Miami Hurricanes
Overall Record: 3-4 | ACC Record: 1-2 | Rank: n/a
Previous Game: Miami 31 N.C. State 30
Head Coach: Manny Diaz (3rd Season with Miami)
Lifetime Record: 17-14 | 17-14 with Miami
Links
Miami Offense (Multiple)
Offensive Stats
Points per game: 32.1
Total Offense per game: 433.3
Passing yards per game: 282.3
Rushing yards per game: 151
Offensive Scouting Report
Strengths: Tyler Van Dyke is dangerous if given time to throw the ball. Jaylon Knighton is a danger catching passes out of the backfield.
Weaknesses: Offensive line provides poor protection for their QB's.
Starting Quarterback: Tyler Van Dyke | Back-up: Jake Garcia
Tyler Van Dyke has taken over for the injured D'Eriq King and has thrown for 1,062 yards with 9 touchdowns and three interceptions. Van Dyke has rushed for 50 yards and one score, and has been sacked 13 times. Overall, Miami QB's have been sacked 22 times.
Running Backs: Cam'Ron Harris*, Jaylon Knighton, and Cody Brown.
Before being injured for the season, Cam'Ron Harris was the lead back with 409 yards on the ground and five TD's. Harris also had 11 receptions for 119 yards and a score. Jaylon Knighton is now the starter and has 219 yards rushing and two touchdowns. Knighton has eight receptions good for 156 yards and two TD's. Cody Brown has just 90 yards but three touchdowns.
Wide Receivers: Charleston Rambo, Key'Shawn Smith, Mike Harley, Xavier Restrepo, Brashard Smith, and Romelo Brinson.
Charleston Rambo leads Miami with 44 catches for 549 and four touchdowns. Mike Harley is 2nd with 27 receptions for 250 yards and two scores. Key'Shawn Smith is the 3rd option in the passing game with 24 receptions and 270 yards. Xavier Restrepo has contributed 12 catches for 236 yards and a TD. Brashard Smith, and Romelo Brinson have combined for 12 catches for 157 yards and a score a piece.
Tight Ends: Will Mallory and Elijah Arroyo.
Will Mallory has 13 catches for 109 yards and a touchdowns.
Kicker: Andres Borregales
Extra Points: 24-24
Field Goals: 9-12
1-19 yards: 0-0
20-29 yards: 3-4
30-39 yards: 2-4
40-49 yards: 3-3
50+ yards: 1-1
*Injured/Out
Miami Defense (4-3)
Defensive Stats
Points per game allowed: 30
Total offense yards per game allowed: 390.1
Passing yards allowed: 245
Rushing yards allowed: 145.1
Sacks: 16
Interceptions: 4
Defensive Scouting Report
Strengths: Fast and physical…. good pass rush.
Weaknesses: Bubba Bolden is out for the year. Miami gives up over 30 points per game.
Defensive Line: Zach McCloud has two sacks to go with 27 tackles. Jahfari Harvey has 19 tackles, 2.5 sacks, and an INT.
Linebackers: Waynmon Steed has 48 tackles and a sack. Corey Flagg, Jr. has 36 tackles, two sacks, and an INT.
Secondary: Safety Bubba Bolden led Miami with 58 tackles but is out for the year. Amari Carter has 46 tackles and an interception.
Miami Special Teams
Kickoff Returners: Brashard Smith
Punt Returner: Tyrique Stevenson and Jacolby George
Scouting report: Brashard Smith is averaging 18.5 yards per kickoff return. Tyrique Stevenson has averaged 9.8 yards per punt return with Jacolby George at 9.0.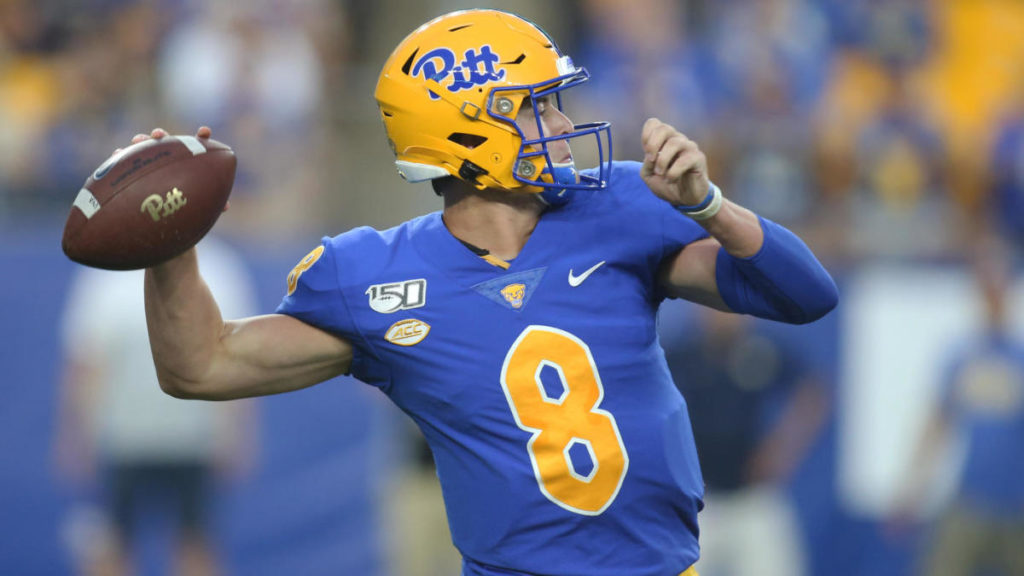 Pitt vs Miami History
Series Began: 1950
Overall Record: 11-28-1
At Home: 6-15
On Road: 5-13-1
Neutral Site: 0-0
ACC Series: 2-6
Streak: Miami won the last three games.
Last Game: Oct. 17, 2020 (Miami 31, Pitt 19)
Game Notes* 
Gaining plenty of national Heisman Trophy buzz, Kenny Pickett has thrown 23 touchdowns against only one interception. Pickett's TD pass total—already a single-season personal high—ranks fourth in the nation and first in the ACC.
Pickett ranks second at Pitt in career touchdown responsibility with 81. He trails only the legendary Dan Marino, who totaled 82 from 1979-82.
Pickett is also eyeing Pitt's school record for total offense. He presently ranks second with 10,983 yards and needs just 166 to eclipse Alex Van Pelt's record of 11,148 set from 1989-92.

Receiver Jordan Addison is meriting strong Biletnikoff Award consideration with his production. Addison is tied for the national lead with 10 touchdown catches, already the most at Pitt since 2016.

*Courtesy of pittsburghpanthers.com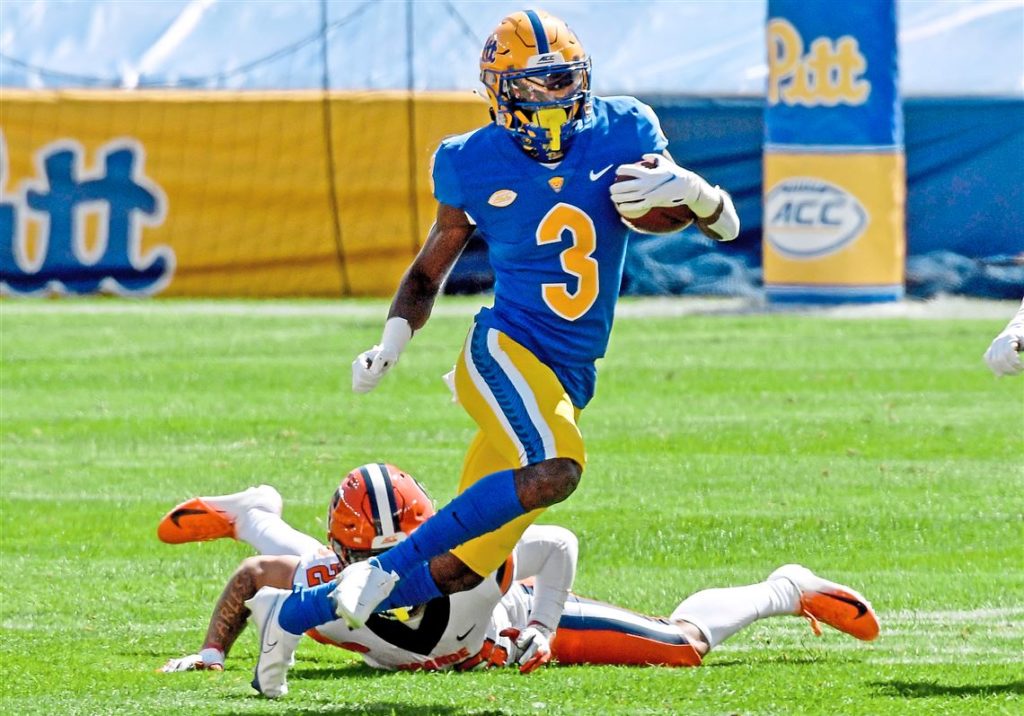 Injury Report (10/29/21)
Pitt Panthers
Out: None reported
Doubtful: None reported
Questionable: RB Israel Abanikanda, WR Jordan Addison
Miami Hurricanes
Out: Safety Bubba Bolden (shoulder), RB Cam'Ron Harris, QB D'Eriq King
Doubtful: None reported
Questionable: CB Al Blades Jr., LB Avery Huff, DT Jared Harrison-Hunte, DT Jordan Miller,
Author Profile
From Midland, "The Basketball Capital of Pennsylvania", located 35 miles NW of Pittsburgh along the Ohio River. This former steel town was home to storied athletes such as Dave Alston, Norm Van Lier, Simmie Hill, and the legendary 1965 Midland High School Basketball Team.

There's nowhere on earth that is more dedicated to its sports teams like Western Pennsylvania and the city of Pittsburgh. The passion and pride of Pittsburgh's fan base is second to no one. From the NFL, NHL, MLB, NCAA football and basketball, to W.P.I.A.L. high school sports, "The City of Champions" has it all!

As Editor of Pittsburgh SportsNation, Mike Drakulich provides top notch opinions and coverage of the Pittsburgh Steelers, Pittsburgh Penguins, Pittsburgh Pirates, Pitt Panthers football & basketball, Robert Morris Colonials basketball, and Duquesne Dukes basketball, as well as all sports teams that represent Western Pennsylvania, including WPIAL High School Football.

For a refreshing view of sports, mixed with humor and uncensored opinions, check out Pittsburgh SportsNation today on Facebook, Twitter @PghSportsNation and videos with over 1,000,000 views on YouTube!