Read Time:
11 Minute, 4 Second
The University of Pittsburgh has a rich tradition of football that dates back to the early 1900's. The Panthers are nine-time National Champions and some of the greatest players in the history of football have called Pitt their alma mater. Pitt has 25 members in the College Football Hall of Fame and nine have been enshrined in the Pro Football Hall of Fame.
NGSC Sports brings you the best Pitt Game Day Preview you will find anywhere! This is where true Panther fans come to find out about Pitt and their upcoming opponent! Mike Drakulich (@PghSportsNation) brings you inside the huddle for both teams, providing all fans with a weekly game story, Pitt's game plan for success, score prediction, crucial game day information, and a detailed breakdown of each team.
Heck, you'll even know the weather at kickoff! The only thing you're missing is a game uniform!
Panthers look to fix defensive issues vs New Hampshire
It's been a rough week for Pitt football, especially on the defensive side of the ball where the Pitt defense was embarrassed  by Western Michigan last week to the tune of giving up 517 yards.
It never seemed as if the coaching staff had an answer for the success the Broncos had offensively, or if they even tried to make any adjustments from being carved up like a Thanksgiving turkey.
"I've got to do a better job. I trust our defensive staff," Pitt head coach Pat Natduzzi said. "I really just trust our defensive staff, but there's times where I've just got to … I'm trying to make decisions on offense and the things were going fast.
"To just hang on the headphones on the defense the whole time, it's tough. But I'm going to have to get over there a little bit more just to see what's going on.
"And we didn't make in-game adjustments like I would like to and I'm used to. I told our defensive staff, as I watch the video from the video session, as I watched it on Saturday night and Sunday morning, I'm looking at it (saying), 'If I would have saw that from the box, I know what I'm doing and we didn't do that.' And I've got to put it on me, because, ultimately, I've got to get it done somehow, some way.
"Over the weekend, I thought about maybe a head coach sitting up in the damn box this week, just coaching from the box."
It was a brutal self evaluation by Narduzzi about his coaching style, and that of his staff after last week's debacle.
Pitt defensive coordinator Randy Bates was equally honest about his job afterwards.
"The biggest problem was there were a couple of adjustments we probably missed early, and by the time we made them, (Western Michigan) had done some good things," said Bates.
"I think the bottom line is we have to get more turnovers. We keep talking about it," he said. "If you think about the past three weeks, it's been the difference in games. We have to get it in practice. We were riding their rear ends (Tuesday). It's just has to be habit."
Pitt's Game Plan for Success
Offense
Overwhelm: Pitt, with Pickett at the helm, needs to put up about 50 in this game, as they are absolutely capable of doing.
Rushing attack: Pitt needs Izzy Abanikanda, or anyone, for that matter, to establish the run game. If the Panthers can't do this vs a FCS team, they should be ashamed.
Defense
Turnovers: The once opportunistic Panther defense has lacked in taking the ball away from opponents.
Adjust: HC Pat Narduzzi and his staff has been negligent in making adjustments during the game.
Prediction
Pitt has this week to tinker with adjustments and get better in every aspect of the game, before heading into ACC play next week at Georgia Tech. This is a game Pitt should dominate from start to finish, and if not, perhaps it's time for this coaching staff to start looking at the help wanted ads… Pitt 54 New Hampshire 21

Scouting at the Pitt Panthers
Overall Record: 2-1 | ACC Record: 0-0 | Rank: n/a
Previous Game: Western Michigan 44 Pitt 41
Head Coach: Pat Narduzzi (7th Season with Pitt)
Pitt Links
Pitt Offense (Pro Style)
Strengths: Strong passing game under the leadership of Kenny Pickett who has a bevy of weapons at his disposal.
Weaknesses: Not truly a weakness, but the rushing attack needs to produce better numbers, taking a little pressure of the shoulders of Pickett and the air attack.
Offensive Stats
Points per game: 44.3
Total offense yards per game: 495
Passing yards per game: 363.7
Rushing yards per game: 131.3
Starting Quarterback: Kenny Pickett | Back-ups: Nick Patti and Davis Beville.
Kenny Pickett returns for his 4th season as QB for Pitt. The super senior has a strong, accurate arm and can burn defenses with his running ability out of the pocket. Pickett has thrown for 939 yards, 10 touchdowns, one interception, and has rushed for a team leading 107 yards and another touchdown. Defenses have gotten to Pickett five times for sacks.
Starting Running Back: Israel Abanikanda | Back-ups: Vincent Davis, A.J. Davis, Todd Sibley, Rodney Hammond, and Daniel Carter.
Israel Abanikanda has been elevated to starter, but has rushed for just 72 yards and a score. Vincent Davis actually has more carries, and is 2nd to Pickett with 103 yards rushing, with two touchdowns. A.J. Davis was the opening day starter but has carried the ball only twice. Todd Sibley, Rodney Hammond, and Daniel Carter may see carries from time to time.
Wide Receivers: (Outside) Taysir Mack, Shocky Jacques-Louis , Jared Wayne, Melquise Stovall and Tre Tipton.
(Slot) Jordan Addison and Jaylon Barden.
Taysir Mack gives Pitt a steady and reliable senior presence at wide receiver and has 157 yards receiving off of nine catches. Jordan Addison leads the team with 17 receptions for 228 yards and five touchdowns. Jared Wayne is 2nd on the team with 14 catches for 211 yards. Shocky Jacques-Louis has four receptions for 39 yards so far. Jaylon Barden has three catches for 107 yards and a TD, while Hawaii transfer Marquise Stovall has contributed five catches for 62 yards and a TD.
Tight Ends: Lucas Krull and Gavin Bartholomew.
Lucas Krull has rejuvenated the tight end position for Pitt, ranking 3rd on the team with 11 catches for 127 yards and four touchdowns. Gavin Bartholomew has also caught four passes for 29 yards.
Placekicker: Sam Scarton
Extra Points: 14-16
Field Goals:
1-19 yards: 0-0
20-29 yards: 1-1
30-39 yards: 2-2
40-49 yards: 0-0
50+ yards: 0-0
Offensive Line
Left Tackle: Carter Warren
Left Guard: Marcus Minor
Center: Owen Drexel
Right Guard: Jake Kradel
Right Tackle: Gabe Houy
Pitt Defense (Base 4-3)
Strengths: Superb pass rush.
Weaknesses: Aggressive defense sometimes get caught in the attack, giving up long plays through the air as corners are usually in one on one coverage. Sloppy tackling at times. Need to clamp down on ensuing drives after an offensive touchdown is scored. Coaches refuse to make adjustments when truly needed.
Defensive Stats
Points per game allowed: 20.5
Total offense yards per game allowed: 291.5
Passing yards allowed: 203
Rushing yards allowed: 88.5
Sacks: 13
Interceptions: 1
Defensive Line: Habakuk Baladonaldo, Calijah Kancey, Keyshon Camp, and Deslin Alexandre.
Habakuk Baladonaldo and Deslin Alexandre are impressive bookends of the defensive line with Calijah Kancey and Keyshon Camp on the inside. Kancey is on the verge on stardom with his skill set, which seems to get better each week. Baladonaldo has three sacks, while Camp has one sack.
Linebackers: Phil Campbell III, Wendall Davis/SirVocea Dennis, and Cam Bright.
Phil Campbell III (Money) and Cam Bright (Star) surround Wendall Davis (Mike) at the linebacker position that has good speed and instincts when it comes at stopping the opposing run game. John Petrishen has been a big part of the linebacker rotation and has two sacks to his credit. Campbell has two sacks. SirVocea Dennis leads the team with 31 tackles.
Secondary: Marquis Williams, Brandon Hill, Erick Hallett II/Rashad Battle, and Damarri Mathis.
Marquis Williams and Damarri Mathis man the corners with Brandon Hill at strong safety and Erick Hallett II at free safety. Hills has one INT on the year.
Pitt Special Teams
Punter: Kirk Christodoulou
Kickoff Returners: Jaylon Barden and Isreal Abanikanda
Punt Returner: Jaylon Barden and Melquise Stovall
Scouting report: Jaylon Barden is the primary kick returner and is averaging 20.8 yards per return. Melquise Stoval has averaged 1.7 yards per punt return, so some improvement is drastically needed in that area.
Scouting the New Hampshire Wildcats
Overall Record: 3-0 | Rank: #23 FCS
Previous Game: New Hampshire 19 Lafayette 13
Head Coach: Sean McDonnell (22nd Season with New Hampshire)
Lifetime Record: 157-96 | 157-96 with New Hampshire
Links
New Hampshire Offense
Strengths: Bret Edwards has played mistake free football at QB. Sean Coyne and Bryan Espanet have been a dynamic duo at wideout. Dylan Laube is used in a variety of ways at RB.
Weaknesses: Undersized offensive line.
Offensive Stats
Points per game: 24
Total Offense per game: 380.3
Passing yards per game: 247.7
Rushing yards per game: 132.7
Starting Quarterback: Bret Edwards | Back-up: Brody McAndrew
Bret Edwards has thrown for 743 yards with seven touchdowns and no interceptions. He has been sacked four times. Edwards has rushed for just 10 yards.
Running Backs: Carlos Washington, Jr. and Dylan Laube.
Carlos Washington has gained 207 yards rushing with one TD. He also had four receptions for 36 yards. Dylan Laube has 176 yards on the ground with two touchdowns. Laube is active out of the backfield with nine catches for 131 yards and another score.
Wide Receivers: Bryan Espanet, Charles Briscoe III, Sean Coyne, Nick Lorden, Symir Blacknall, and C.J. Turner.
Sean Coyne leads the teams with 16 catches for 189 yards and one score. Bryan Espanet has 13 receptions for 171 yards and is team leader with four touchdowns. C.J. Turner has nabbed eight passes for 80 yards.
Tight Ends: Kyle Lepkowski and Thomas Splagounias
Kyle Lepkowski is 4th on the team with nine catches for 102 yards and a TD.
Kicker: Sean Lehane
Extra Points: 5-6
Field Goals: 0-5
1-19 yards: 0-0
20-29 yards: 0-0
30-39 yards: 0-3
40-49 yards: 0-2
50+ yards: 0-0
New Hampshire Defense (4-2-5)
Strengths: Good ball hawks, as defense has recorded seven interceptions.
Weaknesses: Not as fast nor physical as typical Power Five teams.
Defensive Stats
Points per game allowed: 16
Total offense yards per game allowed: 321
Passing yards allowed: 215
Rushing yards allowed: 106
Sacks: 10
Interceptions: 7
Scouting report: CB Derek Thompson leads the team with 18 tackles. Safeties Pop Bush and Noah Stansbury each have two interceptions. DE Gunner Gibson leads the team with 3.5 sacks. Defense has forced nine turnovers and has recorded 10 sacks.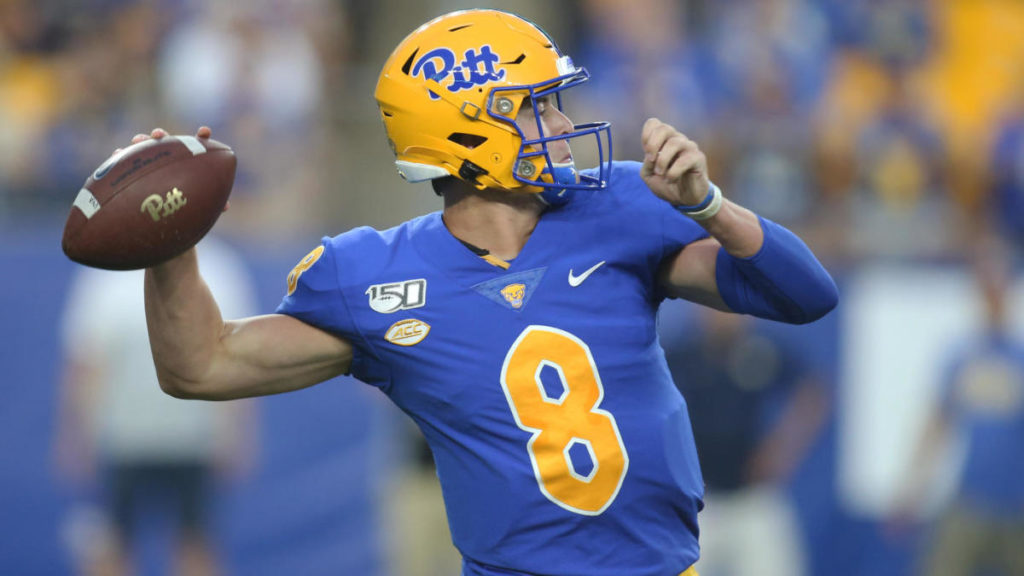 Game Day Information
Pitt Panthers vs New Hampshire
Venue: Heinz Field, Pittsburgh, PA.
Tickets: Pitt Panthers Ticket Office
Game-time: Saturday, September 25th at 12:00 pm
TV: ACC Network/ESPN+
Announcers: Bill Roth (play-by-play) Eddie Royal (analyst) | Abby Labar (reporter)
Local Radio: Pittsburgh- 93.7 The Fan
Announcers: Bill Hillgrove (play-by-play) Pat Bostick (analyst) | Larry Richert (reporter)
Alternate Broadcasts:
Online Radio: 937thefan.radio.com
Satellite Radio: Sirius Channel 103, XM Channel 194, SXM App Channel 956
Weather at Kickoff: 67 with partly cloudy skies. Winds out of the south at 10 MPH.
ACC Links:

Pitt vs New Hampshire History
Series Began: 2010
Overall Record: 1-0
At Home: 1-0
On Road: 0-0
Neutral Site: 0-0
ACC Series: n/a
Streak: Pitt won last game.
Last Game: Sept. 11, 2010 (Pitt won, 38-16)
Did You Know?* 
Wide receiver Jordan Addison leads the ACC and ranks third nationally with five touchdown catches, while Lucas Krull leads the nation's tight ends with four TD catches this season.
With a 382-yard passing performance against Western Michigan, Kenny Pickett now ranks second all-time at Pitt with 8,923 passing yards. He trails career leader Alex Van Pelt (11,267 from 1989-92) by 2,344 yards.

Pitt has scored 40-plus points in three consecutive games to start a season for the first time ever. The Panthers are averaging 44.3 points per game to lead the ACC and rank ninth nationally.

*Courtesy of pittsburghpanthers.com
Injury Report (9/23/21)
Pitt Panthers
Out: None reported
Doubtful: None reported
Questionable: TE Grant Carrigan
New Hampshire Wildcats
Out: None reported
Doubtful: None reported
Questionable: None reported
Author Profile
From Midland, "The Basketball Capital of Pennsylvania", located 35 miles NW of Pittsburgh along the Ohio River. This former steel town was home to storied athletes such as Dave Alston, Norm Van Lier, Simmie Hill, and the legendary 1965 Midland High School Basketball Team.

There's nowhere on earth that is more dedicated to its sports teams like Western Pennsylvania and the city of Pittsburgh. The passion and pride of Pittsburgh's fan base is second to no one. From the NFL, NHL, MLB, NCAA football and basketball, to W.P.I.A.L. high school sports, "The City of Champions" has it all!

As Editor of Pittsburgh SportsNation, Mike Drakulich provides top notch opinions and coverage of the Pittsburgh Steelers, Pittsburgh Penguins, Pittsburgh Pirates, Pitt Panthers football & basketball, Robert Morris Colonials basketball, and Duquesne Dukes basketball, as well as all sports teams that represent Western Pennsylvania, including WPIAL High School Football.

For a refreshing view of sports, mixed with humor and uncensored opinions, check out Pittsburgh SportsNation today on Facebook, Twitter @PghSportsNation and videos with over 1,000,000 views on YouTube!