Read Time:
12 Minute, 53 Second
The University of Pittsburgh has a rich tradition of football that dates back to the early 1900's. The Panthers are nine-time National Champions and some of the greatest players in the history of football have called Pitt their alma mater. Pitt has 25 members in the College Football Hall of Fame and nine have been enshrined in the Pro Football Hall of Fame.
NGSC Sports brings you the best Pitt Game Day Preview you will find anywhere! This is where true Panther fans come to find out about Pitt and their upcoming opponent! Mike Drakulich (@PghSportsNation) brings you inside the huddle for both teams, providing all fans with a weekly game story, Pitt's game plan for success, score prediction, crucial game day information, and a detailed breakdown of each team.
Heck, you'll even know the weather at kickoff! The only thing you're missing is a game uniform!
Pitt eager to keep offense rolling vs Tennessee
The Pitt Panthers (1-0) and the Tennessee Volunteers (1-0) have met only two times in their history, but they share a legendary coach in the late Johnny Majors, who lead the Panthers to become the 1976 National Champions. The kickoff, at Noon, at Neyland stadium, will be known as the Johnny Majors Classic.
Despite Pitt's pasting of UMass 51-7 last week, every player on the team knew that plenty of improvements could be made to become even better this week vs the Vols.
Overall, Pitt head coach Pat Narduzzi likes what he sees from his team, and how they strive to improve.
"There are little things we can work on, but their attitude was great," Narduzzi said. "The focus is great, and their effort for the most part was pretty good. I can pull a guy here or there and call out some loafs in all three phases that we have to clean up."
Freshman Rodney Hammond was the leading rusher with 44 yards on eight carries. He was was one of six backs that got time last Saturday, but don't expect that trend to continue. Eventually Pitt and Narduzzi will settle on a smaller rotation and hopefully an eventual lead back that gets the most of the work.
"I was happy with the backs for the most part," Narduzzi said. "They made the right reads. Sometimes, that's as big a problem as anything. There was carryover from fall camp as far as the run game goes."
Izzy Abanikanda was expected to see a lot of work in the first week, but only carried seven times for 30 yards.
"He was probably high average (in the coaches' grading system)," Narduzzi said about Abanikanda. "I don't think any of our tailbacks, we could say, were winning (grades). He played well."
For now, Pitt will roll with whomever has the hot hand at running back.
"I'd like to have three or four. We'll eventually find one or two. But you're going to play two or three backs," Narduzzi said. "They're going to need blows. You'd like to have two or three (backs) you feel really good about going into the game. We feel that right now."
One position that isn't up for grabs is tight end, where Lucas Krull has shown he is capable of when healthy.
Krull caught five passes for 58 yards and a touchdown vs UMass last week. Krull credits his quarterback for much of his success.
"Our relationship has been building, truthfully, since my visit here," Krull said of QB Kenny Pickett. "He hosted me. I knew he was special from the moment I got here on the visit."
Pickett is surely appreciative of what Krull brings to the Pitt offense.
"He's a difference maker. It's something I haven't had in my time here," said Pickett.
Seeing production from the tight end is something that has been missing for years under Narduzzi.
"I don't know the last time we had a tight end with five catches," coach Pat Narduzzi said.
Freshman TE Gavin Bartholomew also contributed with three catches for 21 yards.
"It really opens it up. We have a lot of guys who can do a lot of special things with the rock in their hand," Krull said. "If you're not open, you know someone else is going to be open and (Pickett) is going to find that guy.
"My touchdown wouldn't happen if the receivers didn't block for me. That's how it works. We help each other."
The Panther defense is hungry to continue their dominance and senior linebacker Phil Campbell III is confident in his teammates.
"I think we're a tighter unit," Campbell said. "This year, there are no egos. Everybody knows their role, from starters to the last guy in the rotation. This year, we're all buying in."
Campbell is particularly excited to face a tough road test in a hostile environment.
"This game is huge for us," said Campbell. "Every game is huge, but I've never played an SEC team. I'm really excited to represent the whole ACC."
Pitt's Game Plan for Success
Offense
No turnovers: The key to success on the road is ball security. Snaps over quarterback's heads that result in turnovers cannot happen like last week.
Make plays: Pitt has plenty of play-makers and need to make some splash plays when called upon Saturday.
Defense
Contain Vols rushing attack: Jabari Small and Tiyon Evans each rushed for 100 yards in last week's victory over Bowling Green.
Punish Joe Milton III: When the Vols do decide to pass, it will be up to the Pitt defense to make every throw one met with a physical response.
Prediction
Vols head coach Josh Heupel will have his team playing uptempo from the start this Saturday, something the Panthers have faced against his offenses before while he was head coach at UCF.
"It's challenging every time we've played them (UCF)," said Pitt defensive coordinator Randy Bates. "It's been a challenge, and I look forward to this one being just as challenging."
The Pitt defense gave up 79 points in the pair of games they faced UCF.
His unit will certainly look to improve upon those numbers Saturday at Noon.
"You really don't know how fast it really is until you are in the game," Bates said. "The young guys can't visualize what they're getting into. We do our best to explain it, and they have to go out and live it."
Look for the Pitt defense to be up to the task and keep the Vols offense in check. The Pitt offense, as long as they don't commit any mindless turnovers, should be able to move the ball against Tennessee, especially with the number of play-makers available to Kenny Pickett in both the passing and running attack. The Vols don't get to the quarterback very well, and that sounds like more than enough reason to like the Panthers this week.
Pitt 31 Tennessee 17

Scouting at the Pitt Panthers
Overall Record: 1-0 | ACC Record: 0-0 | Rank: n/a
Previous Game: Pitt 51 UMass 7
Head Coach: Pat Narduzzi (7th Season with Pitt)
Pitt Links
Pitt Offense (Pro Style)
Strengths: Strong passing game under the leadership of Kenny Pickett and an emerging rushing attack.
Weaknesses: Drops by play-makers need to cease immediately.
Offensive Stats
Points per game: 51
Total offense yards per game: 597
Passing yards per game: 375
Rushing yards per game: 222
Starting Quarterback: Kenny Pickett | Back-ups: Nick Patti and Davis Beville
Kenny Pickett returns for his 4th season as QB for Pitt. When healthy last year played very well. Pickett has a good, accurate arm and can burn defenses with his running ability out of the pocket. Pickett was 27-37 last week for 272 yards and two touchdown passes.  Pickett also gained 39 yards via the ground.
Starting Running Back: A.J. Davis | Back-ups: Israel Abanikanda, Vincent Davis, Todd Sibley, Rodney Hammond, and Daniel Carter.
A.J. Davis will start, but expect to see plenty of carries given to both Israel Abanikanda and Vincent Davis. The coaches will be watching the trio very closely and would love for one of them to become the lead back. Time will tell. Todd Sibley has opened eyes during training camp, too. Although Pitt used six backs last week, expect that to be pared down this week with the hot hand taking over, whomever that may be…
Wide Receivers: (Outside) Taysir Mack, Shocky Jacques-Louis , Jared Wayne, and Tre Tipton
(Slot) Jordan Addison and Jaylon Barden
Taysir Mack gives Pitt a steady and reliable senior presence at wide receiver, but he needs to stop dropping passes. Jordan Addison is primed to become a household name if he continues his upward trajectory, and last week he had five catches for 40 yards and a touchdown. Shocky Jacques-Louis has the talent to take his game to the next level. Jaylon Barden is shooting up the depth chart with his play in training camp. Jared Wayne and Tre Tipton will see time in the passing game as well. Wayne leads the team with six receptions.
Tight Ends: Lucas Krull and Gavin Bartholomew
Tight end has been a disappointing position for Pitt the last few years, but it appears Lucas Krull may bring it back into a main part of the passing game very quickly. If Krull can shine, Kenny Pickett and the Panthers could have a dynamic offense at their behest. Krull was a big part of the offense in week one, collecting five receptions for 58 yards and a TD.
Placekicker: Sam Scarton
Extra Points: 4-5
1-19 yards: 0-0
20-29 yards: 0-0
30-39 yards: 1-1
40-49 yards: 0-0
50+ yards: 0-0
Offensive Line
Left Tackle: Carter Warren
Left Guard: Marcus Minor
Center: Owen Drexel
Right Guard: Jake Kradel
Right Tackle: Gabe Houy
Pitt Defense (Base 4-3)
Strengths: Superb pass rush
Weaknesses: Aggressive defense sometimes get caught in the attack, giving up long plays in the air as corners are usually in one on one coverage.
Defensive Stats
Points per game allowed: 7
Total offense yards per game allowed: 209
Passing yards allowed: 167
Rushing yards allowed: 42
Sacks: 5
Interceptions: 0.0
Defensive Line: Habakuk Baladonaldo, Calijah Kancey, Keyshon Camp, and Deslin Alexandre
Habakuk Baladonaldo and Deslin Alexandre are impressive bookends of the defensive line with Calijah Kancey and Keyshon Camp on the inside. Kancey is on the verge on stardom with his skill set, which seems to get better each week.
Linebackers: Phil Campbell III, Wendall Davis, and Cam Bright
Phil Campbell III (Money) and Cam Bright (Star) surround Wendall Davis (Mike) at the linebacker position that has good speed and instincts when it comes at stopping the opposing run game.
Secondary: Marquis Williams, Brandon Hill, Erick Hallett II, and Damarri Mathis
Marquis Williams and Damarri Mathis man the corners with Brandon Hill at strong safety and Erick Hallett II at free safety.
Pitt Special Teams
Punter: Kirk Christodoulou
Kickoff Returners: Jaylon Barden and Isreal Abanikanda
Punt Returner: Jaylon Barden and MJ Devonshire
Scouting report: Jaylon Barden is the primary kick returner. Isreal Abanikanda will see some kickoff returns as will MJ Devonshire as punt returner. Devonshire is a former Aliquippa star who transferred from Kentucky in the offseason.
Scouting the Tennessee Volunteers
Overall Record: 1-0 | Rank: n/a
Previous Game: Tennessee 38 Bowling Green 6
Head Coach: Josh Heupel (1st Season with Tennessee)
Lifetime Record: 29-8 | 1-0 with Tennessee
Links
Tennessee Offense (Pro Spread)
Strengths: Good running game behind Jabari Small and Tiyon Evans, but it took the Vols until the 2nd half to get rolling last week. QB Joe Milton will take off out of the pocket.
Weaknesses: Suspect passing attack as Joe Milton III completed only 47% of his passes in week one.
Offensive Stats
Points per game: 38
Total Offense per game: 471
Passing yards per game: 145
Rushing yards per game: 326 
Starting Quarterback: Joe Milton III | Back-up: Hendon Hooker
Joe Milton III was only 11 of 23 vs Bowling Green for 139 yards. He was sacked three times. Milton did rush for 44 yards and two scores.
Running Backs: Jabari Small, Tiyon Evans, Marcus Pierce, Jr., and Jaylen Wright
Jabari Small and Tiyon Evans each had over 100 yards last week and a touchdown. They will get the bulk of the work Saturday.
Wide Receivers: Jalin Hyatt, Cedrick Tillman, JaVonte Payton, and Grant Frerking,
Jalin Hyatt lead the Vols in receptions last week with four. Cedrick Tillman caught Milton's lone touchdown pass.
Tight Ends: Princeton Fant and Jacob Warren
Both Fant and Warren had a reception in their first game.
Kicker: Chase McGrath
McGrath made his only FG attempt in week one and all five extra points.
Tennessee Defense (4-2-5)
Strengths: Decent at stopping the run.
Weaknesses: Lack of a pass rush.
Defensive Stats
Points per game allowed: 6.0
Total offense yards per game allowed: 219
Passing yards allowed: 167
Rushing yards allowed: 42
Sacks: 2
Interceptions: 0.0
Scouting report: The Vols didn't give up much in their week one victory over Bowling Green, although the Falcons lead in time of possession with 33 minutes and 26 seconds of ball control.
The Vols are scouted to be strong up front vs the run, and that will be tested Saturday by Pitt's rotation of backs.
Defensive back Theo Jackson leads the Vols with 11 tackles. DL Da'Jon Terry and LB Tyler Baron each have a sack.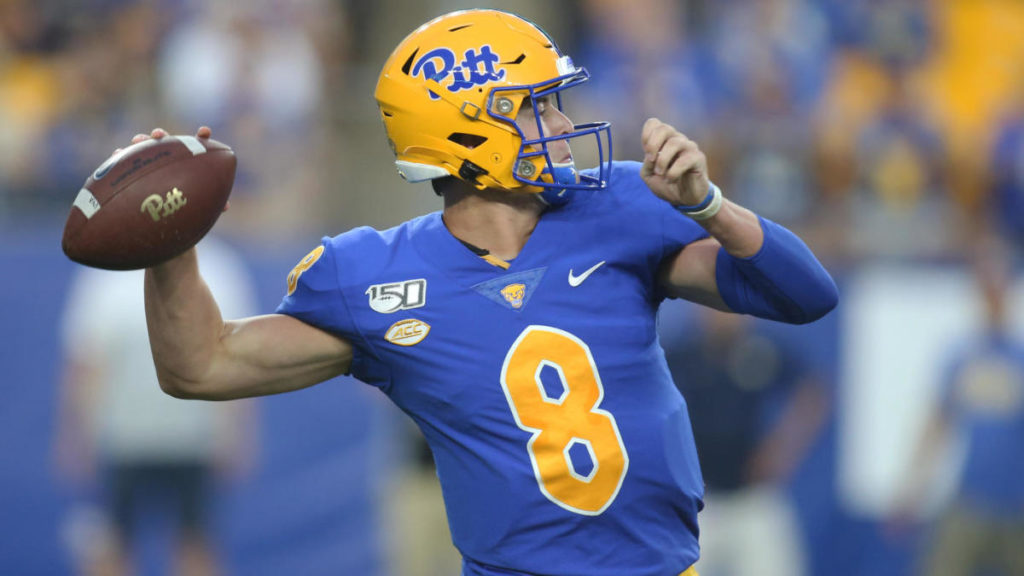 Game Day Information
Pitt Panthers at Tennessee Vols
Venue: Neyland Stadium, Knoxville, TN.
Game-time: Saturday, September 11th at 12:00 pm
TV: ESPN
Announcers: Dave Pasch (play-by-play) Dusty Dvoracek (analyst) | Tom Luginbill (reporter)
Local Radio: Pittsburgh- 93.7 The Fan
Announcers: Bill Hillgrove  (play-by-play) Pat Bostick (analyst) | Larry Richert (reporter)
Alternate Broadcasts:
Online Radio: 937thefan.radio.com
Satellite Radio: XM Channel 384, SXM App Channel 974
Weather at Kickoff: 76 and sunny. Winds out of the south at 1-5 MPH.
ACC Links:

Pitt vs Tennessee History
Series Began: 1980
Overall Record: 2-0
At Home: 0-0
On Road: 2-0
Neutral Site: 0-0
ACC Series: n/a
Streak: Pitt has won the last two games.
Last Game: Sept. 3, 1983 (Pitt won, 13-3)
Did You Know?* 
With 272 yards vs. UMass, Kenny Pickett became just the fifth player in Pitt history to eclipse 8,000 yards passing. Pickett has thrown for 8,256 over his 40-game career.
Pitt and Tennessee renew ties on the football field for the first time in 38 years when the Panthers visit Neyland Stadium. The game has been named the Johnny Majors Classic in honor of the legendary coach and player.

*Courtesy of pittsburghpanthers.com
Injury Report (9/9/21)
Pitt Panthers
Out: None reported
Doubtful: None reported
Questionable: None reported
Tennessee Volunteers
Out: LB A. Willis (suspended)
Doubtful: None reported
Questionable: WR J. Calloway, OL C. Mays (ankle)
Author Profile
From Midland, "The Basketball Capital of Pennsylvania", located 35 miles NW of Pittsburgh along the Ohio River. This former steel town was home to storied athletes such as Dave Alston, Norm Van Lier, Simmie Hill, and the legendary 1965 Midland High School Basketball Team.

There's nowhere on earth that is more dedicated to its sports teams like Western Pennsylvania and the city of Pittsburgh. The passion and pride of Pittsburgh's fan base is second to no one. From the NFL, NHL, MLB, NCAA football and basketball, to W.P.I.A.L. high school sports, "The City of Champions" has it all!

As Editor of Pittsburgh SportsNation, Mike Drakulich provides top notch opinions and coverage of the Pittsburgh Steelers, Pittsburgh Penguins, Pittsburgh Pirates, Pitt Panthers football & basketball, Robert Morris Colonials basketball, and Duquesne Dukes basketball, as well as all sports teams that represent Western Pennsylvania, including WPIAL High School Football.

For a refreshing view of sports, mixed with humor and uncensored opinions, check out Pittsburgh SportsNation today on Facebook, Twitter @PghSportsNation and videos with over 1,000,000 views on YouTube!