Read Time:
13 Minute, 0 Second
The University of Pittsburgh has a rich tradition in football that dates back to 1890. The Pitt Panthers have won nine National Championships and have had some of the greatest players in the history of football call Pitt their alma mater. Pitt has 25 members in the College Football Hall of Fame and nine have been enshrined in the Pro Football Hall of Fame.
NGSC Sports brings you the best Pitt Game Day Preview you will find anywhere! This is where true Panther fans come to find out about Pitt and their upcoming opponent! Mike Drakulich (@PghSportsNation) brings you inside the huddle for both teams, providing all fans with a weekly game story, Pitt's game plan for success, score prediction, crucial game day information, and a detailed breakdown of each team.
Heck, you'll even know the weather at kickoff! The only thing you're missing is a game uniform!
Panthers look to rebound after tough loss to Miami
It was a rough few days after Pitt's 38-34 loss to Miami last Saturday.
Morale was down and plenty of team members and coaches had second thoughts about what went wrong against a team they were favored by 9.5 to beat.
From questionable play calls, to sloppy tackling, to outright horrific calls made by the officials, Pitt's dream of making it into the College Football Playoff all but died on the grass of Heinz Field in that loss.
One call sure to haunt the team was a safety that was somehow not called late in the 4th quarter, which would have had Miami punting the ball from their 20 yard line and the Hurricanes lead cut to 38-36.
The way the Panthers were carving up Miami's defense would've certainly given the Panthers a good shot to win the game on a field goal.
Bu it was all for naught when the safety was nullified.
"I have pictures. I have videos," said Pitt linebacker Phil Campbell. "I was getting all the evidence. I definitely don't think the whole ball got over the white plane.
"I hit him in the end zone and I drove him back. I was really shocked that it wasn't called. It definitely would have changed a lot of things, probably the outcome of the game. I really believe that."
It was a bitter pill to swallow.
"It does make it hard to forget," said Campbell. "That whole night I really didn't get any sleep because I was up thinking about the game.
"The next morning you hear everybody talking specifically about that play and how it could have changed things. It's kind of hard to let that go. The morale was down. You could feel that, going into the meetings the next day."
Now all Campbell and the Panthers can do is focus on getting back on track, still winning the ACC Coastal division, and taking care of business in the ACC Championship game.
"We let everybody know, `Hey, we still have all our goals ahead of us.' We're still fighting for a championship.
"I had to sit down with myself and say, `Hey, you know what? That happened. Now, it's time to finish the season out and accomplish our goals.' "
With the loss to Miami, the Panthers margin for error here on out is minimal.
"There's a lot more urgency now," Campbell said. "We were urgent before, after the Western Michigan loss (earlier this season), but we know this is it. This is our last chance. Every game from now on is a playoff game, pretty much."
If Pitt (6-2, 3-1) is to win the Coastal, the defense will have to play better, especially with games against UNC and Virginia looming.
With Kenny Pickett and the Pitt offense nearly laying 600 yards on the Hurricanes and 34 points, better defensive play, like displayed in the first eight minutes of the game, is a no brainer.
"For me, it wasn't up to my standards. I missed a couple tackles I usually don't miss," senior linebacker John Petrishen said.
"We have high expectations for our defense. It's disappointing that we tackled that way. Those are usually routine plays that we're good at. We usually thrive in those moments.
"We'll be much better in the future. I can promise you that."
Pickett is already focused on Duke and getting the momentum back.
"Championship is still on the table for us," said Pickett, who has 23 touchdown passes and just three picks. "It's the fourth quarter of the season. We have to get ready to go down and beat Duke.
"We'll bounce back. We'll get back on the practice field, back in the meetings, correct our mistakes and bring our best effort to Duke."
The Blue Devils (3-5, 0-4) were crushed by Wake Forest last week 45-7, that a week from being clobbered 48-0 by Virginia.
Pitt's Game Plan for Success
Offense
Bury Duke early: Duke's defense is awful, so Pickett and company should have a field day.
No Turnovers: Never give a bad team extra chances.
Defense
Keep Gunner Holmberg bottled up: Though Holmberg doesn't do much damage through the air, he has rushed for six touchdowns.
Dare Duke to pass: Load up the box and shutdown the Blue Devil's running game, which is their strength.
Prediction
Nothing much to say. Last week was rough, and the Panthers need to bounce back and take out some anger this week. What better team to use as a pinata than the Blue Devils, who are giving up over 33 points a game and were clubbed 45-7 last week by Wake Forest? Pitt scores early and often… Pitt 51 Duke 13
Game Day Information
#25 Pitt Panthers at Duke Blue Devils
Venue: Wallace Wade Stadium, Durham, NC.
Tickets: Pitt Ticket Office
Game-time: Saturday, November 6th at 12:00 pm
TV: ACC Network
Announcers: Wes Durham (play-by-play) Roddy Jones (analyst) | Taylor Davis (reporter)
Local Radio: Pittsburgh- 93.7 The Fan
Announcers: Bill Hillgrove (play-by-play) Pat Bostick (analyst) | Larry Richert (reporter)
Alternative Broadcasts
Online Radio: 937thefan.radio.com
Satellite Radio: Sirius Channel 137, XM Channel 193, SXM App Channel 955
Weather at Kickoff: 51 and partly cloudy. Winds out of the North at 10 MPH.
ACC Links

Scouting the Pitt Panthers
Overall Record: 6-2 | ACC Record: 3-1 | Rank: #25
Previous Game: Miami 38 Pitt 34
Head Coach: Pat Narduzzi (7th Season with Pitt)
Pitt Links
Pitt Offense (Pro Style)
Offensive Stats
Points per game: 43.9
Total offense yards per game: 529.3
Passing yards per game: 371.1
Rushing yards per game: 158.1
Offensive Scouting Report
Strengths: The passing game on the arm of Kenny Pickett, with weapons like WR Jordan Addison and TE Lucas Krull at his disposal. Running game with Israel Abanikanda has come on strong mid-season.
Weaknesses: Few if any at this juncture.
Starting Quarterback: Kenny Pickett | Back-ups: Nick Patti and Davis Beville.
Kenny Pickett returns for his 4th season as QB for Pitt. The super senior has a strong, accurate arm and can burn defenses with his running ability out of the pocket. Pickett, who has entered the Heisman talk, has thrown for 2,755 yards, 26 touchdowns, with just three interception, and has rushed for 177 yards and another three touchdowns. Defenses have gotten to Pickett just 15 times for sacks.
Starting Running Back: Israel Abanikanda | Back-ups: Vincent Davis, Rodney Hammond, Todd Sibley, and Daniel Carter.
Israel Abanikanda has been elevated to starter, and has rushed for 431 yards and five touchdowns. Abanikanda also has 15 receptions for 133 yards. Vincent Davis is 2nd on the team with 308 yards rushing, with three touchdowns, and has 17 catches for 96 yards. Todd Sibley and Daniel Carter have been rarely used, but Rodney Hammond has shot up the depth chart and made the most of his work, rushing for 265 yards and three touchdowns.
Wide Receivers: (Outside) Taysir Mack, Jared Wayne, Shocky Jacques-Louis, Melquise Stovall and Tre Tipton.
(Slot) Jordan Addison and Jaylon Barden.
Taysir Mack gives Pitt a steady and reliable senior presence at wide receiver and has 461 yards receiving off of 27 catches, three that have found the endzone. Jordan Addison leads the team with 47 receptions for 815 yards and 10 touchdowns. Jared Wayne is 3rd on the team with 29 catches for 415 yards and two TD's. Shocky Jacques-Louis has 14 receptions for 143 yards so far, and a score. Jaylon Barden has nine catches for 174 yards and two TD's, while Hawaii transfer Marquise Stovall has contributed 13 catches for 145 yards and a TD.
Tight Ends: Lucas Krull and Gavin Bartholomew.
Lucas Krull has rejuvenated the tight end position for Pitt, ranking 4th on the team with 23 catches for 288 yards and five touchdowns. Gavin Bartholomew has also caught 15 passes for 176 yards and a score.
Placekicker: Sam Scarton
Extra Points: 41-43
Field Goals: 8-9
1-19 yards: 0-0
20-29 yards: 2-2
30-39 yards: 4-2
40-49 yards: 2-3
50+ yards: 0-0
Pitt Defense (Base 4-3)
Defensive Stats
Points per game allowed: 21.9
Total offense yards per game allowed: 340.1
Passing yards allowed: 236.8
Rushing yards allowed: 103.6
Sacks: 25
Interceptions: 8
Defensive Scouting Report
Strengths: Strong pass rush and tough against the run.
Weaknesses: Secondary can be vulnerable if quarterback is given time to throw deep.
Defensive Line: Habakuk Baladonaldo, Calijah Kancey, Keyshon Camp, and Deslin Alexandre.
Habakuk Baladonaldo and Deslin Alexandre are impressive bookends of the defensive line with Calijah Kancey and Keyshon Camp on the inside. Kancey has four sacks. Baladonaldo has six and a half sacks, while Camp has one sack.
Linebackers: Phil Campbell III, SirVocea Dennis, and Cam Bright.
Phil Campbell III (Money) and Cam Bright (Star) surround SirVocea Dennis (Mike) at the linebacker position that has good speed and instincts when it comes at stopping the opposing run game. John Petrishen has been a big part of the linebacker rotation and has 51 tackles, two sacks, and a pick six. Campbell has three sacks. Dennis leads the front seven with 69 tackles, has one sack, and one INT that he took to the house vs Clemson.
Secondary: Marquis Williams, Brandon Hill, Erick Hallett II/Rashad Battle, and Damarri Mathis.
Marquis Williams and Damarri Mathis man the corners with Brandon Hill at strong safety and Erick Hallett II at free safety. Hill has one INT on the year, while Mathis has two.
Pitt Special Teams
Punter: Kirk Christodoulou
Kickoff Returners: Jaylon Barden and Isreal Abanikanda
Punt Returner: Jaylon Barden and Melquise Stovall
Scouting report: Jaylon Barden is the primary kick returner and is averaging 19.5 yards per return, and 10.0 on punts. Melquise Stoval has averaged 0.3 yards per punt return, so some improvement is drastically needed in that area.
Scouting the Duke Blue Devils
Overall Record: 3-5| ACC Record: 0-4 | Rank: n/a
Previous Game: Wake Forest 45 Duke 7
Head Coach: David Cutcliffe (14th Season with Duke)
Lifetime Record: 121-122 | 77-93 with Duke
Links
Duke Offense (Spread)
Offensive Stats
Points per game: 24.5
Total Offense per game: 452.6
Passing yards per game: 254.4
Rushing yards per game: 198.3
Offensive Scouting Report
Strengths: Good rushing game where they score the majority of their touchdowns.
Weaknesses: Passing game is average. Wide receivers only have three touchdowns total.
Starting Quarterback: Gunner Holmberg | Back-up: Riley Leonard and Jordan Moore
Gunner Holmberg has thrown for 1,860 yards, with six touchdowns and six interceptions. Gunner Holmberg has rushed for 160 yards and an additional six touchdowns, and also has 13 sacks. Jordan Moore comes in for certain running situations and has rushed for 104 yards with two scores.
Running Backs: Mateo Durant and Jordan Waters
Mateo Durant is the lead back with 973 yards and nine touchdowns. Durant also has 19 receptions for 186 yards and a score. Jordan Waters has 104 yards on the ground and a pair of TD's.
Wide Receivers: Jake Bobo, Jalen Calhoun, Eli Pancol, Darrell Harding, Jr., Jarret Garner, and Jontavis Robertson.
Jake Bobo leads the wide-outs with 52 catches for 592 yards and a score. Jalen Calhoun is option #2 and has 38 receptions for 531 yards and two touchdowns. Eli Pancol (9-128),Darrell Harding, Jr. (9-100), and Jarret Garner (7-100) are used sparingly.
Tight Ends: Jake Marwede, Nicky Dalmolin, and Cole Finney.
Jake Marwede has 11 catches for 195 yards. Nicky Dalmolin has nine catches for 76 yards and a TD.
Kicker: Charlie Ham
Extra Points: 25-25
Field Goals: 7-12
1-19 yards: 0-0
20-29 yards: 3-3
30-39 yards: 3-4
40-49 yards: 0-2
50+ yards: 1-3
*Injured/Out
Duke Defense (4-2-5)
Defensive Stats
Points per game allowed: 33.3
Total offense yards per game allowed: 472.5
Passing yards allowed: 294.5
Rushing yards allowed: 178
Sacks: 15
Interceptions: 7
Defensive Scouting Report
Strengths: None.
Weaknesses: Defense gives up too many yards and allows over 33 points per game.
Defensive Line: DeWayne Carter has 38 tackles and a team leading 3.5 sacks. R.J. Oben has three sacks.
Linebackers: Shaka Heyward leads the team with 109 tackles, and has two sacks and an interception.
Secondary: Lummie Young IV has 83 tackles, one sacks, and one interception. Leonard Johnson has 31 tackles and two interceptions.
Duke Special Teams
Kickoff Returners: Jaylon Stinson
Punt Returner: Scott Boylan and Josh Blackwell
Scouting report: Jaylon Stinson is averaging 19 yards per kickoff return. Josh Blackwell has averaged 8.5 yards per punt return with Scott Boylan at 6.4.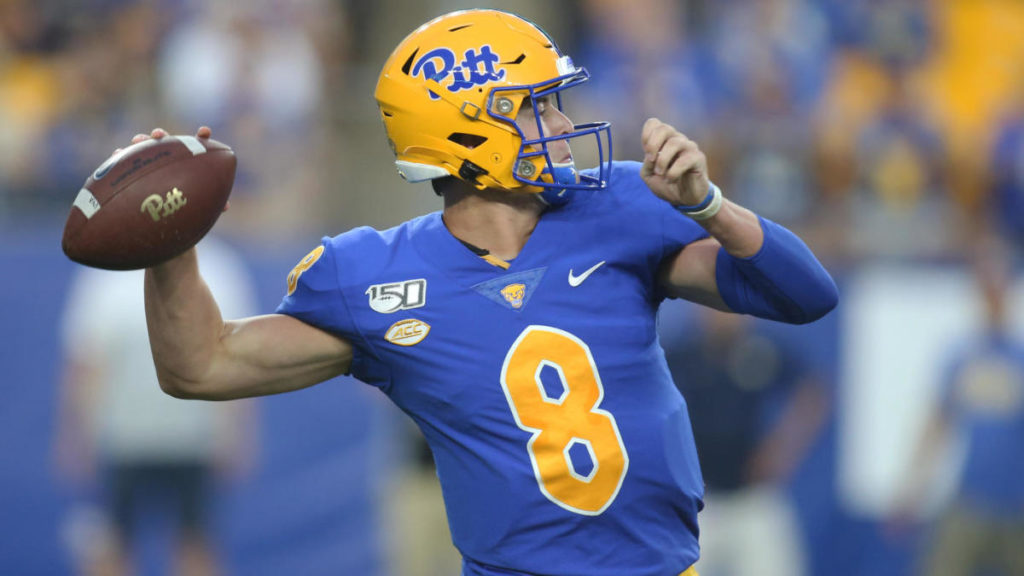 Pitt vs Duke History
Series Began: 1929
Overall Record: 15-9
At Home: 6-5
On Road: 8-4
Neutral Site: 1-0
ACC Series: 6-1
Streak: Pitt won the last five games.
Last Game: Oct. 5, 2019 (Pitt 33, Duke 30)
Game Notes*
Pitt is 3-0 on the road this season. The Panthers have two road dates remaining (Duke and Nov. 27 at Syracuse). Pitt last finished with an undefeated road record in 1987 (4-0).
Quarterback Kenny Pickett is having an All-America caliber season. Pickett ranks third nationally in total offense (367.5 yards per game), fourth in touchdown passes (26) and fifth in passing yards (344.4 yards per game).
Pickett is piloting the country's fourth-highest scoring offense at 43.9 points per contest. The Panthers trail only Ohio State (47.2), Alabama (45.9) and Coastal Carolina (44.4) for the nation's team scoring lead.

A victory at Duke would give the Panthers a 7-2 overall record. It would be Pitt's best nine-game start since the 2009 season when Dave Wannstedt's team opened 8-1.

*Courtesy of pittsburghpanthers.com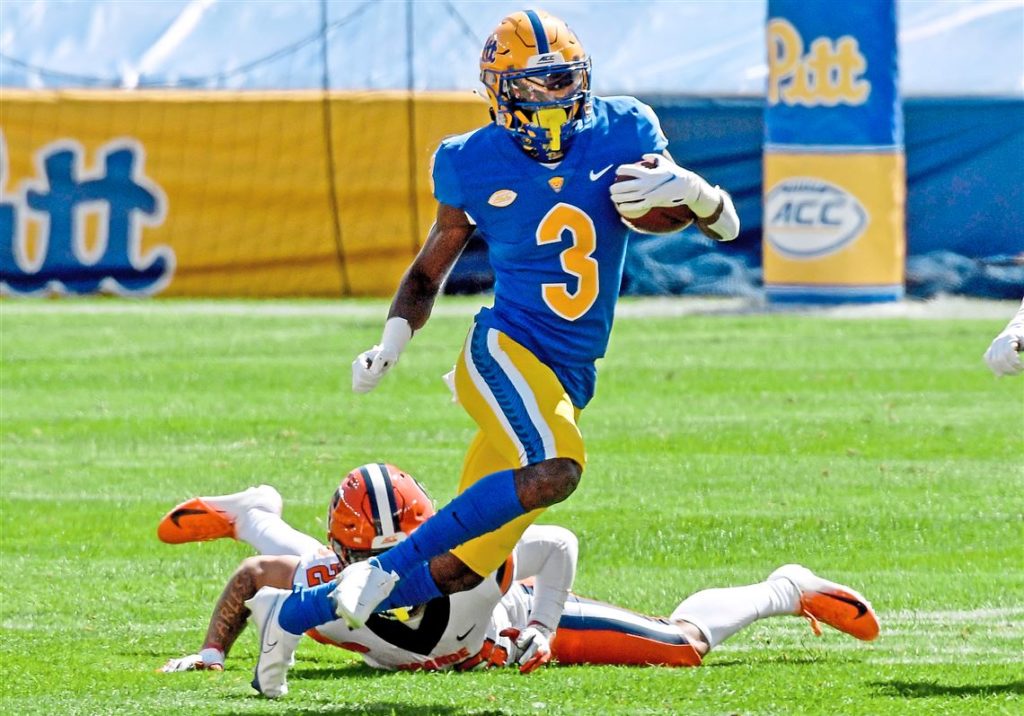 Injury Report (11/4/21)
Pitt Panthers
Out: LB Wendall Davis (left team)
Doubtful: None reported
Questionable: WR Taysir Mack, WR Jaylon Barden, RB Isreal Abinikanda
Duke Blue Devils
Out: None reported
Doubtful: None reported
Questionable: None reported
Author Profile
From Midland, "The Basketball Capital of Pennsylvania", located 35 miles NW of Pittsburgh along the Ohio River. This former steel town was home to storied athletes such as Dave Alston, Norm Van Lier, Simmie Hill, and the legendary 1965 Midland High School Basketball Team.

There's nowhere on earth that is more dedicated to its sports teams like Western Pennsylvania and the city of Pittsburgh. The passion and pride of Pittsburgh's fan base is second to no one. From the NFL, NHL, MLB, NCAA football and basketball, to W.P.I.A.L. high school sports, "The City of Champions" has it all!

As Editor of Pittsburgh SportsNation, Mike Drakulich provides top notch opinions and coverage of the Pittsburgh Steelers, Pittsburgh Penguins, Pittsburgh Pirates, Pitt Panthers football & basketball, Robert Morris Colonials basketball, and Duquesne Dukes basketball, as well as all sports teams that represent Western Pennsylvania, including WPIAL High School Football.

For a refreshing view of sports, mixed with humor and uncensored opinions, check out Pittsburgh SportsNation today on Facebook, Twitter @PghSportsNation and videos with over 1,000,000 views on YouTube!