Read Time:
11 Minute, 50 Second
The University of Pittsburgh has a tradition of excellence in football that dates back to the early 1900's. The Pitt Panthers have won nine National Championships and have had some of the greatest players in the history of football call Pitt their alma mater. Pitt has 25 members in the College Football Hall of Fame and nine have been enshrined in the Pro Football Hall of Fame. NGSC Sports brings you the best Pitt Game Day Guide you will find anywhere! This is where true Panther fans come to find out about Pitt and their upcoming opponent! Mike Drakulich (@PghSportsNation) brings you inside the huddle for both teams, providing all fans with a weekly game story, Pitt's offensive and defensive game plans, score prediction, crucial game day information, and a detailed breakdown of each team. Heck, you'll even know the weather at kickoff! The only thing you're missing is a game uniform!
Resurgent Panthers prepare for Trevor Lawrence and the Clemson Tigers
When the Pitt Panthers (5-4) take the field this Saturday afternoon in Death Valley, you can count on the defense being amped at the challenged of facing the Clemson Tigers (7-1) and their high powered offense lead by QB Trevor Lawrence.
"He's tall. He's long. He's really, really smart as far as where he goes with the ball. He doesn't make a lot of bad decisions," Pitt defensive coordinator Randy Bates said about Lawrence.
"He's fast. Boy, I'm really impressed. I know I was when he was a freshman, and he's not any slower. He's got a lot of velocity. He really puts the ball where it needs to be. Other than that, I don't think he's very good."
The last time these two teams met it was in the 2018 ACC championship game when Clemson ran for 301 yards in a 42-10 victory.
"What happened in that championship game is something I'll never forget," senior defensive end Patrick Jones II said. "We are definitely going to come into Saturday with a chip on our shoulder."
Bates and his Panther defense are a different animal than the version Clemson faced the last time. The Pitt defense has 40 sacks on the season, and are only giving up a paltry 87.3 yards per game on the ground.
"I believe up front we're a better team overall," Bates said. "The older guys are taking their technique to a different level. They are crafting some new moves."
Pitt is thriving off the depth they have invested in the defense, which has actually played better since losing SS Paris Ford a few weeks ago after Ford left the team.
"What has really helped more than anything are the younger guys being able to learn from the older guys," Bates said. "The guys do a great job of teaching each other.
"If there is one thing I can say about this group as a whole on defense, they are a group together. They worry about their teammates before they worry about themselves."
Prediction
At the start of the season some Panther fans were envisioning this game as being part one of a two game set vs Clemson. Unfortunately, Pitt faltered after a 3-0 start and are now just playing for the chance to play in a Bowl Game. Clemson has one loss on the year, and they were missing Trevor Lawrence when they went down in defeat to Notre Dame. Pitt was the last team to defeat Clemson at home and neither team has forgotten that fact.
Though Pitt isn't at Clemson's level just yet, expect the Panthers to come out and give the Tigers everything they can handle. It will be closer than the ridiculous 26.5 point spread that first appeared last week on this game, but that's about it. Pitt and Kenny Pickett put a scare into Trevor Lawrence and the Tigers, but fall short in another upset bid… Clemson 33 Pitt 27
Pitt Offensive Game Plan
Start fast: It's been three weeks since Clemson has played. Best scenario for Pitt is for the offense and Kenny Pickett to take their opening drive and find the end-zone. Put a little seed of doubt into the minds of the Tigers and take advantage of any rust Clemson may have after such a long layoff.
Play with swagger: Come out with attitude and play the game of the season.
Pitt Defensive Game Plan
Get to Trevor Lawrence: The best way to put a dent in the Tiger offensive machine? Lay the wood to Trevor Lawrence when he drops back to pass, who is unlikely to enjoy seeing what the relentless Panther pass rush is capable of.
Contain Travis Etienne: Better said than done, but the Pitt defense specializes in shutting down the opposing team's run game.

A look at the Pitt Panthers
Overall Record: 5-4 | ACC Record: 4-4 | Rank: n/a
Head Coach: Pat Narduzzi (6th Season with Pitt)
Pitt Team/Individual Statistics
Previous Game: Pitt 47 Virginia Tech 14
Pitt Offense (Pro Style)
Points per game: 29.8
Total offense yards per game: 379.7
Passing yards per game: 270.1
Rushing yards per game: 109.6
Strengths: Kenny Pickett's passing game when he is on.
Weaknesses: Too many dropped passes, lack of a steady rushing attack. Weak offensive line in creating space for running backs.
Scouting report: Kenny Pickett is the starter for the Panthers and the key to the offense. He is accurate with his passes and can take off with the ball when chased from the pocket. Pickett has amassed 2,003 yards passing, 10 touchdown passes and four interceptions. He has rushed for 140 yards with seven touchdowns and has only been sacked 11 times.
The Panther rushing attack has depth, but no one has taken total control. Vincent Davis leads the team with 366 yards and five touchdowns. Davis also has 22 receptions for 145 yards. A.J. Davis is starter 1A, but has just 220 yards on the ground. Israel Abanikanda has a promising future as a true freshman, but hasn't gotten much playing time. He has 95 yards rushing and one touchdown. Daniel Carter and Todd Sibley have yet to contribute anything this season.
True Freshman Jordan Addison leads the team with 52 receptions for 611 yards and three touchdowns. Transfer D.J. Turner has 520 yards receiving on 36 catches. Expect action from a bevy of players, including Shocky Jacques-Louis (25-316-0), as well as Taysir Mack (19-267-2). Jared Wayne (11-204-1), Tre Tipton, and Jaylon Barden (6-133-1) round out the Panther weapons at WR. Barden played particularly well in Addison's absence vs VaTech.
Lucas Krull was hopeful to make a difference at tight end for the Panthers, but that has yet to come to fruition. He will look to rebound in 2021. Daniel Moraga is a the lone threat at tight end, and has caught four passes for 42 yards and a score.
Though the talent is there, this offensive group is prone dropping passes and committing stupid penalties.
Starting Quarterback: Kenny Pickett | Back-ups: Joey Yellen, Davis Beville, and Eli Kosanovich
Running Backs: Vincent Davis, A.J. Davis, Todd Sibley, Daniel Carter, and Israel Abanikanda
Wide Receivers: (Outside) Taysir Mack, Shocky Jacques-Louis, Jared Wayne, Tre Tipton, and D.J. Turner
(Slot) Jordan Addison and John Vardzell
Tight Ends: Daniel Moraga, and Jake Zilinskas
Offensive Line
Left Tackle: Carter Warren
Left Guard: Bryce Hargrove
Center: Jimmy Morrissey
Right Guard: Jake Kradel
Right Tackle: Gabe Houy
Pitt Defense (Base 4-3)
Points per game allowed: 22.0
Total offense yards per game allowed: 311.8
Passing yards allowed: 224.4
Rushing yards allowed: 87.3
Sacks: 40
Interceptions: 12
Strengths: Stopping the run and a relentless pass rush.
Weaknesses: Susceptible to being beat in one on one situations at corner, especially by top opposing receivers.
Scouting report: Superb at pressuring the quarterback and even better and stopping the run. Patrick Jones II leads the team with 8 sacks and has 34 tackles. he is part of a stout defensive line that includes Tyler Bentley, David Green, Keyshon Camp, Devin Danielson, and Rashad Weaver.
FS Damar Hamlin leads the team with 67 tackles and has two INT's. SS Brandon Hill has stepped into the spot vacated by Paris Ford and the future looks bright.
Pitt is tops in the nation with 40 sacks and they allow a paltry 87.3 yards per game on the ground. The secondary is prone to giving up big plays at times, as the corners are normally one on one vs opposing wide outs. That said, they play takeaway plenty, as evident of their 12 interceptions recorded.
Defensive End: Patrick Jones II
Defensive Tackle: Tyler Bentley/David Green
Defensive Tackle: Devin Danielson
Defensive End: Rashad Weaver
Money LB: Phil Campbell III
Mike LB: Chase Pine/Wendall Davis
Star LB: Cam Bright
Cornerback: Marquis Williams
Strong Safety: Brandon Hill
Free Safety: Damar Hamlin
Cornerback: Jason Pinnock
Special Teams
Scouting report: Kicker Alex Kessman can make you pull your hair out at times, but he has a booming leg and his deadly from beyond 50 yards. He has made 18 of 24 field goals, including making a 58 yard FG. WR Jordan Addison is averaging 19.5 yards a return on kickoffs and 7.5 on punt returns. D.J. Turner is averaging 20.3 yards per return on kickoffs.
Placekicker: Alex Kessman
Punter: Kirk Christodoulou
Kickoff Returners: Jordan Addison and A.J. Woods
Punt Returner: Jordan Addison/D.J. Turner
A look at the Clemson Tigers
Overall Record: 7-1 | ACC Record: 6-1 | Rank: #4
Head Coach: Dabo Swinney (12th Season with Clemson)
Lifetime Record: 137-32 | 137-32 (with Clemson)
Clemson Team/Individual Statistics
Previous Game: Notre Dame 47 Clemson 40
Clemson Offense (Spread)
Points per game: 45.4
Total Offense per game: 503.6
Passing yards per game: 353.6
Rushing yards per game: 150
Strengths: Passing attack manned by Trevor Lawrence's poise, rushing attack led by Travis Etienne.
Weaknesses: Fatigue from scoring.
Scouting report: Trevor Lawrence came back to Clemson with the goal of winning another National Championship. Despite not playing a snap in over 35 days, he's thrown for 1,833 yards, 17 touchdowns, and just two interceptions. He has also rushed for 71 yards and another four scores.
Lawrence's main target is WR Amari Rodgers who has 48 catches for 720 yards and six touchdowns. Cornell Powell has 31 receptions for 418 yards and three scores. Frank Ladson is weapon #3 at WR and has collected 17 catches for 272 yards and three scores. Braden Galloway is the top tight end with 19 catches for 230 yards and a pair of touchdowns.
RB Travis Etienne will be a 1st round selection in next year's NFL Draft. He has rushed for 634 yards and 10 TD's. He's caught 37 passes for 491 yards and four TD's.
The powerful Tiger's offense is averaging 503.6 total yards per game and scoring over 45 points per game.
Starting Quarterback: Trevor Lawrence | Back-up: D.J. Uigalelei
Running Backs: Travis advg, Darien Rencher, and Lyn-J Dixon
Wide Receivers: Amari Rodgers, Cornell Powell, Frank Ladson, Jr., E.J. Williams, and Brannon Spector
Tight Ends: Braden Galloway and Davis Allen
Clemson Defense (Base 4-3)
Points per game allowed: 19.5
Total offense yards per game allowed: 305.1
Passing yards allowed: 191.8
Rushing yards allowed: 113.4
Sacks: 30
Interceptions: 9
Strengths: Pass rush. Fast swarming defense.
Weaknesses: Can be run on if persistent. Notre Dame was able to exploit the middle of the field downfield.
Scouting report: Good, fast playmakers on defense, including SS Nolan Turner, who has three interceptions. LB Baylon Spector leads the team with 71 tackles and has 2.5 sacks. DE Myles Murphy leads the team with 3.5 sacks. Allowing just 19.5 points per game.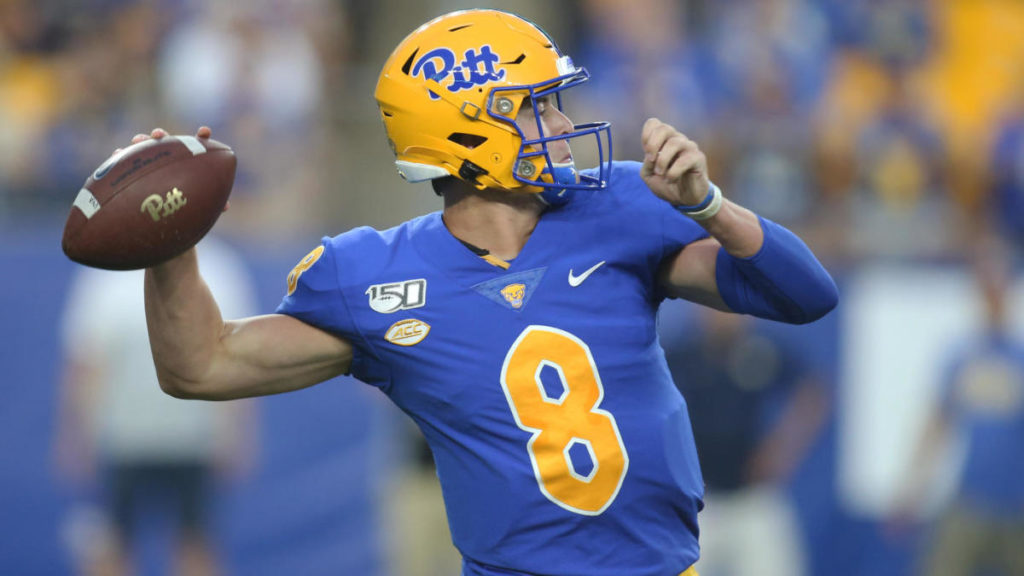 Game Day Information
Pitt Panthers at Clemson Tigers
Venue: Memorial Stadium, Clemson, SC.
Field: Bermuda Grass
Game-time: Saturday, November 28th at 3:30 pm.
TV: ESPN | Announcers: Sean McDonough (play-by-play) Todd Blackledge (analyst), Todd McShay (field analyst) | Molly McGrath (reporter)
Local Radio: Pittsburgh- 93.7 The Fan | Announcers: Bill Hillgrove (play-by-play) Pat Bostick (analyst) | Larry Richert (reporter)
Online Radio: 937thefan.radio.com
Sirius XM Satellite Radio: XM 381, Internet 971
Weather at Kickoff: 67 and partly cloudy. Winds NW 3-5 mph.
Vegas Line: Clemson -24.5

Pitt vs Clemson History
Series History: Began in 1977
Pitt is 2-1 overall vs Clemson
At Home: 0-0
On Road: 1-0
Neutral Site: 1-1
ACC Series: 1-0
Streak: Clemson won the last game.
Last Game: Dec. 1, 2018 (Clemson 42, Pitt 10, ACC Championship Game)
Did You Know?*
Clemson has won a school record 27 consecutive games at home, the longest active streak in the nation. The Tigers have not been defeated at Memorial Stadium since a 43-42 loss to Pitt on Nov. 12, 2016.
Pitt's last victory over an opponent ranked in the Top 5 occurred on Nov. 24, 2017, when then-freshman QB Kenny Pickett led a 24-14 victory over No. 2 Miami at Heinz Field.
Pitt leads the country in total tackles for loss (97) and tackles for loss per game (10.8). Linebacker SirVocea Dennis paces the ACC and ranks third nationally with 13.5 TFLs.
The Panthers have a national best 40 sacks, an average of 4.44 sacks per contest. Clemson quarterbacks have only been sacked 13 times this year (1.63 per game).
Pitt leads the ACC and ranks fourth nationally with 12 intercepted passes this season, the Panthers' most since 2012. Clemson has only thrown three interceptions and averages 353.6 pass yards, tops in the ACC and fifth in the nation.

*Courtesy of pittsburghpanthers.com
Author Profile
From Midland, "The Basketball Capital of Pennsylvania", located 35 miles NW of Pittsburgh along the Ohio River. This former steel town was home to storied athletes such as Dave Alston, Norm Van Lier, Simmie Hill, and the legendary 1965 Midland High School Basketball Team.

There's nowhere on earth that is more dedicated to its sports teams like Western Pennsylvania and the city of Pittsburgh. The passion and pride of Pittsburgh's fan base is second to no one. From the NFL, NHL, MLB, NCAA football and basketball, to W.P.I.A.L. high school sports, "The City of Champions" has it all!

As Editor of Pittsburgh SportsNation, Mike Drakulich provides top notch opinions and coverage of the Pittsburgh Steelers, Pittsburgh Penguins, Pittsburgh Pirates, Pitt Panthers football & basketball, Robert Morris Colonials basketball, and Duquesne Dukes basketball, as well as all sports teams that represent Western Pennsylvania, including WPIAL High School Football.

For a refreshing view of sports, mixed with humor and uncensored opinions, check out Pittsburgh SportsNation today on Facebook, Twitter @PghSportsNation and videos with over 1,000,000 views on YouTube!