The University of Pittsburgh has a tradition of excellence in football that dates back to the early 1900's. The Pitt Panthers have won nine National Championships and have had some of the greatest players in the history of football call Pitt their alma mater. Pitt has 25 members in the College Football Hall of Fame and nine have been enshrined in the Pro Football Hall of Fame. NGSC Sports brings you the best Pitt Game Day Guide you will find anywhere! This is where true Panther fans come to find out about Pitt and their upcoming opponent! Mike Drakulich (@PghSportsNation) brings you inside the huddle for both teams, providing all fans with a weekly game story, Pitt's game plan for victory, score prediction, crucial game day information, a detailed breakdown of each team, and up to date team injury reports. Heck, you'll even know the weather at kickoff! The only thing you're missing is a game uniform!
Pitt defense falling apart as Paris Ford leaves team
Pitt's defense was supposed to be the backbone for this team this year, and for the first three games, they were as advertised. Since then, it has been Wile E. Coyote off the cliff. Injuries have piled up, killing the once playmaking squad, and now star safety Paris Ford has called it quits on the year by opting out earlier this week.
"All along, Paris has had these thoughts in his mind, going back to February, when he decides to stay," Pitt head coach Pat Narduzzi said. "Then, there was all the opting out going on in the middle of summer during camp. He took a few days back then to think about it long and hard."
Ford did come back to try and finish what they could not accomplish last season when the Panthers faltered late last year.
After Pitt has dropped it's last four games to fall for 3-4 on the season, Ford decided to opt out and focus on the 2021 NFL Draft.
"Those are decisions him and his family have to make," Narduzzi said. "They're business decisions. They're family decisions and ones we respect. Stuff he (needs to) do."
The hard hitting and playmaking Ford is a major loss for an already struggling defense.
"Paris is a tremendous football player, tremendous person, a guy that we have a lot of respect for," Narduzzi said. "We appreciate all the efforts he's put in in his 3½-4 years and even for the six years that we've known him through the whole recruiting process. We wish him all the best in his endeavors."
Ford may have been upset about being taken out of the game in Pitt's 45-3 blowout loss to Notre Dame two weeks ago.
"It was nothing that we were taking him out for any reason," Narduzzi said. "We talked all week just by rotating those guys that we wanted to get Brandon Hill in the game and get him active.
"But nobody wants to be taken out of the game. He wasn't taken out of the game for any reason except to give Brandon Hill a series. And I guess he wasn't happy. I'm not sure, but that happens sometimes."
As for the aforementioned Brandon Hill, it's next man up in Narduzzi's defense.
"Next man in," Narduzzi said. "It's an opportunity for Hill to take it over and be the future safety at that spot. I really think you guys will be impressed with what you see back there. He's athletic. He's tough. He's physical, and he flies around with a ton of effort."
Florida State (2-4) is coming off a 48-16 beating at the hands of Louisville, who Pitt beat earlier this year 23-20.
Pitt has missed the play of starting quarterback Kenny Pickett, as well as starters TE Lucas Krull, and LB Wendell Davis. Narduzzi was vague if any of the three would be able to suit up Saturday.
"Not right now, but they're getting better day by day," the coach said.
Pickett may have the best chance of the three, and the Panthers could use him dearly.
"To answer your next question," Narduzzi continued, "because I know you're probably going to ask about Kenny: "Today (Wednesday), he didn't take many snaps. Joey Yellen took most of them.
"Today, all of a sudden, he looks a little bit better. Who knows? On Wednesday, I was thinking Joey's the guy. Today (Thursday), Kenny says, 'Hey, coach, I feel a little bit better.'
More may be known Friday, but Narduzzi is likely to keep that secret in the bag till game-time on Saturday.
"It's kind of risky, but we'll see where it is," Narduzzi said. "Today's only Thursday. You get scared putting a guy out there without a whole lot of reps. But at least Joey's gotten a lot of reps this week."
Prediction
Entering the 8th game of the season, Pitt is merely playing for pride at this point and an outside shot at a Bowl game if they can find a way to turn the ship around from falling off the waterfall. If there was ever a cure for Pitt's woes, the Seminoles may be it.
Florida State is terrible defensively, and the Seminoles rely heavily on their rushing attack to be successful on offense, something Pitt still specializes in stopping. Somehow Pitt's offense is going to find enough of it's footing to put up more points than Florida State will be able to muster against a hampered Pitt defense…. Pitt 20 Florida State 17. 
Pitt's Game Plan for Victory
Offense
Score: Can't be more upfront than that. Three points last game vs Notre Dame was shameful.
Someone step up and take over: This is the 8th game and Pitt still has no running game, and no identity whatsoever. The Seminoles can be ran on, but Pitt's offensive line as been awful all year. If Joey Yellen starts, he has to get into a groove, know when it's time to get out of the pocket, and find his open receivers. He needs to get rid of the happy feet, step into his throws, and find some confidence. Jordan Addison needs to be the guy all game. I'd ask to establish some type of rushing attack, but I'd like to hit the lottery, too.
Defense
Stack the line, stop the run: If Pitt can slow Florida State's rushing attack, they will have a good chance of winning this game, especially if the offense finds a way to garner some points. QB Jordan Travis is not going to beat you through the air.
Close: If the offense gets the lead, this defense needs to step up, especially not allowing points after a scoring drive and closing the game out if up in the 4th quarter. Dig deep, find that pride that has been lost, and make plays that have been missing of late.

A look at the Pitt Panthers
Overall Record: 3-4 | ACC Record: 2-4 | Rank: n/a
Head Coach: Pat Narduzzi (6th Season with Pitt)
Pitt Team/Individual Statistics
Previous Game: Notre Dame 45 Pitt 3
Pitt Offense (Pro Style)
Points per game: 25.7
Total offense yards per game: 357.6
Passing yards per game: 259.6
Rushing yards per game: 98
Scouting report: Kenny Pickett is the starter for the Panthers. He has been accurate with his passes and can take off with the ball when chased from the pocket. Pickett once lead the nation with 1,389 yards passing before getting hurt and has eight touchdown passes. Pickett has been sorely missed after being injured vs Boston College a few weeks ago. Joey Yellen is the next man up under center and has had his ups and downs in Pickett's absence. Yellen has thrown for 397 yards, with just one touchdown and three interceptions. He does not have the ability with his legs as Pickett does. Davis Beville may get some looks if Yellen continues to falter.
The Panther rushing attack has depth, but no one has taken total control. Vincent Davis leads the team with 263 yards and three touchdowns. Israel Abanikanda is a special talent as a true freshman, but doesn't get much time. He has 80 yards rushing and one touchdown. A.J. Davis is healthy again, but has just 106 yards on the ground. Daniel Carter and Todd Sibley will also see time.
True Freshman Jordan Addison leads the team with 41 receptions for 484 yards and three touchdowns.  Transfer D.J. Turner has 337 yards receiving on 20 catches. Expect action from a bevy of players, including the ultra talented Shocky Jacques-Louis (20-272-0), as well as Taysir Mack (17-248-2), who has stepped up his play after missing the first two games. Jared Wayne (9-138-1) and Tre Tipton round out the Panther weapons at WR.
Lucas Krull was hopeful to make a difference at tight end for the Panthers, but that has yet to come to fruition. Though the talent is there, this group has to stop dropping passes and committing stupid penalties. Finding the endzone instead of kicking field goals would be helpful, too. The biggest key for Pitt's offense to find success is the health of Pickett.
Starting Quarterback: Kenny Pickett | Back-ups: Joey Yellen, Davis Beville, and Eli Kosanovich
Running Backs: Vincent Davis, A.J. Davis, Todd Sibley, Daniel Carter, and Israel Abanikanda
Wide Receivers: (Outside) Taysir Mack, Shocky Jacques-Louis, Jared Wayne, Tre Tipton, and D.J. Turner
(Slot) Jordan Addison and John Vardzell
Tight Ends: Lucas Krull, Kyi Wright, Daniel Moraga, and Jake Zilinskas
Offensive Line
Left Tackle: Carter Warren
Left Guard: Bryce Hargrove
Center: Jimmy Morrissey
Right Guard: Jake Kradel
Right Tackle: Gabe Houy
Pitt Defense (Base 4-3)
Scouting report: 
Points per game allowed: 23.9
Total offense yards per game allowed: 297.4
Passing yards allowed: 228.3
Rushing yards allowed: 69.1
Sacks: 31
Interceptions: 8
Defensive End: Patrick Jones II
Defensive Tackle: Tyler Bentley/David Green
Defensive Tackle: Devin Danielson
Defensive End: Rashad Weaver
Money LB: Phil Campbell III
Mike LB: Chase Pine/Wendall Davis
Star LB: Cam Bright
Cornerback: Marquis Williams
Strong Safety: Brandon Hill
Free Safety: Damar Hamlin
Cornerback: Jason Pinnock
Special Teams
Scouting report: Kicker Alex Kessman has been a headcase in 2020, going 12 of 17 in field goals, including making a 58 yard FG, but missing an extra point to tie the game vs Boston College. WR Jordan Addison is averaging 19.5 yards a return on kickoffs and 7.5 on punt returns. D.J. Turner is averaging 20.5 yards per return on kickoffs.
Placekicker: Alex Kessman
Punter: Kirk Christodoulou
Kickoff Returners: Jordan Addison and A.J. Woods
Punt Returner: Jordan Addison/D.J. Turner
A look at the Florida State Seminoles
Overall Record: 2-4 | ACC Record: 1-4 | Rank: n/a
Head Coach: Mike Norvell (1st Season with Florida State)
Lifetime Record: 40-19 | 2-4 (with Florida State)
2020 Florida State Seminoles Roster
Florida State Team/Individual Statistics
Previous Game: Louisville 48 Florida State 16
Florida State Offense
Points per game: 22.8
Total Offense per game: 401.8
Passing yards per game: 204.8
Rushing yards per game: 197
Scouting report: The Seminoles aren't exactly an offensive juggernaut. Jordan Travis is FSU's quarterback, but has only thrown for 758 yards with four touchdowns and four interceptions. Travis does his damage on the ground, gaining a team leading 389 yards with five touchdowns. When he does throw, Tamorrion Terry is his top target with 21 receptions for 275 yards and one TD. Ontaria Wilson is 2nd with 20 catches for 212 yards and a score. Tight end Camren McDonald has 15 receptions for 187 yards and a pair of touchdowns. Keyshawn Helton has just seven receptions, but two of them have found the endzone.
The Seminoles like to run, with Travis leading the way. La'Damien Webb is the lead back with 336 yards rushing and three scores. Lawrance Toafili sees plenty of action with 240 rushing yards and a score, and Jashaun Corbin is a big part of the four headed rushing monster, gaining 221 yards and a touchdown, and 13 catches for 80 yards.
Starting Quarterback: Jordan Travis | Back-ups: James Blackman
Running Backs: La'Damien Webb, Lawrance Toafili, and Jashaun Corbin
Wide Receivers: Tamorrion Terry, Ontaria Wilson, Keyshawn Helton, Warren Thompson, and Jordan Young
Tight Ends: Camren McDonald and Preston Daniel
Florida State Defense (Base 4-3)
Scouting report: One of the worst defenses in FSU history. Giving up 35 points per game and hardly ever find a way to pressure opposing quarterbacks. The Seminoles are giving up nearly 500 yards a game to their opponents. LB Amari Gainer leads the team with 59 tackles.
Points per game allowed: 35
Total offense yards per game allowed: 490.5
Passing yards allowed: 281.8
Rushing yards allowed: 208.7
Sacks: 8
Interceptions: 4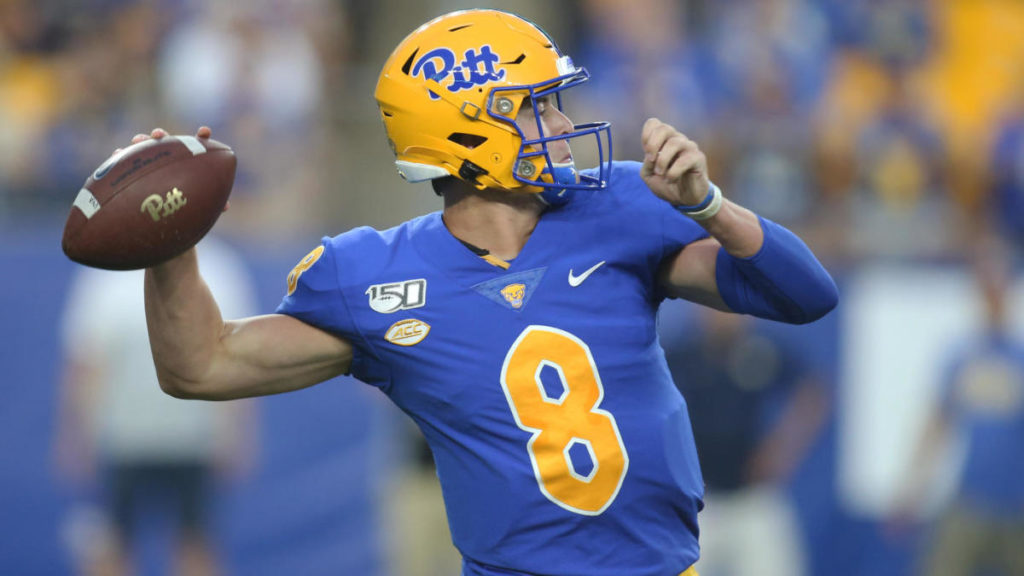 Game Day Information
Pitt Panthers at Florida State Seminoles
Venue: Doak S. Campbell Field, Tallahassee, FL. | Field: Natural Grass
Game-time: Saturday, November 7th at 4:00 ET
TV: ACC Network | Announcers: Wes Durham (play-by-play) Roddy Jones (analyst) | Lericia Harris (reporter)
Local Radio: Pittsburgh- 93.7 The Fan | Announcers: Bill Hillgrove  (play-by-play) Pat Bostick (analyst) | Larry Richert (reporter)
Online Radio: 937thefan.radio.com
Sirius XM Satellite Radio: XM 386, Internet 976
Weather at Kickoff: 79 and cloudy with a 15% of light rain.
Vegas Line: Florida State -1.5

Pitt vs Florida State History
Series History: Began in 1971
Pitt is 5-4 overall vs Florida State
At Home: 3-2
On Road: 2-2
Neutral Site: n/a
ACC Series: 1-0
Streak: Florida State won the game.
Last Regular Season Meeting: Sept. 2, 2013 (Florida State 41, Pitt 13)
Did You Know?* 
Pitt will play its first game at Florida State in 38 years. The Panthers have not visited Tallahassee since the 1982 season, when quarterback Dan Marino directed a 37-17 victory over Bobby Bowden's Seminoles.
This is only the second Atlantic Coast Conference encounter between Pitt and Florida State. The Panthers' inaugural ACC game was against the Seminoles at Heinz Field on Sept. 2, 2013. Florida State won that contest, 41-13, en route to the national title.
Mike Norvell is in his first season as Florida State's head coach following a highly successful four-year head coaching tenure at Memphis. Norvell's professional path includes one season at Pitt (2011), where he served as co-offensive coordinator and wide receivers coach.
Pitt is averaging 4.43 sacks per game to lead the ACC and rank third nationally. Defensive end Patrick Jones II has a team-high seven sacks and ranks 15th nationally (1.0 sack per game).
Freshman Jordan Addison leads Pitt in receptions (41), receiving yards (484) and receiving touchdowns (three). The last freshman to lead Pitt in receiving was Tyler Boyd in 2013.

*Courtesy of pittsburghpanthers.com
Injury Report (11/5/20)
Pitt Panthers
Out: CB Damarri Mathis, SS Paris Ford, DL Habakkuk Baldonado
Doubtful: QB Kenny Pickett, TE Lucas Krull
Questionable: LB Wendall Davis
Probable: None
Florida State Seminoles
Out: None
Doubtful: None
Questionable: QB James Blackman
Probable: WR Tamorrion Terry
Author Profile
From Midland, "The Basketball Capital of Pennsylvania", located 35 miles NW of Pittsburgh along the Ohio River. This former steel town was home to storied athletes such as Dave Alston, Norm Van Lier, Simmie Hill, and the legendary 1965 Midland High School Basketball Team.

There's nowhere on earth that is more dedicated to its sports teams like Western Pennsylvania and the city of Pittsburgh. The passion and pride of Pittsburgh's fan base is second to no one. From the NFL, NHL, MLB, NCAA football and basketball, to W.P.I.A.L. high school sports, "The City of Champions" has it all!

As Editor of Pittsburgh SportsNation, Mike Drakulich provides top notch opinions and coverage of the Pittsburgh Steelers, Pittsburgh Penguins, Pittsburgh Pirates, Pitt Panthers football & basketball, Robert Morris Colonials basketball, and Duquesne Dukes basketball, as well as all sports teams that represent Western Pennsylvania, including WPIAL High School Football.

For a refreshing view of sports, mixed with humor and uncensored opinions, check out Pittsburgh SportsNation today on Facebook, Twitter @PghSportsNation and videos with over 1,000,000 views on YouTube!