Read Time:
3 Minute, 53 Second
How's an NBA player's career defined?
Most think it's measured by statistics, championships won, or perhaps community involvement. All three are your typical generalized predictors of player worth both during and after a career.
In my interview with Lance Allred, his monumental impact was something altogether different. Now a 39-year-old motivational speaker, Allred graced his presence in The Association for just a flash of time. However, this is just the beginning of his transcendent story.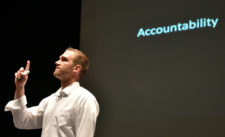 Legally-deaf from birth with 75-80 percent hearing loss due to Rh disease, Lance was raised within a Mormon Polygamist Cult in rural Montana. No sign language. No cochlear implants. No road to follow.
Allred used lip-reading, toneless speech, and writing as his means of communication in a world where they meant very little. Breaking free from polygamy at 13, it didn't take Lance long to discover his true calling.
Basketball.
Growing from 5-foot-10 to 6-foot-4 as an eighth-grader, Allred discovered that hoops was his safe haven. Now feeling accepted on a team, Lance stated, "I get to belong to a tribe again."
In 2000, living just five blocks away from campus and joining a top-five program, Mr. Allred accepted a scholarship to the University of Utah. Playing the center position, Lance now stood 6-foot-11. At first, late head coach Rick Majerus loved Allred's utter passion and remarkable work ethic. During Lance's sophomore season, he saw a proverbial switch flip in regards to Coach Majerus's psyche. After Majerus was informed that his mother was diagnosed with cancer, his change in demeanor became evident. As a result of continued verbal abuse from his coach, one in which he was ripped to pieces in front of the entire team, Allred's time in Salt Lake City ended.
Allred told me that Majerus called him out on the baseline of Saint Mary's College on January 6, 2002, in front of teammates and coaches saying, "Lance, you're the worst of all. You use hearing as an excuse to weasel yourself through life, and you're a disgrace to cripples. And if I was in a wheelchair and saw you play basketball, I'd shoot myself."
Shortly thereafter, Lance transferred to Weber State in Ogden, UT, just 40 miles up the road.
He finished his collegiate career in Ogden, spanning from 2003-05. In his senior season (2005) with the Weber State Wildcats, averaging 17.7 points and 12.0 rebounds per game, Mr. Allred helped lift his squad to the Big Sky Tournament championship game.
Lance started his professional career (2005-16) playing overseas. Three years later, he finally got his big break.
Two ten-day contracts in, Lance signed a deal to finish 2008 with the Cleveland Cavaliers. The short stint made up the entirety of Allred's NBA career. Three games played. Three total points. That's it? Yes. Lance was devastated, but he certainly wasn't ashamed. As the first legally-deaf player in history to make an NBA roster, those three points resonated loudly.
Due to nervousness, his first point came off the window from the charity stripe. You read that right. A banked-in free throw. It was awkward, but it was a point nonetheless. Minutes later in the same game against the Detroit Pistons, Lance used the glass once again to smooch-in a two-point field goal.
When I asked Allred what his favorite moment was from his brief stay in the league, he didn't say anything about those two made baskets, nothing about playing with LeBron James and gave no mention of his basketball journey.
He simply told me, "My opportunity to visit a deaf school in Cleveland, and give back to those kids through my own experience, letting them know that they can reach their dreams."
Okay. I do have more from Lance regarding his thoughts about LBJ among other things, but I'll save that for next week.
Lance Allred's NBA career wasn't defined by any of your typical generalizations. Instead, the atypical can now be heard. Grasping the fabric of human kindness, self-worth, and choice as a motivational speaker, Allred continues to forge a path written with integrity.
Author Profile