Read Time:
14 Minute, 33 Second
The University of Pittsburgh has a rich tradition in football that dates back to 1890. The Pitt Panthers are 9-Time National Champions and have had many of the greatest players in the history of football call Pitt their alma mater. Pitt has had 94 First Team All-Americans, 25 members in the College Football Hall of Fame and nine Panthers have been enshrined in the Pro Football Hall of Fame.
NGSC Sports brings you the best Pitt Game Day Preview you will find anywhere! This is where true Panther fans come to find out about Pitt and their upcoming opponent! Mike Drakulich (@PghSportsNation) brings you inside the huddle for both teams, providing all fans with a weekly game story, Pitt's game plan for success, score prediction, crucial game day information, and a detailed breakdown of each team.
Heck, you'll even know the weather at kickoff! The only thing you're missing is a game uniform!
Coastal Champions seek 10th win of season
One huge objective as been met by the Pitt Panthers (9-2) who enter the season finale vs the Syracuse Orange (5-6) this Saturday night at 7:30 at the Carrier Dome. That was winning the ACC Coastal Division last week when the Panthers defeated Virginia 48-38.
Those goals began before training camp, just as the August heat was turning up, and players like WR Tre Tipton, a seventh year senior from Apollo Ridge, wanted this season to be a special one.
"We all believe we can go out there and win a championship," Tipton said weeks before the season opener. "For the seniors, it's the last go-around. How do you want to be remembered? Nobody remembers the 5-7 team. Nobody remembers 7-6 or 8-5. The only way you're going to be remembered is how you leave your legacy."
One championship has been met via the division crown.
Up next is achieving double digit wins for the first time since 1981, and then focusing on winning the ACC Championship next weekend in Charlotte.
"It felt good, but I didn't come here just to win the Coastal. You know what I'm saying?" Tipton said Wednesday. "The job's not done. So we look forward to going into the next couple of weeks and finishing it out."
Tipton, who got to this 7th year via redshirts, medical redshirts, followed by an extra year of eligibility given to all seniors last year during the pandemic, was awarded the Disney Spirit Award, given to the most inspiring figure in college football.
Tipton hasn't put up numbers like Jordan Addison has, but his leadership has been a major factor in the Panthers successful season.
"His wisdom, he means a lot," Addison said of Tipton. "For me, he just motivates me to do anything. All the things he's been through over time and he just keeps going, he just shows me how to face adversity."
Tipton has made sure everyone on the team is one the same page when it comes to staying focused.
"The goal at the end of the day, whether you're a senior, junior, freshman or sophomore, is to go out here and win an ACC championship," Tipton said. "But to go out on the right note as a senior, it would mean a lot. To know that these guys are fighting for that, are fighting for us to go out with a big bang, man, I cannot wait for every opportunity we get to go out and play."
Addison, who is a Biletnikoff Award finalist, is primed to end the regular season with a bang vs Syracuse, and Syracuse alone.
"It's another game. That means it's a big game," said Addison. "I know I'm not looking ahead. I have to make sure the receivers aren't, as well.
"Every week is a new opportunity for me. I'm not thinking about the award. I'm just trying to put myself in position to help the team win."
Some in the media speculated that Pitt would rest players in advance of the ACC Championship Game.
"That would be a natural question," said Pitt head coach Pat Narduzzi. "'Let's go up there and keep them all healthy and play our backups and get ready for the championship game.' I would love to do that, but I don't see us doing that."
Some changes you may see could be defensive back M.J. Devonshire taking over punt return duties from Addison this week.
After being torched in the secondary by Virginia's Brennan Armstrong, North Carolina's Sam Howell, and Miami's Tyler Van Dyke to the tune of over 400 passing yards a game and eight touchdowns, the Pitt defense will take on a different challenge this Saturday, that being the vaunted rushing attack utilized by Syracuse, who averages 230.6 yards a game on the ground.
Orange running back Sean Tucker is tops in the ACC, rushing for 1,467 yards and 12 touchdowns, while quarterback Garrett Shrader has gained 783 yards and 14 touchdowns to boot.
"We've been seeing great quarterbacks and running backs all year," Pitt defensive lineman Calijah Kancey said. "So, it will be just another game. As a defense, you have to take great angles, you have to tackle, be smart as a D line with our pass rushing lanes."
Pitt's Game Plan for Success
Offense
Protect Pickett: The Panther QB has taken some hard hitting sacks over the few past games, and with a good pass rush exhibited by the Orange, it would behoove the offensive line to limit the amount of hits taken to their Heisman quarterback.
Run some clock: If Pitt gets a sizable lead in this game, Syracuse isn't equipped to make many good comebacks. Be balanced on offense by running the ball, and utilizing the play clock to their advantage.
Defense
Be physical: Syracuse likes to buckle up the chinstrap and pound the ball, so hard hits and gang tackling are greatly suggested in this game.
Get off the field: Way too many times this season we have seen the defense give up points immediately following a scoring drive by the offense. That has to cease, as soon as possible, if this team wants to win out.
Prediction
The big carrot is dangling on December 4th for the ACC Championship Game, but first things first, that finishing the regular season strong, and taking care of business vs their old foes from the Big East days.
It's been a tough season for the Orange, but they still have a chance to become bowl eligible with a win over the Panthers.
The best case scenario for Pitt would be to come out on fire and put up some big points before halftime, and hopefully pull some players and rest them in advance of next week's game. The Orange are a running team, so if Kenny Pickett and his weapons can do what they do best, it will be very difficult for Syracuse to keep up.
And please, no more 76-61 games anytime soon.
Perhaps Panther fans can have a game that won't age them 20 years in the 4th quarter for once, that's not asking too much, right…? Pitt 45 Syracuse 20
Game Day Information
#17 Pitt Panthers at Syracuse Orange
Venue: Carrier Dome, Syracuse, NY.
Game-time: Saturday, November 27th at 7:30 pm
TV: ACC Network
Announcers: John Schriffen (play-by-play) Rene Ingoglia (analyst) | Taylor Davis (reporter)
Local Radio: Pittsburgh- 93.7 The Fan
Announcers: Jeff Hathhorn (play-by-play) Pat Bostick (analyst) | Larry Richert (reporter)
Alternative Broadcasts
Online Radio: 937thefan.radio.com
Satellite Radio: Sirius Channel 138, XM Channel 193, SXM App Channel 955
Weather at Kickoff: Dome
ACC Links

Scouting the Pitt Panthers
Overall Record: 9-2 | ACC Record: 6-1 | Rank: #17
Previous Game: Pitt 48 Virginia 38
Head Coach: Pat Narduzzi (7th Season with Pitt)
Pitt Links
Pitt Offense (Pro Style)
Offensive Stats
Points per game: 43.9
Total offense yards per game: 529.1
Passing yards per game: 370.1
Rushing yards per game: 159
Offensive Scouting Report
Strengths: The passing game on the arm of Kenny Pickett, with weapons like WR Jordan Addison and TE Lucas Krull at his disposal. Running game with Israel Abanikanda has come on strong mid-season.
Weaknesses: Running some clock with a lead in the 4th quarter.
Starting Quarterback: Kenny Pickett | Back-ups: Nick Patti and Davis Beville.
Kenny Pickett returns for his 4th season as QB for Pitt. The super senior has a strong, accurate arm and can burn defenses with his running ability out of the pocket. Pickett, a Heisman hopeful, has thrown for 3,858 yards, 36 touchdowns, with just six interceptions, and has rushed for 217 yards and another four touchdowns. Defenses have gotten to Pickett 25 times for sacks.
Starting Running Back: Israel Abanikanda | Back-ups: Vincent Davis, Rodney Hammond, Todd Sibley, and Daniel Carter.
Israel Abanikanda has been elevated to starter, and has rushed for 580 yards and five touchdowns. Abanikanda also has 23 receptions for 200 yards. Vincent Davis is 2nd on the team with 432 yards rushing, with four touchdowns, and has 19 catches for 108 yards. Todd Sibley and Daniel Carter have been rarely used, but Rodney Hammond has shot up the depth chart and made the most of his work, and is now 3rd in rushing with 412 yards and five touchdowns.
Wide Receivers: (Outside) Taysir Mack*, Jared Wayne, Shocky Jacques-Louis, Melquise Stovall* and Jaden Bradley.
(Slot) Jordan Addison, Jaylon Barden*, and Tre Tipton.
Jordan Addison, a Biletnikoff Award finalist, leads the team with 74 receptions for 1,272 yards and 15 touchdowns. Taysir Mack, when healthy, gives Pitt a steady and reliable senior presence at wide receiver and has 461 yards receiving off of 27 catches, three that have found the endzone. Jared Wayne is 3rd on the team with 41 catches for 591 yards and four TD's. Shocky Jacques-Louis has 22 receptions for 242 yards so far, and a score. Jaylon Barden has nine catches for 174 yards and two TD's, while Hawaii transfer Marquise Stovall has contributed 14 catches for 189 yards and a TD. Jaden Bradley, a promising freshman, has caught eight passes for 114 yards. Tre Tipton has caught four passes for 27 yards.
Tight Ends: Lucas Krull and Gavin Bartholomew.
Lucas Krull has rejuvenated the tight end position for Pitt, ranking 4th on the team with 29 catches for 362 yards and six touchdowns. Gavin Bartholomew has also caught 21 passes for 260 yards and a three touchdowns.
Placekicker: Sam Scarton
Extra Points: 56-59
Field Goals: 15-18
1-19 yards: 0-0
20-29 yards: 4-4
30-39 yards: 7-8
40-49 yards: 4-5
50+ yards: 0-1
*Injured/Out
Pitt Defense (Base 4-3)
Defensive Stats
Points per game allowed: 24.1
Total offense yards per game allowed: 363.9
Passing yards allowed: 265.1
Rushing yards allowed: 98.8
Sacks: 41
Interceptions: 11
Defensive Scouting Report
Strengths: Strong pass rush and tough against the run.
Weaknesses: Secondary can be vulnerable if quarterback is given time to throw deep. Sometimes coaches become stubborn in making needed adjustments to protect the deep pass.
DE: Habakuk Baladonaldo | DT: Calijah Kancey | DT: Keyshon Camp | DE: Deslin Alexandre
Habakuk Baladonaldo and Deslin Alexandre are impressive bookends of the defensive line with Calijah Kancey and Keyshon Camp on the inside. Kancey has five sacks. Baladonaldo has eight sacks, while Camp has one sack.
Money LB: Phil Campbell III | Star LB: SirVocea Dennis | Mike LB: Cam Bright/John Petrishen
Phil Campbell III and Cam Bright surround SirVocea Dennis at the linebacker position that has good speed and instincts when it comes at stopping the opposing run game. John Petrishen has been a big part of the linebacker rotation and has 74 tackles, three sacks, and three interceptions–one a pick six. Campbell has four sacks. Dennis leads the front seven with 93 tackles, has two sacks, and one INT that he took to the house vs Clemson.
CB: Marquis Williams | SS: Brandon Hill | FS: Erick Hallett II | CB: Damarri Mathis/M.J. Devonshire
Marquis Williams and Damarri Mathis man the corners with Brandon Hill at strong safety and Erick Hallett II at free safety. Hill has one INT on the year, while Mathis has two. M.J. Devonshire sees plenty of time on passing downs and has one interception.
Pitt Special Teams
Punter: Kirk Christodoulou
Kickoff Returners: Vincent Davis and Israel Abanikanda
Punt Returner: Jordan Addison and M.J. Devonshire
Scouting report: Israel Abanikanda is the primary kick returner with Jaylon Barden injured, and is averaging 21 yards per return. Vincent Davis has averaged 15.0 yards per return. Jordan Addison has averaged 15.4 yards per punt return. M.J. Devonshire may get some punt return looks eventually.
Scouting the Syracuse Orange
Overall Record: 5-6 | ACC Record: 2-5 | Rank: n/a
Previous Game: N.C. State 41 Syracuse 17
Head Coach: Dino Babers (6th Season with Syracuse)
Lifetime Record: 66-58 | 29-42 with Syracuse
Links
Syracuse Offense (Spread)
Offensive Stats
Points per game: 25.9
Total Offense per game: 377.8
Passing yards per game: 147.2
Rushing yards per game: 230.6
Offensive Scouting Report
Strengths: The rushing attack lead by QB Garrett Shrader and RB Sean Tucker.
Weaknesses: Poor passing game, not adept at making up large deficits.
Starting Quarterback: Garrett Shrader | Back-up: Tommy DeVito
Garrett Shrader, utilizes his legs more than his arm, throwing for just 1,228 yards with seven touchdowns and four interceptions. He has been sacked 20 times, while rushing for 783 yards and 14 touchdowns.
Running Backs: Sean Tucker, Jarveon Howard, & Cooper Lutz.
Sean Tucker is the bell cow, rushing for 1,467 yards and 12 touchdowns. Tucker also has 18 receptions for 237 yards and a pair of scores.
Wide Receivers: Courtney Jackson, Damien Alford, Anthony Queeley, Sharod Johnson, & Devaughn Cooper.
Courtney Jackson leads the team with 29 catches for 297 yards and one touchdown. Damien Alford has 12 catches for 242 and two touchdowns. Anthony Queeley has collected 14 catches for 192 yards and two scores. Sharod Johnson has 14 catches for 184 yards. Devaughn Cooper has contributed 18 grabs for 150 yards.
Tight Ends: Max Mang
Syracuse rarely uses their tight ends.
Kicker: Andre Szmyt
Extra Points: 34-36
Field Goals: 9-14
1-19 yards: 0-1
20-29 yards: 4-4
30-39 yards: 2-2
40-49 yards: 3-6
50+ yards: 0-1
*Injured/Out
Syracuse Defense (3-3-5)
Defensive Stats
Points per game allowed: 25.9
Total offense yards per game allowed: 330.2
Passing yards allowed: 203.8
Rushing yards allowed: 126.4
Sacks: 35
Interceptions: 3
Defensive Scouting Report
Strengths: Very good pass rush.
Weaknesses: Not adept at creating turnovers. Have allowed 82 points in last two games.
Defensive Line: Cody Roscoe has 8.5 sacks and 59 tackles. Kingsley Jonathan has 4.5 sacks and 19 tackles.
Linebackers: Mikel Jones has a team leading 116 tackles and three sacks. Stephon Thompson has 86 tackles and 4.5 sacks. Marlowe Wax has five sacks and 54 tackles.
Secondary: Darian Chestnut has 48 tackles and two interceptions.
Syracuse Special Teams
Kickoff Returners: Trebor Pena
Punt Returner: Trebor Pena
Scouting report: Trebor Pena is averaging 24.8 yards per kickoff return, and 7.7 yards per punt return.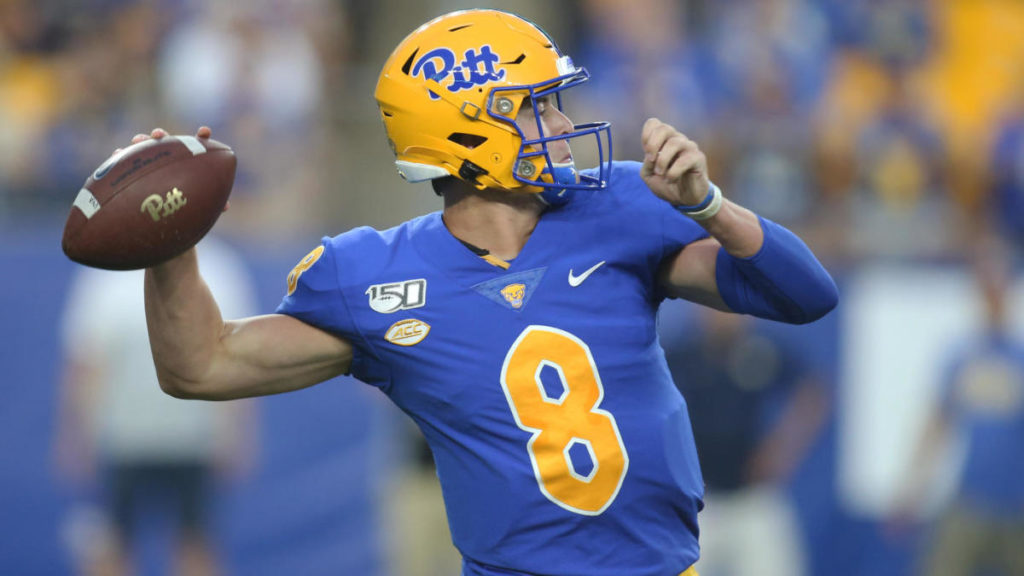 Pitt vs Syracuse History
Series Began: 1916
Overall Record: 41-32-3
At Home: 24-11
On Road: 17-19-3
Neutral Site: 0-2
ACC Series: 7-1
Streak: Pitt won the last three games.
Last Game: Sept. 19, 2020 (Pitt 21, Syracuse 10)
Game Notes* 
Pitt and Syracuse have played every year since 1955, when both schools were independents. The Panthers and Orange were Big East football conference members from 1993-2012 before entering the ACC in 2013.
Kenny Pickett is having an All-America caliber season. Pickett ranks fourth nationally with 36 touchdown passes. He is one TD pass shy of matching Dan Marino's Pitt single-season record of 37 set in 1981.
Pickett has thrown for a school-record 3,857 yards this season, the fifth-highest total in the country. He is poised to achieve the first 4,000-yard passing season in Pitt history.
Pickett is piloting the nation's No. 2 unit in total offense at 529.1 yards per contest. The Panthers rank third nationally in scoring, averaging 43.9 points a game.
Wide receiver Jordan Addison is also producing at an All-America level. The sophomore leads the nation with 15 touchdown catches, the most by a Pitt player since Larry Fitzgerald had a school-record 22 in 2003.
*Courtesy of pittsburghpanthers.com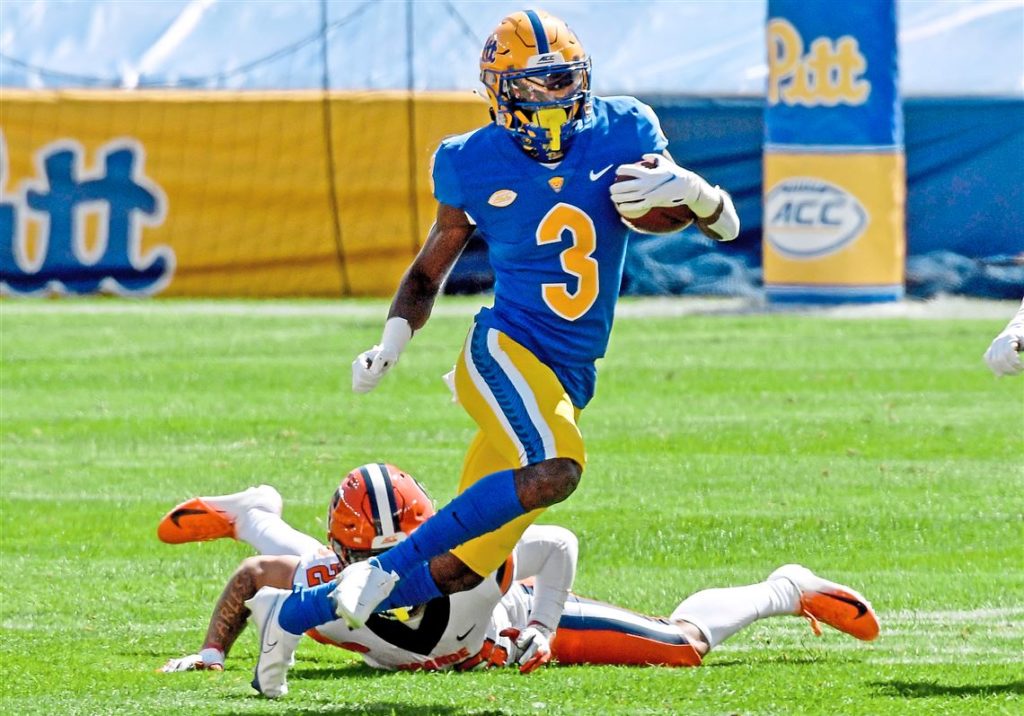 Injury Report (11/26/21)
Pitt Panthers
Out: LB Wendall Davis (left team), WR Jaylon Barden, G Jake Kradel
Doubtful: None reported
Questionable: WR Taysir Mack, DL Keyshon Camp
Syracuse Orange
Out: None reported
Doubtful: None reported
Questionable: None reported
Author Profile
From Midland, "The Basketball Capital of Pennsylvania", located 35 miles NW of Pittsburgh along the Ohio River. This former steel town was home to storied athletes such as Dave Alston, Norm Van Lier, Simmie Hill, and the legendary 1965 Midland High School Basketball Team.

There's nowhere on earth that is more dedicated to its sports teams like Western Pennsylvania and the city of Pittsburgh. The passion and pride of Pittsburgh's fan base is second to no one. From the NFL, NHL, MLB, NCAA football and basketball, to W.P.I.A.L. high school sports, "The City of Champions" has it all!

As Editor of Pittsburgh SportsNation, Mike Drakulich provides top notch opinions and coverage of the Pittsburgh Steelers, Pittsburgh Penguins, Pittsburgh Pirates, Pitt Panthers football & basketball, Robert Morris Colonials basketball, and Duquesne Dukes basketball, as well as all sports teams that represent Western Pennsylvania, including WPIAL High School Football.

For a refreshing view of sports, mixed with humor and uncensored opinions, check out Pittsburgh SportsNation today on Facebook, Twitter @PghSportsNation and videos with over 1,000,000 views on YouTube!