Read Time:
2 Minute, 22 Second
It was opening night for the 2018-19 Boston College Eagles and a game that turned out to be a tale of two halves. The first twenty minutes saw the Eagles struggle from the field on offense and trouble stopping their opponent. The second half was just the opposite as Boston College captured their season opener 73-53 over Milwaukee.
The first half was about putting the ball in the basket. The Eagles had all sort of problems in that area shooting just 28% from the field and an even worse, 10% (1-10) from three.  Milwaukee was better at 48% from the field and 60% (6-10) from deep.
Milwaukee started the game shooting well taking an early 14-6 lead almost seven minutes into the contest. The slow start by BC would force head coach Jim Christian to call an early timeout with his team down ten, 16-6 with 12:42 remaining in the half.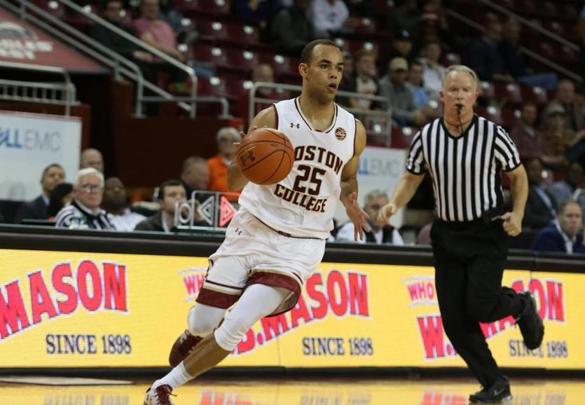 Milwaukee's offense was working at mid-season form taking the ball for the basket as well as an outside game that was clicking.  The main contributor was Darius Roy as he would score 11 first-half points on his way to a team-high 15. By the halftime break, Milwaukee had a ten point lead at 37-27.
Whatever was said by coach Christian at the break, his team took it to heart. The Eagles came out looking like a different team. They began the second twenty minutes by going on an 11-3 run to cut the deficit to two at 40-38. The defensive effort also picked up as Milwaukee would go on several scoring droughts throughout the second half.
Two free throws by Ky Bowman (19 points, 8 rebounds, 4 assists) helped the Eagles to their biggest lead at 50-45 halfway through the second half. The lead would grow thanks in part to a terrific second twenty minutes from freshman Winston Tabbs who dropped 11 of his 16 in the half.
On the defensive side, Steffon Mitchell became a beast on the boards and had 14 rebounds for the game. He had 10 of those on the defensive end of the floor. The Eagles stepped up their play on both ends to the delight of the hometown crowd.
The final score is not an indicator of how this game was played. As coach Christian said afterward "first games are hard". He though his team played poorly in the first half. He said his team got "good shots" but did not make them while on defense they "did not guard anyone".
But all that changed in the second half as BC. held Milwaukee to 16 second-half points to win their 67th opening night game against 19 losses.
Nik Popovic gave the Eagles 12 points and seven boards. For Milwaukee, Jake Wright had 11.