Read Time:
5 Minute, 48 Second
Here is the last of my previews of the 2019 NFL Football season. We take a look at my thoughts on the AFC West and where I think the teams will fall in the division.
Los Angeles Rams (10-6)
The Rams and Sean McVay look to put last season's Super Bowl loss behind them and take the next step. The Rams know their vaunted offense did not show up in that game and they will be hungry to redeem themselves. Offensively, this team will, of course, look to use Todd Gurley a lot to set up Jared Goff in the play-action passing game. This does make the departure of left guard Rodger Saffold and center John Sullivan concern me even more. Left tackle, Andrew Whitworth, and right tackle Rob Havenstein are very good, but right guard Austin Blythe will have to stabilize the interior for things to gel. They have good receivers who compliment each other perfectly; Brandin Cooks can stretch the defense with his speed, Robert Woods over the middle, and Cooper Kupp working the slot. Defensively, the Rams are led by Aaron Donald but are talented all over. Donald is a force on the inside in the 3-4 and demands constant double team. New addition Clay Matthews will be reinvigorated rushing the outside with Donald and Dante Fowler Jr. on the other side drawing attention. Eric Weddle is a fantastic addition at safety and has the knack for finding the ball. Aqib Talib is still a lockdown at corner, but I have concerns with Marcus Peters. Peters is a big-time ball hawk but it does leave him vulnerable to giving up the big play. The Rams have a tough NFL schedule, especially with what should be a more competitive 49er team, so the regular-season win total may not be as high. This roster is still very talented and capable of making a run.
Seattle Seahawks (9-7)**
For Seattle, it's simple for them this season; Has Chris Carson solved this teams running game woes? Last season he went over 1,100 yards on better than four and a half yards per carry. Another season like that and the Seahawks could make a deep run. Of course, Russell Wilson will keep this team competitive. Wilson simply has a desire to win that allows him the confidence to make the needed plays every time. Seattle will hope second-round pick DK Metcalf can have the success second-year man David Moore had as a rookie at receiver. I expect Moore to take the next step this year and with Tyler Lockett. Russell Wilson won't be asked to do it all as he has in the past. I also think this line will perform well with veterans Duane Brown (left tackle), Mike Iupati (left guard), and D.J. Fluker (right guard) leading the way. The Seahawks added Jadeveon Clowney just the other day and they are hoping he can flourish in a contract year. Ezekiel Ansah has shown flashes but lacks consistency in his short career so they are gambling on the edge. I do like the addition of Al Woods at tackle though. I expect middle linebacker Bobby Wagner to continue to play at an All-Pro level, and if Mychel Kendricks can get on the field, they are really strong at linebacker. The young corners of Shaquill Griffin and Tre Flowers have developed nicely and have to keep that level of play, if not improve it. Every team in this division has a tough schedule, with Seattle having many potential tiebreaker games (Saints, Vikings, Eagles specifically), and their knack for winning at the right time, I think Seattle can sneak into the NFL playoffs this year.
San Francisco 49ers (7-9)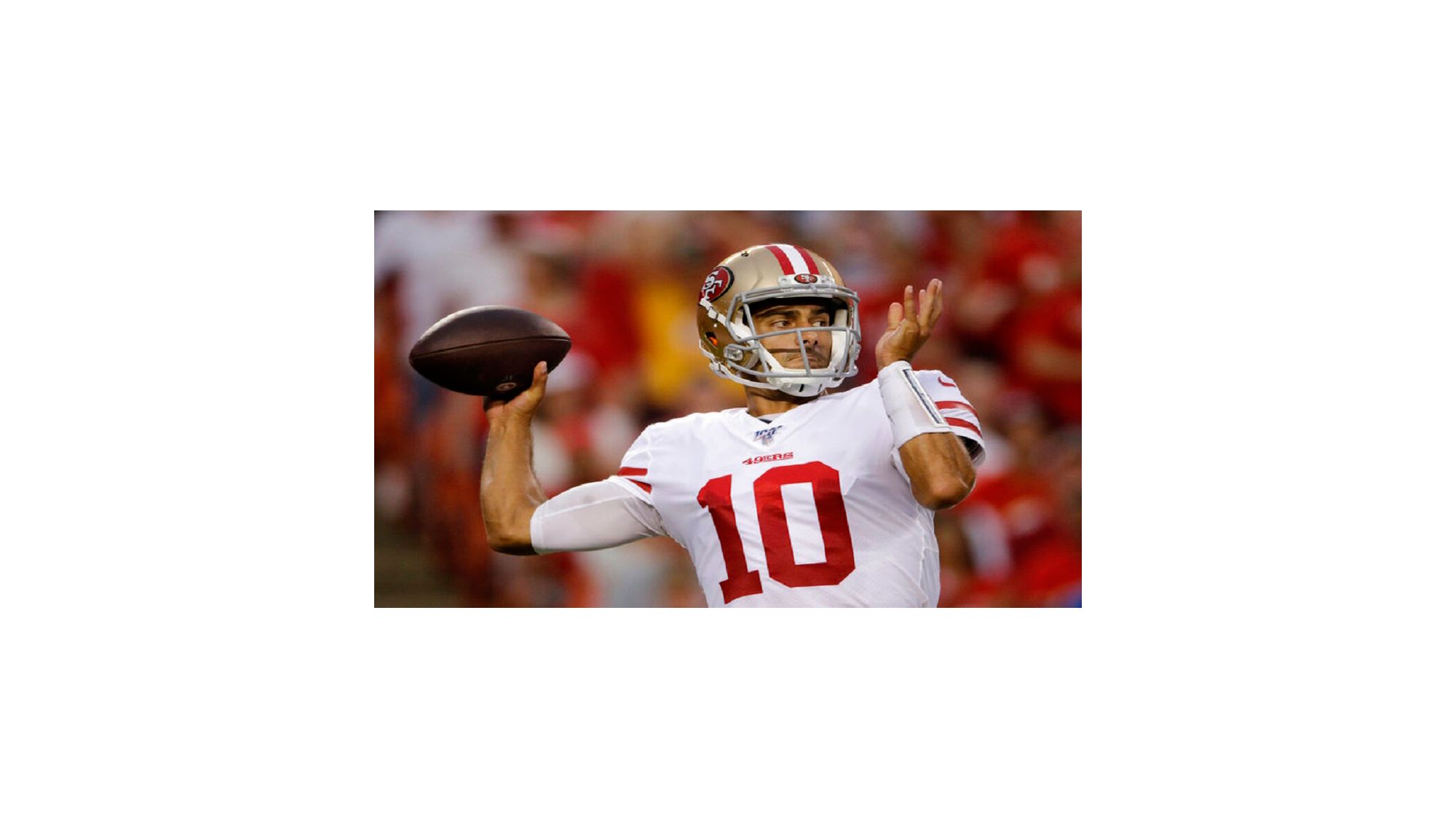 The only thing we know for certain about San Francisco is that they are a terrible team without Jimmy Garappolo on the field. We have seen very little of Garappolo except for a lot of wins from a team that was well out of contention. I also think the jury is still out on Kyle Shanahan this season. If this team struggles to perform, his seat could get hot. Matt Breida did significantly boost his yards per average last season, but he didn't increase his workload nearly as much. I wonder if he can be the every-down back. They did address their receivers in the draft taking Deebo Samuel and Jalen Hurd in the second and third round respectively. Marquise Goodwin is the only veteran I have any faith in, so look for tight end George Kittle to continue to put up big numbers while the receivers gel. Joe Staley will continue to anchor a decent offensive line at left tackle. Nick Bosa was arguably the best player in the draft and he should pay dividends right away rushing the passer. The addition of Dee Ford makes this a very dangerous outside rush team. Their linebackers don't impress me all that much and the secondary is good, not great. I still believe Richard Sherman can shut down the league's best receivers at any given time. San Francisco needs Garappolo to stay healthy to have any chance. If this receiving core can gel and they are as dangerous rushing the passer as I think they can be, they will be competitive throughout the NFL year.
Arizona Cardinals (4-12)
Arizona wasn't good last year and I don't project them to be much better this season. Kliff Kingsbury takes his wide-open offense to the NFL, and he wasn't all that successful with it in college. I don't worry about Kylar Murray's size or willingness to play football, I worry about the talent around him. David Johnson needs to get back to a high level for Murray to be able to at least run the offense for his evaluation. Larry Fitzgerald is a nice security blanket, but I don't know how good that will be for Murray's development with this wide-open offense. They have brought in veterans like Marcus Gilbert (right tackle) and J.R. Sweezy (right guard) to go along with veteran A.Q. Shipley (center) to provide Murray a good enough line to develop. Defensively, they will be without All-Pro corner Patrick Peterson for a six-game suspension. It wouldn't surprise me if Peterson gets moved at some point. Second overall pick Byron Murphy is going to have to learn the game and learn the game fast. Their safeties, Budda Baker and D.J. Swearinger, are not bad but not great either. I still believe Terrell Suggs can put up respectable sack numbers even at his age, but on a bad team how much will that matter? With a tough NFL schedule for themselves and the other teams in their division, I expect a lot of losses at the expense of teams fighting for their playoff lives.
Author Profile