2015 Top-Five Prospects by Position
                   QUARTERBACK                                                                                                                              
QB Jamies Winston, Florida State 
Winston is an exceptional player and there is no valid reason to rank any quarterback ahead of him at this juncture when discussing his on-field play. Winston plays in a pro-style offense and is in charge of sliding protections and getting his team into the right play. He's got accuracy in the pocket as well as on the move. I also love the fact that he has a short memory when bad things happen on the field as he always feels the next play will be his best play. Winston is the best draft eligible quarterback heading into this season.
QB Marcus Mariota, Oregon
Mariota has very good arm strength and underrated accuracy. What he should continue to work on is his ability to quickly scan defenses and get rid of the football at the top of his drops. Mariota is extremely athletic and is able to use his athleticism to escape trouble and find open receivers down the field. I've witnessed Mariota running nearly at full speed and hit a receiver in stride down the sideline which is incredibly rare. He's an impressive player and will be highly coveted next May.
QB Braxton Miller, Ohio State
I had an opportunity to speak with quarterback guru George Whitfield at the 2014 NFL Combine.  Whitfield believes wholeheartedly that Braxton Miller can be a first-round pick next May, and I have to say, so do I. Whitfield went on to say that Miller has elite arm strength and elite athleticism. If Miller can improve upon ownership of his offense, and eye level while extending plays, the sky will certainly be the limit for he and that young Buckeye offense.  While Miller is just 6-foot-1, Mariota is not the player we should be comparing to Kaepernick, it's Braxton Miller.
QB Brett Hundley, UCLA  
Hundley has the arm strength necessary to make all the throws and has the athleticism to make plays outside of the pocket as well. While he does well on short and intermediate throws, he could continue to work on his ball placement on throws in excess of 20 yards. Hundley displays outstanding ownership of his offense as he often times knows pre-snap exactly where he's going with the football.  Additionally Hundley is playing in a pro-style offense at UCLA and is expected to take more snaps under center this year. Look for Hundley to take another step forward in his progression during the 2014 season.
QB Connor Cook, Michigan State
Look for Michigan State's offense to take a major step forward next year as Cook now has the green light to check in and out of plays as he wishes. Last season Cook exhibited very good arm strength and accuracy. Cook also proved that he could also make throws on the run. I'd like to see him improve upon his decision making as he has a tendency to get greedy and make throws that aren't necessarily there. Cook plays in a pro-style offense and has grown by leaps and bounds to this point. He has all the requisite tools to become a starter in the NFL.
           FULLBACK                           
FB Jalston Fowler, Alabama
Fowler has seen time at running back, full back and tight end during his career at Alabama. His best fit is certainly full back, however his experiences at the aforementioned positions will serve him well, as he will be able to present a versatile skill set to NFL decision makers. Fowler gets the top spot as he has demonstrated the best technique as a blocker and strength at the point of attack compared to other draft eligible fullbacks.
FB Dan Vitale, Northwestern
Vitale is another hybrid player who sees quality snaps in the backfield and as a tight end. He's a former high school running back and a very underrated athlete. He is experienced running routes and catching the football down the field but I'd like to see him do a better job of keeping his feet as a blocker.
FB Jon Davis, Illinois 
Davis has split time at running back, wide receiver and tight end last season but is a better fit as a fullback. While he's functional at the running back, wide receiver and tight end positions, these skills will serve him well as a do-it-all full back in the NFL. Davis did an excellent job paving the way for standout running back Josh Ferguson last year and I expect more of the same from him in 2014.
FB Jimmay Mundine, Kansas 
Mundine currently plays TE for the Jayhawks but excels as an in-line blocker and vertical threat down the seam. He could certainly make the transition to fullback as he has the hands, athleticism and blocking ability necessary to compete at a high level at the position.
FB De'Marieya Nelson, Arizona State
Nelson is the type of full back I'll take on my team any day of the week. He's seen time as a lead blocker, tight end and running back and has shown that he can play each position well. Nelson is very athletic and has even seen time as a rush end on defense. If he can refine his blocking technique, Nelson will be set up to have a monster year. While he's expected to fill the role vacated by Chris Coyle, I expect him to do much more than merely line up and play tight end next year.
SUPERBACK
SB Tyreek Hill, Oklahoma State
Hill is a former junior college running back/wide receiver with world-class speed who could very well be one-and-done in Stillwater after next season. He's going to split time evenly between the two aforesaid positions and will likely make his fair share of big plays in the Cowboys air-raid attack. Look for Hill to make an impact early and often for Oklahoma State.
SB Tony Pierson, Kansas
Pierson has split time at running back and wide receiver during his time at Kansas but will finally be featured more often this season as a runner with the departure of James Sims. Pierson has very good hands and has become a very good route runner over the years. Rice cornerback Phillip Gaines ran a 4.38 in the 40-yard dash at the combine and Pierson obliterated his angle on his way to a 77-yard touchdown. Every team should want a player with Pierson's versatility on their roster.
SB Josh Ferguson, Illinois
Ferguson is a player that can add another dimension to any NFL team as he has excellent vision as a running back and very good route running ability as a receiver. Even though he is a smaller player he isn't as susceptible to injury as one might think, as he does a very good job avoiding direct hits. Behind the line of scrimmage, he sets up his blocks extremely well and seems to find daylight with ease. He's one of the few players in the Big Ten conference with truly elite speed and it shows on the field each and every Saturday.
SB Daje Johnson, Texas
Johnson strings together moves extremely well, has excellent wiggle and possesses great versatility. Though he has a smaller frame, he has an Eric Metcalf-like vibe to his game. As a result of his track background, he's more of a long strider but it doesn't appear to have an affect on his cutting ability. Charlie Strong has been singing Johnson's praises since he was named head coach of the Longhorns and I don't expect that to stop anytime soon. Johnson is listed as a receiver but he will likely see a good number of carries in 2014 as well. Look for him to be more involved in Texas' offense this season.
SB Jameon Lewis, Mississippi State
Lewis is Mississippi State's wildcard in the sense that he's an incredibly nuanced wide receiver but he's also made a number of plays out of the backfield as a running back. While he's quicker than fast, he does have a reported time of 4.47 in the 40-yard dash. Lewis will continue to be a force in the Bulldogs' offense as he is a truly dynamic playmaker that any NFL team would be thrilled to have. He is indeed a super back; a true dual threat at running back and wide receiver.
RUNNING BACK
RB Todd Gurley, Georgia
Gurley combines a bruising style with outstanding athleticism for his size and surprisingly good hands out of the backfield. While he runs with great power and authority, I'd like to see Gurley preserve his body and take fewer hits. He creates rushing lanes with his pick-slide motion and ability to press the hole. He has good vision and enough quickness to sight and exploit cutback lanes.
RB Karlos Williams, Florida State
Wiliams, a former safety at Florida State really caught my eye last season with his vision and ability to find cutback lanes. He has outstanding speed once in the open field and is able to string together moves. Even though he runs with a narrow base, he is not easily knocked off his axis. He also caught the football out of the backfield exceptionally well last year. I'm looking forward to seeing what he can do for an encore in 2014.
RB Corey Grant, Auburn
While Grant will likely be sharing the backfield with at least two other talented players, it's hard to ignore his breathtaking speed and acceleration. Grant is billed as a small undersized back, but he's 203 Lbs. and tough as nails. He's regarded as one of Auburn's strongest players pound-for-pound and it shows up on the field. Grant does a good job reading potential cutback lanes on outside-zone calls, which is a testament to his vision. Hopefully he'll get the opportunity to prove himself as a pass catcher and feature back in 2014.
RB T.J. Yeldon, Alabama
Yeldon is a larger back, but he certainly has a lot of wiggle and ability to make defenders miss in the hole with ease. It's been a long time since I've seen a back Yeldon's size change directions at full speed. Yeldon has also learned to take great pride in pass protection as I've seen him successfully keep his quarterback out of harms way on numerous occasions. He also has very soft hands and has proven to be a very good receiver out of the backfield. Yeldon is a complete back and I can't believe I'm saying this; but he deserves more fanfare.
RB Ameer Abdulah, Nebraska
Abdulah is extremely quick to his top-end speed and runs very good routes. He has exceptional hands and makes certain not to let the football into his body. I love his ability to make defenders miss in small areas. Abdulah doesn't have great long speed but his quickness is unrivaled by the majority of draft eligible running backs.
Tight End
TE Devin Funchess, Michigan
It appears Funchess is going to play the majority of his snaps at wide receiver this fall and he certainly has the athleticism to do it. With that said, if he wishes to appeal to NFL decision makers as a tight end, it would be ideal if he was afforded to opportunity to prove he can perform all necessary job functions at that capacity. If he's able to improve as a blocker, he'll solidify his status as the top draft eligible tight end.
TE Randall Telfer, USC
Telfer has been limited by injuries but when healthy, he has proven to be very athletic and a willing blocker when called upon to do so. Last season Steve Sarkisian had Austin Sefarian Jenkins who was featured heavily in the Huskies offense. Look for Telfer to be utilized much the same way during the 2014 season.
TE Nick O'Leary, Florida State
O'Leary is an excellent route runner who is surprisingly athletic and has exceptional ball skills. He's very physical and will never lose out on a blocking assignment as a result of a lack of will. O'Leary can also serve as a fullback if necessary but with his polish as a route runner, he's better suited to play tight end at the next level.
TE Ben Koyack, Notre Dame
Koyack is your traditional tight end in the sense that he is athletic enough to get separation as a route runner and strong enough to serve as an in-line blocker. He has the ball skills to highpoint the football when necessary and consistently shows exceptional body control. If he is targeted more during the 2014 season, his name could certainly be on the rise.
TE Connor Hamlett, Oregon State
Hamlett figures to be Sean Mannion's main target next season, especially with the departure of Brandin Cooks. Hamlett is very athletic at his size and is a solid in-line blocker. Most tight ends his size aren't as fluid in their movements as he is which is something to behold at 6-foot-7, 265 pounds. If Hamlett can continue to improve in his route running, he will certainly put up big numbers this season.
Wide Receiver
WR Stefon Diggs, Maryland+
Diggs is coming off of a broken leg, but should he recover successfully from his injury, he is indeed my top wide receiver. Diggs is an ultra-explosive football player who can score from any place on the field, at any time. Diggs is an excellent hands catcher of the football and due to his exceptional quickness; he's able to separate from defensive backs with ease. Maryland has hired Keenan McCardell who will help Diggs continue to improve upon his route running.
WR Amari Cooper, Alabama
Cooper combines 4.3 speed in the 40-yard dash with very good route-running ability. He has an uncanny ability to beat bump press and can create separation both laterally and vertically. He has excellent hands; body control and ball skills which makes him nearly impossible for SEC defensive backs to cover.
WR Dorial Green-Beckham*
Green-Beckham has recently run into legal trouble and was dismissed from the Tigers' football program. Despite his off the field transgressions, there are a number of teams that got a good feel for his ability last season and are interested in him. Green-Beckham will need to do better utilizing his frame to catch the football at it's highest point as well as coming off the ball a little lower in an effort to not expose so much of his chest. He has outstanding measurables and still has the opportunity to be taken high in the 2015 NFL draft should he stay out of trouble.
WR Nelson Agholor, USC
Agholor is a tremendous talent who is outstanding with the football in his hands. His ability after the catch is likely aided by the fact that he was a high school running back. He has the quickness and athleticism to run great routes but he's not a polished route runner at this point in his career. With he and Kessler getting on the same page as the 2014 season went along, I fully expect he and Agholor to pick up where they left off.
WR Antwan Goodley, Baylor
Goodley is a wide receiver in a running backs body. At 5-foot-10, 225 pounds, he has occasionally lined up at the running back position but has done nothing significant with his carries. As a receiver Goodley shows tremendous initial burst and long speed. He does tend to be sluggish getting out of breaks at times and does struggle with concentration drops. Goodley is an imposing figure at the receiver position who has a knack for the big play. He has the potential to become a second-round pick at minimum.
OFFENSIVE TACKLE
OT Cedric Ogbuehi, Texas A&M
Ogbuehi begins the 2014 college football season as my top rated tackle despite the fact he played on the right side last year. He shows very good footwork and has displayed the ability to redirect consistently keeping the opposition at bay. I look for Ogbuehi to continue his stellar play while transitioning from right tackle to left tackle.
OT Tyler Johnstone, Oregon+
Johnstone tore his ACL against Texas last season but was enjoying a very good year prior to the injury. While Grasu gets a ton of credit for anchoring Oregon's offensive line, Johnstone doesn't seem to get enough of it. He's agile, he can pick up blocks in space at the second level and he isn't overwhelmed at the point of attack by larger defensive ends. If not for the injury he might have very well been my top rated tackle. If he's healthy he could leapfrog Ogbuehi as the top tackle on my board.
OT Brandon Scherff, Iowa
Scherff has great power particularly in the run game and exhibits excellent technique as a pass-blocker. On occasion he will turn and chase defenders around the horn opposed to mirroring them, which leads me to question his athleticism. He mostly plays with outstanding knee bend and delivers a solid initial punch. He is very polished and I believe what you see is what you get with Scherff.
OT Cameron Erving, Florida State
Erving is an outstanding athlete who is very agile and knows how to deliver a great initial punch. With that said he can get his weight a little too far over his feet which causes him to whiff on his blocks at times. He's shown the ability to secure blocks at the second level as a run-blocker and he also has the athleticism and strength to redirect and control opposing pass-rushers.
OT Eric Lefeld, Cincinnati
Lefeld moves extremely well in space, most notably in pass protection. He does a very good job of quickly getting into his sets and mirroring defenders. He is rarely seen turning and chasing defenders around the horn. At this stage in his career he is more of a shock absorbing type of blocker as opposed to a guy that delivers a violent blow to stop defenders in their tracks. Once he improves upon his functional strength, he will certainly be a quality tackle at the next level.
CENTER 
C Hroniss Grasu, Oregon+
Initially recruited as a defensive end, Grasu is one of the more athletic draft eligible offensive linemen. He can be overwhelmed by larger defensive tackles, but generally holds up at the point of attack quite well. His greatest attribute is his athleticism as he is routinely asked to pick up blocks in the second level. If he can learn to roll his hips upon contact with larger interior defensive linemen, he will subsequently become stouter at the point of attack.
C Andy Gallik, Boston College
Gallik is very athletic and works well into the second level. He's an outstanding run blocker and is responsible for changing protections calls at the line of scrimmage. He might not be the largest player at his position, but he is indeed a drive blocker who routinely gets movement.
C Reese Dismukes, Auburn
There's a reason Tre Mason ran wild along the interior last season and much of that can be attributed to Dismukes. He does a masterful at getting off of his initial block to reach linebackers in space. Auburn didn't throw the ball much last season, but when they did, he held up extremely well against some of the best defensive linemen in the country.
C David Andrews Georgia
While undersized in the eyes of many, Andrews plays with outstanding leverage and agility as he is often used as a pulling blocker. Andrews gets in his sets quickly and delivers an excellent blow, which enables him to keep defenders at bay. He has played at a high level since his sophomore season all while facing the SEC's best interior defensive lineman. I'd be highly surprised if he doesn't have similar success at the next level.
C B.J. Finney, Kansas State
Finney is a former walk-on athlete at Kansas State and has proven to have outstanding strength at the point of attack. He also displays better than average movement skills when asked to pull. Once Finney gets his hands on his target, they typically do not escape his grasp.
 Guard
OG Tre' Jackson, Florida State
The mammoth guard has very good athleticism, exhibiting burst atypical of someone his size. He's able to set up quickly and consistently hold up at the point of attack. While hand placement can be an issue on occasion, he still does an excellent job getting his hands on the opposition and controlling them from the snap of the ball, until the whistle is blown.
OG A.J. Cann, South Carolina
What a team wants out of a guard is to make certain there is no leakage and Cann does just that for his team. In 2013, he graded out at 86 percent with no sacks or pressures. While he is very good in pass protection, he's a dominant run blocker with solid athleticism as well.
OG Junior Salt, Utah
Salt was originally slated to play defensive tackle upon his arrival at Utah, but was converted to guard. Now a member of the offensive side of the ball, he still plays with the same aggression he did as a defensive tackle. Boasting a 40-yard dash time of 4.98, Salt is very athletic and is well adept at getting into the second level of a defense and hitting moving targets in the run game.
OG Adam Shead, Oklahoma
Shead has very underrated movement skills and can make blocks in the second level. He's been asked to pull on occasion and has been successful doing so. He needs to show greater urgency getting into his sets, as he is at times susceptible to being beaten across his face. Overall he is a quality guard who is very strong at the point of attack and has solid athleticism.
OG Laken Tomlinson, Duke
An incredibly balanced player at guard, there is essentially no drop off in Tomlinson's effectiveness in run or pass blocking. He will lunge at times when making blocks in space, but is effective when asked to make blocks in the second level. Hand placement could use work as he could make a concerted effort in terms of his punch/release as opposed to grabbing a hold of defenders.
 DEFENSIVE END
DE Dante Fowler Jr., Florida
Fowler plays a hybrid defensive end/linebacker position for the Gators and has had a lot of successes doing so. He is ultra explosive and consistently around the football. He will need to become more disciplined when up against teams that utilize a lot of misdirection. He has shown the propensity to take himself out of plays as a result of play fakes. Fowler's athleticism will be highly coveted next May because he is capable of dropping into coverage and rushing the passer from linebacker, defensive end and defensive tackle positions. Look for Fowler to have a monster 2014 campaign.
DE Randy Gregory, Nebraska
Gregory is another hybrid defensive end/linebacker who doesn't drop into coverage much at all but has the athleticism to be a curl-flat defender against the pass. What I love is how quickly he's able to get rid of blockers and get into the backfield. Mostly a one-trick pony at this juncture, but I say if that one trick is working, why stop? Gregory also has an outstanding motor and often times appears to be more active in the later stages of games which is a compliment to his conditioning.
DE Mario Edwards Jr., FSU
While Edwards might be one of the larger draft eligible defensive ends, he is very athletic and really knows how to bend the edge. It might appear as though he's powering through opposing defensive linemen, but the majority of the time, they are off balance as a result of his speed. His closing burst is something to behold and I see absolutely see his game translating to the next level. He's very stout against the run, he can get after the quarterback as a right defensive end and he can also bump down inside to rush the passer as a defensive tackle. Label me a huge fan of Mr. Edwards.
DE Shilique Calhoun, Michigan State
Calhoun is a very physical player who isn't extremely athletic but he consistently beats the man across from him, which is all you can ask for. He does an outstanding job against the run and is very disruptive with regards to rushing the passer. His best fit is left defensive end in a 4-3 as I don't believe he possesses the bend or suddenness to get home as a right defensive end at the next level. Calhoun is still an exceptional player and could very well be a first round pick next May.
DE Noah Spence, OSU
Spence is another player with great burst and outstanding athleticism. Contrary to popular belief he has shown the ability to string moves together in order to get to the quarterback. Spence should look to be more disciplined next year as he did run himself out of plays at times. With that said, he is a disruptive force game in and game out, in the run game as well as in the passing game.
DEFENSIVE TACKLE 
DT Leonard Williams, USC
Williams has proven to be one of the more disruptive defensive linemen in the country over the past two years and I'm certain his play will only continue its upward trend. He is raw in terms of his hand usage but is able to consistently make plays as a result of his superior athleticism. Williams is also extremely versatile. I think he's better suited as a three-technique in a 3-4 defense, but others would beg to differ as there are people that believe he's more of a defensive end.
DT Carl Davis, Iowa
Davis exhibits tremendous strength at the point of attack and is well respected across the Big 10 conference. While he often commands a double team, which enables teammates to make plays, he also managed to make a fair share of his own. Whether Davis is making a play on the football or not, his impact can certainly be felt on each play he's in the game. If he continues to work on his endurance and become the every-down player he aims to be, he's going to have a very productive 2014 season.
NT Ellis McCarthy, UCLA
McCarthy has battled knee injuries over the course of his short career at UCLA, but he now seems to be hitting his stride. He plays with a mean streak that allows him to fire off the ball and seemingly beat the man across from him at will. McCarthy will be best suited as a zero-technique in a 3-4 defense, which would underscore his ability to collapse the pocket.
NT Vincent Valentine, Nebraska
If this young man plays the way he did toward the tail end of 2013, watch out! Valentine is explosive for his size and shows very good athleticism as well. He's very versatile and has played techniques zero through three. With that said, he's at his best lining up as a zero-technique. While his production was rather spotty last season, he became more consistent as the season went along. His size, strength and explosiveness puts him No.3 among my defensive tackle prospects.
DT Christian Covington, Rice
Christian's father, Grover Covington is the CFL's all-time sack leader and began to impart some of his wisdom on his son about defensive-line play in his formative years. Christian is very active and has displayed the ability to quickly disengage from offensive linemen and shoot gaps to make impact plays. His best fit would be as a three-technique in a 4-3 defense.
 OUTSIDE LINEBACKER
OLB Vic Beasley, Clemson
Beasley fires off the ball with speed not many can rival. He proved to be too explosive for a great number of left tackles throughout the ACC conference and he was able to rack up 13 sacks last season. He possesses tremendous versatility as he can rush the passer with his hand in the dirt or from a two-point stance. He appeals to many 3-4 teams, as he will likely be a weak outside linebacker.
OLB Shaq Thompson, Washington
One of my favorite draft eligible players is Shaq Thompson. In Washington's defense he has played safety as well as outside linebacker. Because of his athleticism, he's often times charged with defending the overhang of the offense, matching up with receivers, running backs and tight ends. Many are in love with last year's freshman standout from UCLA Myles Jack, but Thompson is every bit as talented. Additionally Thompson is listed as the team's top running back at the moment and will see some quality carries in 2014.
OLB Kyler Fackrell, Utah State
Fackrell is a fluid athlete who has a Chad Greenway like feel to his game. He's very comfortable in coverage and he uses his hands quite well against the run to stack and shed. He also has the explosiveness off the edge to get to the quarterback when asked to do so. I'd like to say he's a diamond in the rough because not many are talking about him, but upon further evaluation, this kid is just a very good football player. He can have a very long and productive career in the NFL.
OLB Shane Ray, Missouri
Ray plays defensive end for Missouri but he will likely play outside linebacker in a 3-4 at the next level. Ray possesses a tremendous first step and ability to bend around the edge. He has been clocked as low as 4.47 in the 40-yard dash but is more athlete than football player at the moment. If he continues to learn how to disengage from blockers with greater urgency and become more stout at the point of attack, he's going to be a handful for opposing blockers at the next level.
OLB Danielle Hunter, LSU
As I tuned in to watch other standout defensive players for LSU, Hunter jumped off the screen for me on many occasions. He's exceptionally quick off the ball and is very disruptive. He consistently got pressure and played fast down in and down out. He's riding the momentum from last season into 2014 and has been given a considerable amount of praise by head coach Les Miles. If he plays to his ability he could very well become a first round pick.
INSIDE LINEBACKER 
ILB Denzel Perryman, Miami
While he is a very fluid athlete Perryman might not be the biggest or the most athletic linebacker, but he is very intelligent. Perryman seems to be able to conceptualize and see plays before they happen which is why he is constantly around the football. He does well in coverage and he is also very difficult for blockers to get their hands on in the run game.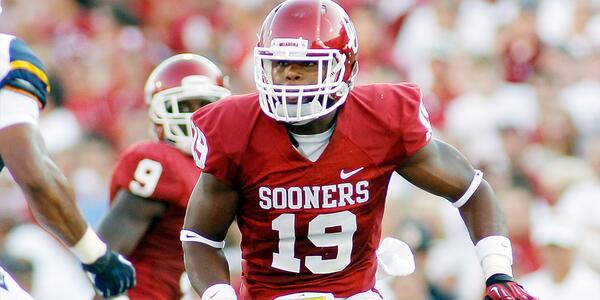 ILB Eric Striker, Oklahoma
While Perry is the consensus No.1 inside linebacker, Striker is not very far behind. Striker plays with unmatched intensity and flies to the football effortlessly. He was not asked to cover much last year but has the athleticism to be a curl-flat defender when called upon to do so. Striker will freelance on occasion; much to the dismay of head coach Bob Stoops, but seemed to always be in position to make an impact play. Being that he had so much success last season, Stoops has now given him the green light heading into the 2014 season. I am anxious to see what type of numbers he puts up this year.
ILB Terrance Smith, Florida State
Terrance Smith will likely play outside linebacker for the Seminoles this year but he played inside linebacker last season and looked very good doing so. Smith has tremendous range as he is a former track and field standout in sprints and jumps. He's extremely fluid in coverage and he's far from being a liability in the run game as he is not easy to get a hold of at the second level. This year he will get more opportunities to blitz in pass situations.
ILB Dalton Santos, Texas
Santos is an underrated athlete who does a very good job reading and diagnosing, often getting a jump on where the play is designed to go. He has very good instincts but he will overrun plays on occasion. When asked to drop back in zones he has done so successfully. His play reminds me of former Cowboy Dat Nguyen.
ILB AJ Johnson, Tennessee*
Johnson is a former running back who is a solid athlete but is rather limited in some respects. Despite the fact that he's lead his team in tackles the past two seasons, concerns regarding his speed and coverage ability persists. While he's not a sideline-to-sideline type of player, he does a very good job of coming downhill and lowering the boom on ball carriers, especially when kept clean. He plays zones well but like many linebackers, struggles when asked to turn and run. Johnson isn't the greatest athlete, but has instincts and skill necessary to disengage, fill and stop the run.
 CORNERBACK
CB Ifo Ekpre-Olomu, Oregon
Ekpre-Olomu has excellent hip fluidity and very good footwork. He's smooth in his transition and tracks the football extremely well. His ability to come up and support the run coupled with the athleticism to shadow the quick-twitch athletes makes him my favorite draft eligible cornerback.
CB Ronald Darby, Florida State
Darby came to FSU and immediately contributed to the Seminoles defense. He made such an impact; he was named ACC Rookie Of The Year. Darby followed up his freshman campaign with another productive season as the field corner for Florida State. Darby has exceptional athleticism and tracks the football very well. He does a very good job of baiting quarterbacks into throws they shouldn't make then closing in on the football. With that said, I'd like to see him create more turnovers as often as he gets his hands on the football.
CB P.J. Williams, Florida State
Manning the boundary cornerback spot for the Seminoles is P.J. Williams. Williams combines tremendous athleticism with tremendous physicality. I haven't seen a cornerback as physical as Williams while playing bump press since Champ Bailey. I recognize that's high praise but I challenge any talent evaluator to watch at least three of Florida State's games last year and disagree with my assessment. Williams is a special player and some NFL team is going to improve their secondary by leaps and bounds by selecting him.
CB Steven Nelson, Oregon State
Due to his speed and quickness, Nelson is very confident and patient in his backpedal. He does a great job taking away inside routes breaking up a good number of slants and over routes this past season. Nelson seems to always be around the football and has the hands necessary intercept the football as evidenced by his six interceptions in 2013. With his footwork and ball skills, I expect him to become one of the top corners taken in the 2015 NFL draft.
CB Marcus Peters, Washington
Peters has great athleticism and change of direction which put him in position to intercept five passes last season. He's also a solid tackler as he does a very good job in run support. He is regularly in position to separate his man from the ball, but I'd like to see him turn his head and track the football with greater consistency.
STRONG SAFETY 
SS Landon Collins, Alabama
Collins' greatest attribute is his ability to tackle in space. He also possesses great versatility that enables him to play near the line of scrimmage, as he's able to sift through the trash and make impact plays in the backfield. He can also be utilized to manufacture pressure off the edge as a blitzer. Collins is solid in coverage and does a very good job reading his keys and breaking on the football. He gets compared to Kenny Vaccaro, but Collins has greater range. He's an elite athlete and an exceptional football player.
SS Kyshoen Jarrett, Virginia Tech
Jarrett is a seek-and-destroy strong safety who demonstrates the aggressiveness of a linebacker with nearly every tackle he makes. He's got very good instincts and seems to always be around the football. He has better than average range and ability track the football and get redline-to-redline. He's been asked to play near the line of scrimmage, cover the slot on occasion as well as maintain his responsibilities in the deep third.
SS Tyrequek Zimmerman, Oregon State
Zimmerman is another tremendous athlete with the ability to play near the line of scrimmage but also has the ability to make plays in coverage. He's got excellent range and is a very good tackler in traffic as well as in the open field. I'd like to see Zimmerman come up with more turnovers but overall he's a very good player who has the ability to start in the NFL.
SS Durrell Eskridge, Syracuse
Eskridge is a former high school star at the wide receiver position and has transferred his ball skills from the offensive side of the football to the defensive secondary. While he has very good ball skills, he appears to be at his best getting off of blockers, coming down hill and finding the ball carrier. Due to a lack of depth at wide receiver, Eskridge might very well see some quality snaps on offense this year. Believe it or not, he's one of the best wide receivers they have.
SS Trevon Stewart, Houston
Watching Stewart, it appears as though he is always around the football. You can tell in his play that he's studied tendencies of his opponent and is well prepared. He often gets a jump on where the ball is going and if he is unable to make a play on the football, it's because he missed it by just milliseconds. He breaks on the football extremely well and despite a perceived lack of size, he is a very good tackler. Stewart is extremely versatile and can play in the box as well as in the slot. Look for his name to rise next May if he builds upon his 2013 season.
FREE SAFETY
FS Derron Smith, Fresno State
Smith was very exciting to watch last season, especially during the Las Vegas Bowl. He showed an array of skills necessary to compete at the next level such as instincts, supreme athleticism and ball skills. Smith will need to continue to work on tackling in space but he is the ideal center-fielding free safety that every NFL team should covet.
FS Sean Davis, Maryland
To me, Davis is what we might have seen out of Sean Smith had he come into the NFL as a free safety as opposed to cornerback. While Davis is a stronger tackler than Smith, he exhibits exceptional range and ball skills. He gives Maryland the flexibility to utilize single-high looks and he will likely do the same upon entering the NFL. With Davis' instincts, size and 4.42 speed in the 40-yard dash, look for him to be one of the top safeties chosen in the 2015 NFL draft.
FS Kurtis Drummond, Michigan State
Drummond doesn't appear to be a great athlete, but he's athletic enough and is likely one of the most instinctive draft eligible free safeties. He does well in watching the quarterback's drops and breaking on the football with outstanding closing speed. He's a fit-and-finish tackler in the run game and he also tracks the football exceptionally well. While Drummond might be taller with better ball skills, he has a Donte Whitner feel to his game.
FS Justin Cox, Mississippi State
If you've watched Cox's junior college film, it's evident that he might very well become a highly coveted player once awarded more playing time. Cox has the athleticism and hip fluidity to play cornerback but he's at his best as a center-fielding free safety. He has the ability to come up and make plays in the running game but should continue to improve upon his physicality in slipping blockers and getting to the ball carrier. His lone interception last year came in impressive fashion against Ole Miss wide receiver Donte Moncerief. Expect more of the same during the 2014 season.
FS Jermaine Whitehead, Auburn
Whitehead is firmly entrenched as the starting field safety in Auburn's unique 4-2-5 defense and is responsible for making the calls for the Tigers and has done an excellent job to date. He appears to have good speed and run pass recognition. He seems to know where the ball is going and is able to get a jump on the play before it unfolds. Whitehead has exceptional knowledge of the game and it absolutely shows on Saturdays.
Author Profile
CEO NGSC Sports